There once was a time when European travel experts labeled Athens as being one of the most overrated cities in Europe—including its restaurant scene.
Those claims are now smoldering.
Maybe the 2004 Olympics played a role in motivating the city to improve, or it was simply a matter of time before Athens fulfilled its potential. Regardless, when it comes to the culinary landscape, there has never been a more opportune moment to indulge in Athens. The city boasts not only unforgettable traditional Greek restaurants but also upscale, sophisticated Michelin-worthy establishments, along with a diverse array of cuisines to explore.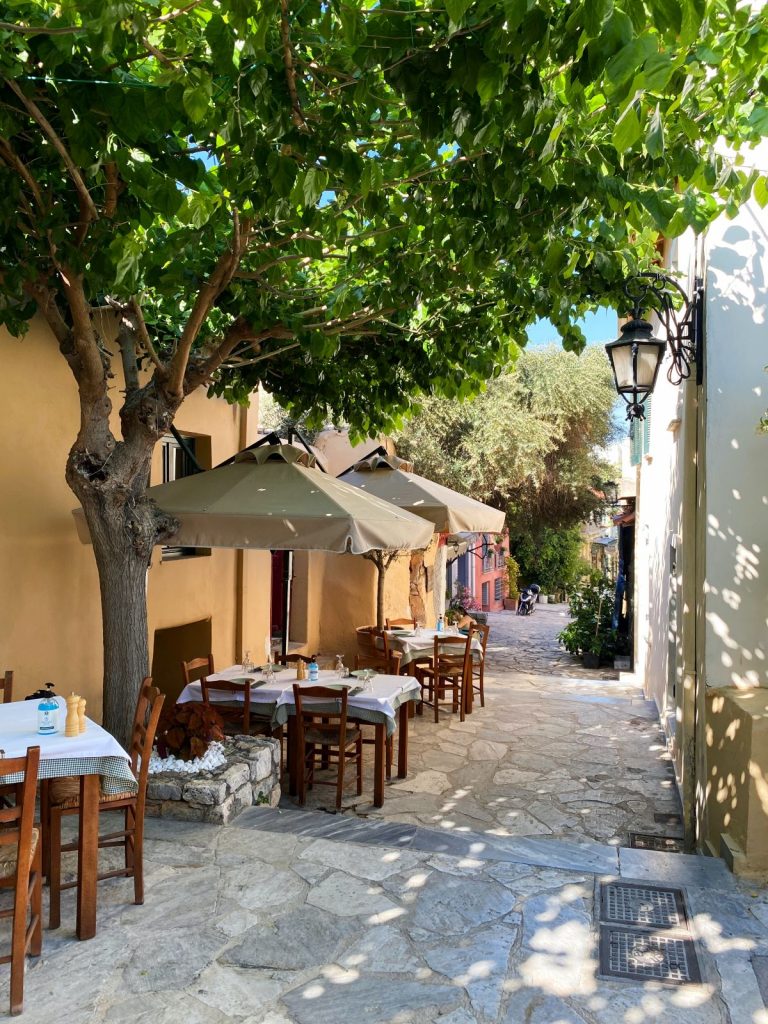 Here are eight of the best restaurants in Athens you won't want to miss.
Cookoovaya
Restaurant goers go coocoo for Cookoovaya, a spot in Ilisia that took five chefs to dream up.
The chefs use different cooking techniques to woo diners including a charcoal grill, a wood-fired oven, a deep-fat fryer, and creating plenty of stews.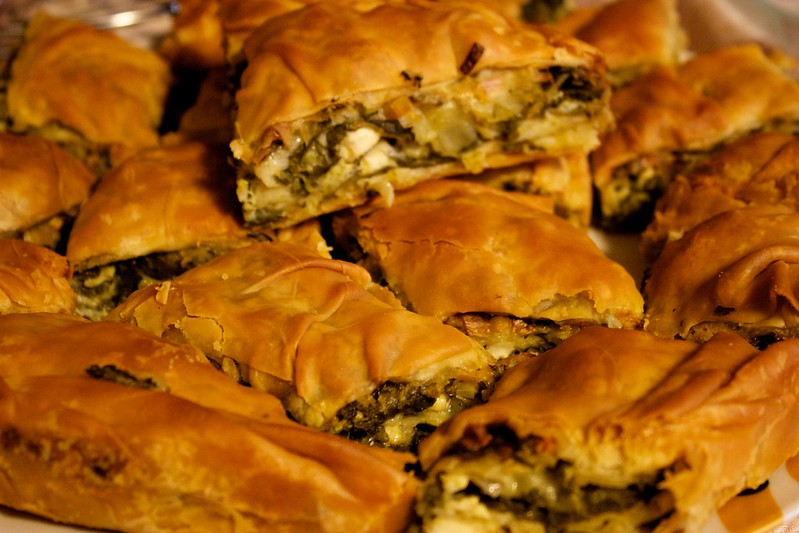 You can't really go wrong with anything on the menu—it's all delicious. However, standout items include the grilled beef liver, the saffron-spiked grilled fish of the day, plus open pie with Greek beef, black pork bacon, black truffles, and mushrooms.
Delta
The only restaurant in Athens with two Michelin stars (there are no three-star spots), this show-stopping fifth-floor restaurant with ocean views is housed in the Stavros Niarchos Foundation Cultural Center. Delta boasts a sleek and sophisticated interior and vibe with a triangular-shaped dining room.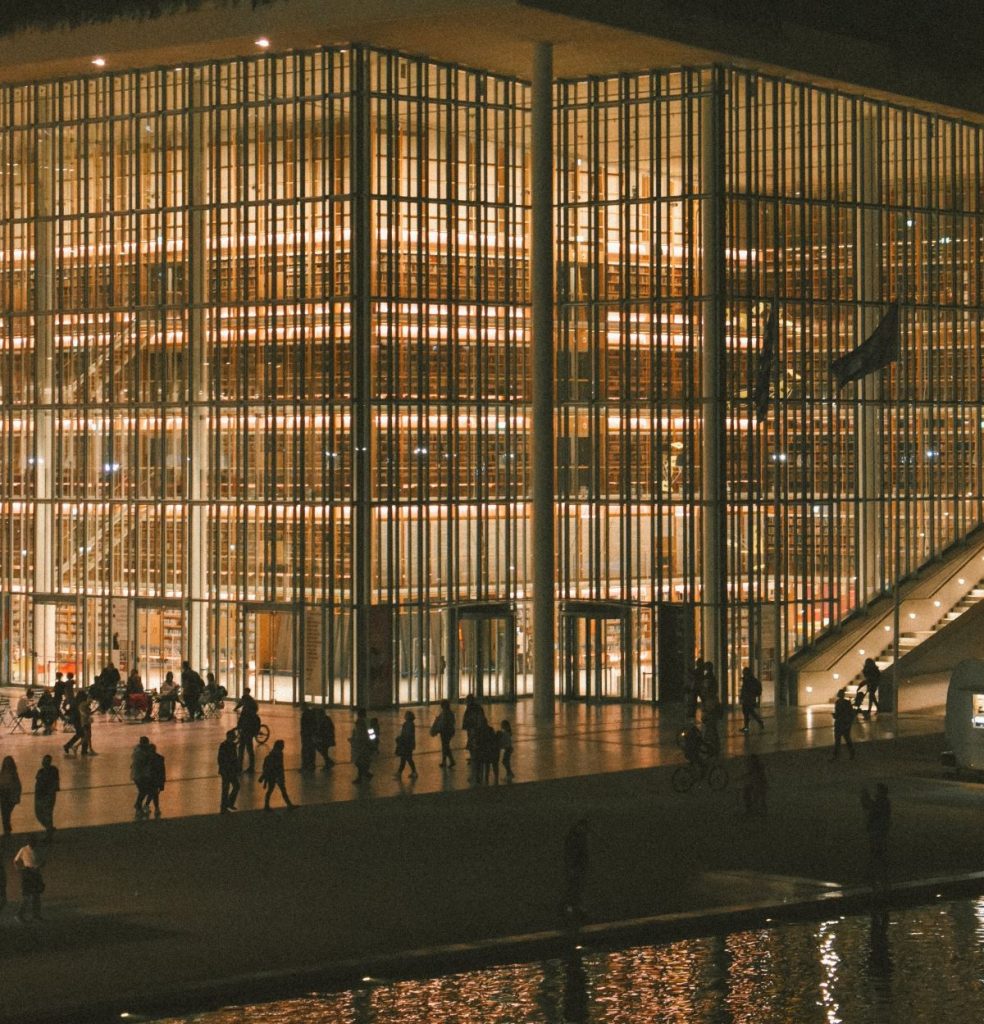 Dinner here isn't necessarily cheap: the 12-course tasting menu is going to set you back a couple of hundred euros, but it might be one of your most memorable meals in the Greek capital. One of the chefs here honed their skills in top-notch kitchens in Norway, and their influence is evident: Delta's dishes boast a strong inspiration from New Nordic cuisine, but with a delightful twist of Greek ingredients.
Diporto
Since 1887, Diporto (in English: "Having two doors") has been hiding in plain sight—sort of.
Diporto (Sokratous, 9) has no sign, no menu, and no website, and is a hidden gem where the staff only speaks Greek.

The restaurant has an open gate-like door leading to steep concrete steps that take you down to a basement dining area. Here you'll find mismatched wooden tables, simple tablecloths, and wine served in ceramic mugs, creating a laid-back and charming atmosphere.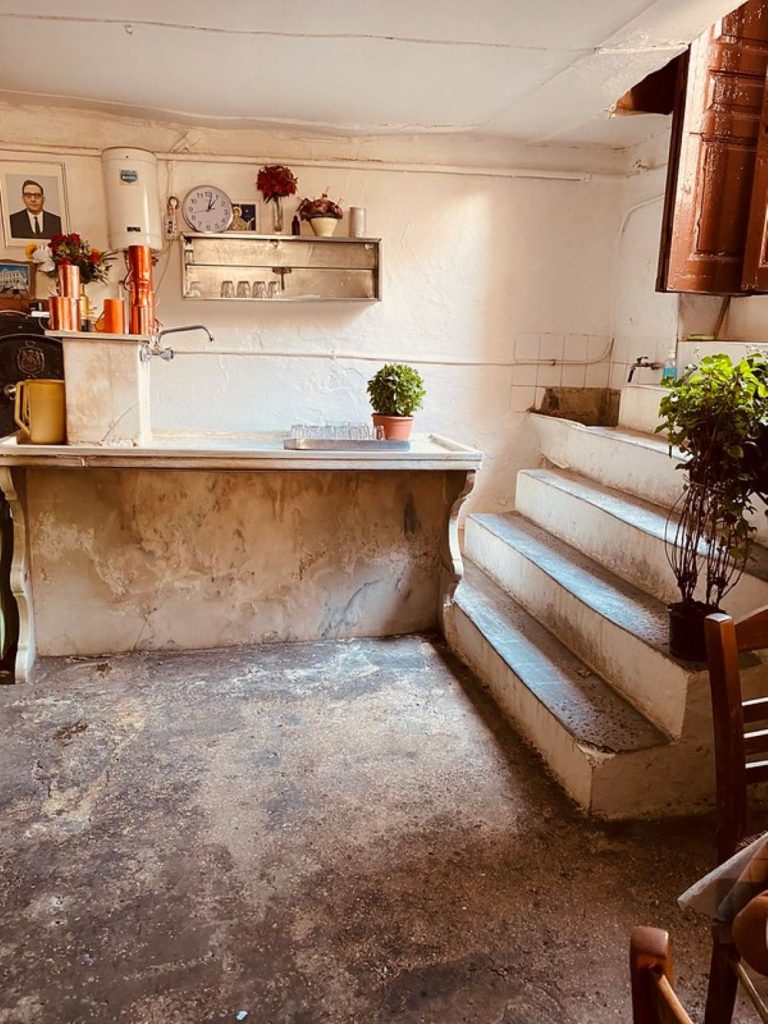 This spot won't win any awards but promises an unpretentious meal in Athens that remained unchanged for generations. And that's exactly what's satisfying about Diporto.
GB Roof Garden
A stalwart of the haute dining scene in Athens, GB Roof Garden sits atop the iconic Grand Bretagne hotel near Syntagma Square. The restaurant offers stunning Acropolis views, making it a perfect place to enjoy high-end Greek and Mediterranean cuisine.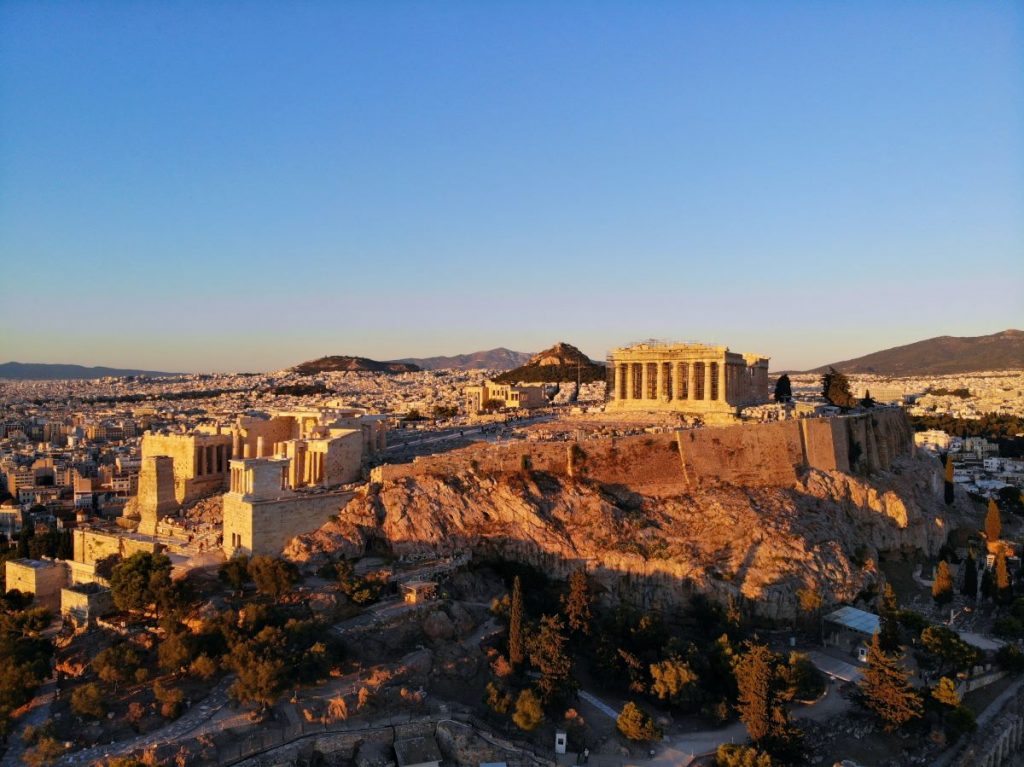 Think grilled calamari with smoked fish roe sauce, ravioli stuffed with smoked pancetta and chard, and ultra-tender lamb shoulder served with crispy roasted potatoes, and black garlic-spiked mayonnaise.
Hytra
A number of successful chefs in Athens worked their way through the kitchen at this lauded and popular Michelin-starred eatery with views of the Acropolis. Hytra is located on the fifth floor of the Onassis Cultural Centre and offers a small handful of multi-course tasting menus as well as an ala carte option.
The menu changes with the season but expect to find classic Greek fare with a modern twist with dishes like tender short ribs wading in a pool of chickpeas, shrimp paired with almonds and grapes, and a barbecued corn and green apple tart—all paired with excellent Greek wine, of course.
Manhmanh
Focused on the cuisine of the Mani region in the southern Peloponnese, Manhmanh (which is pronounced "mani-mani") is a fantastic regional restaurant housed in a neo-classical building in Makriyianni. Menu standouts include a fava bean stew laced with smoked pork, tender veal short ribs with smoked eggplant, and wild mushroom risotto doused in truffle oil.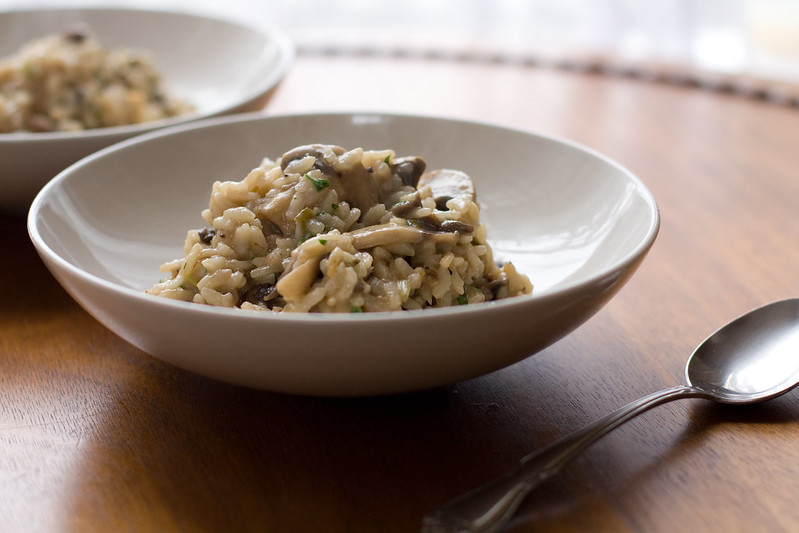 Soil
Soil, located in the Pangrati district, definitely gets its hands dirty with its deep commitment to the farm-to-table, seasonal ingredients, and sustainable food philosophy. And it shows.
Chef Tasos Mantis journeyed north across Europe, particularly Scandinavia, to refine his culinary skills. Upon returning to his hometown of Athens, he brought back a profound understanding of how to bring out the very best in vegetables.
Many of the herbs used are cultivated by Chef Mantis' father. And while it may sound like a vegetarian restaurant, it's not. This eatery takes great pride in its ethical principles and mindfulness, honoring goat, seafood, and vegetables with the highest level of respect and appreciation.
Insider's tip: If you're in the mood for super veggie-friendly dishes, also check out our guide for the 10 Best Vegan and Vegetarian Restaurants in Athens.
Taverna Klimataria
Meaning "grape vines" in Greek, Klimataria isn't necessarily a wine-centric bar. Instead, it's a no-fuss, no-frills traditional Greek restaurant that has been serving up excellent takes on grilled meat and other Athenian staples—and yes, pouring delicious Greek wine, as well—since 1927.
The family-run spot, located in Plaka in the shadow of the Acropolis, is bedecked from floor to ceiling with barrels, adding a rustic feel…and perhaps an inspiration to drink some more wine.
Insider's tip: The food is served on large platters, which are perfect for sharing. We highly recommended trying the grilled meat platter, offering a delightful variety of delectable options.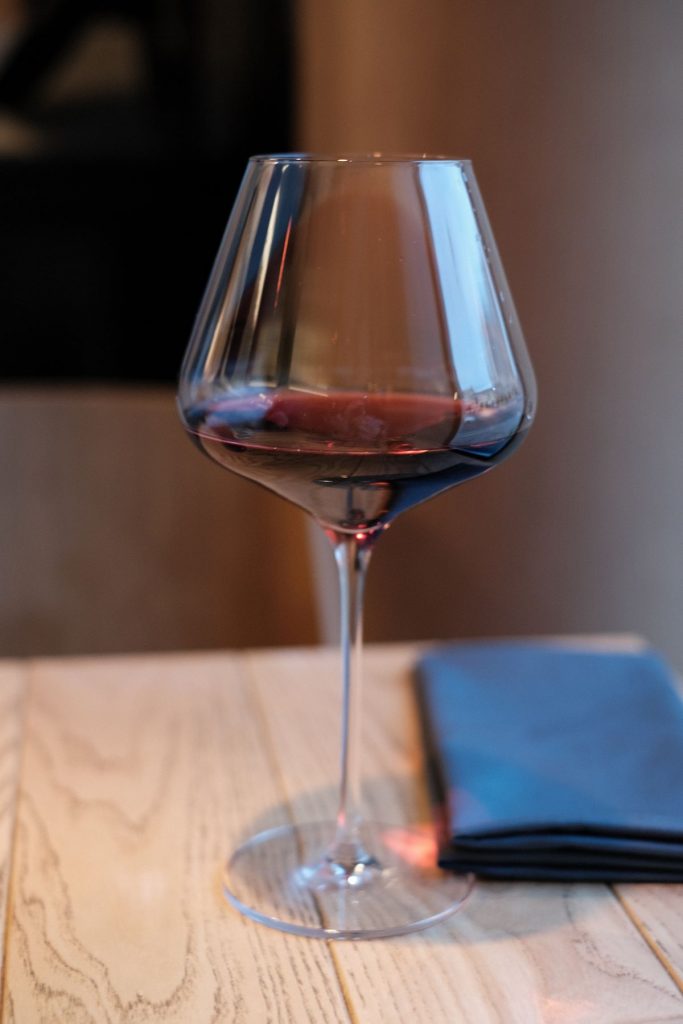 Want to discover even more delicious food in Athens? Join us on our Ultimate Athens Food Tour for a taste of some of most traditional Greek dishes made with the finest of ingredients. Get to know hidden local spots and markets, and delve into the captivating stories behind these iconic foods, drinks and places.