The Amalfi Coast is a popular destination, and it's easy to see why. Beautiful tiny towns, unique wines, and the sparkling mediterranean sea—what more could you want? The area is well connected by public transport. But it's always important to do your research before making the trip so you know what to expect. Luckily, there are plenty of public transportation options for getting around the Amalfi Coast, even if you don't have a car.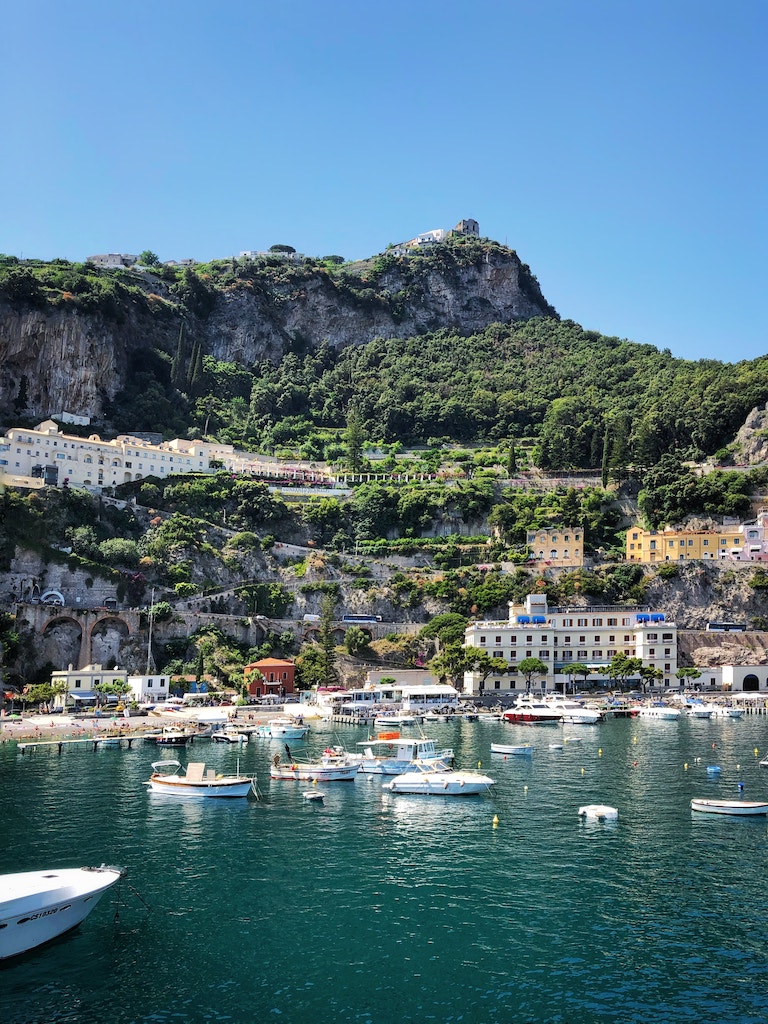 This guide will take you through your public transport options for getting to the coast and traveling around once you're there. This guide can also be a useful jumping-off point for trip planning in the Sorrento area and Capri. In fact, many of the same transport companies also service the Sorrento side of the peninsula and the islands. There are tons of public transit options for getting around the Amalfi Coast towns, but figuring out the best option to take can be confusing. Keep this guide handy for your next trip. Andiamo!
Getting to the Amalfi Coast
While there are buses from Naples center to the Amalfi Coast, we don't recommend this route because of the traffic. We suggest sticking to trains or ferries for your arrival, and only taking buses once you actually get to the Amalfi Coast.
Option 1: Trains from Naples Central Station
Pros: Inexpensive, trains run year round, lets you avoid traffic.
Cons: Honestly…no cons.
There are two trains that will get you to the Amalfi Coast from Naples Central Station.
The first is a direct, one hour metropolitan train to Vietri sul Mare. Vietri sul Mare is one of the larger towns on the Amalfi Coast. It's renowned for its handcrafted ceramic production, and the town itself is covered in ceramic wall decorations. The train takes about an hour and costs €5.10.
Attention! The metropolitan train leaves from Napoli Piazza Garibaldi, which is the station underneath the central station. (It can be a bit confusing.) Follow signs in Naples Central Station for the Metro Linea 2 to find it. You can buy tickets online or at the electronic Trenitalia ticket booths in the station. When searching online, don't forget to set your departure station as Napoli Piazza Garibaldi.
The second option is to take a direct train from Naples Central Station (Napoli Centrale) to Salerno. Salerno is a small city south of Naples and is a transport hub for the Amalfi Coast. The train takes less than 40 minutes and costs between €10 and €20. Buy your tickets online Once you're in Salerno, you'll be able to take either a bus or a ferry to the Amalfi Coast town of your choice.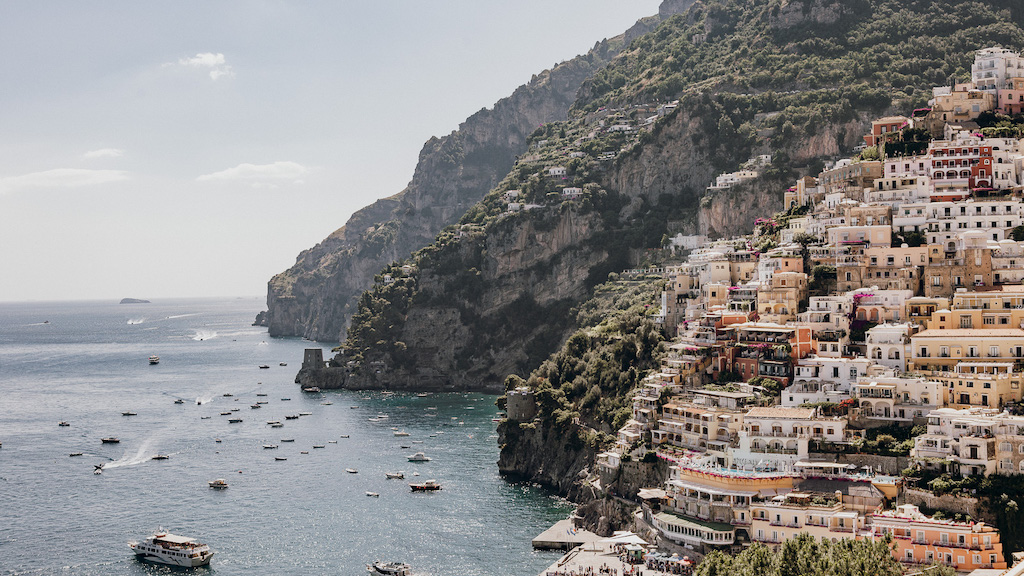 Option 2: Ferries from the Naples port
Pros: Coastal views, most direct route to Amalfi and Positano from Naples
Cons: More expensive option, and unavailable in low season
If you're visiting between May and October, there are direct ferries from Naples to Amalfi and Positano. The two companies operating these routes are NLG and Alilauro. It takes about 90 minutes to get to Amalfi and about 2 hours for Positano. They leave from the port called Molo Beverello, and one way tickets cost between €25 and €35. If there's rain or wind, we definitely recommend checking the ferry company websites to confirm which routes are running.
Option 3: Direct bus from the Naples Capodichino Airport
Pros: Convenient route directly from the airport, inexpensive
Cons: Potential traffic
While we don't recommend getting to the Amalfi Coast by bus from downtown Naples, there is a reliable bus from the airport to Salerno. There are only a few routes per day, but it's a good option if your flight arrival syncs up with the bus schedule. Tickets cost €5.10 and the ride takes about 90 minutes. Get off at the stop Concordia in Salerno, and once you're there, you can take a ferry or bus to wherever you need to go.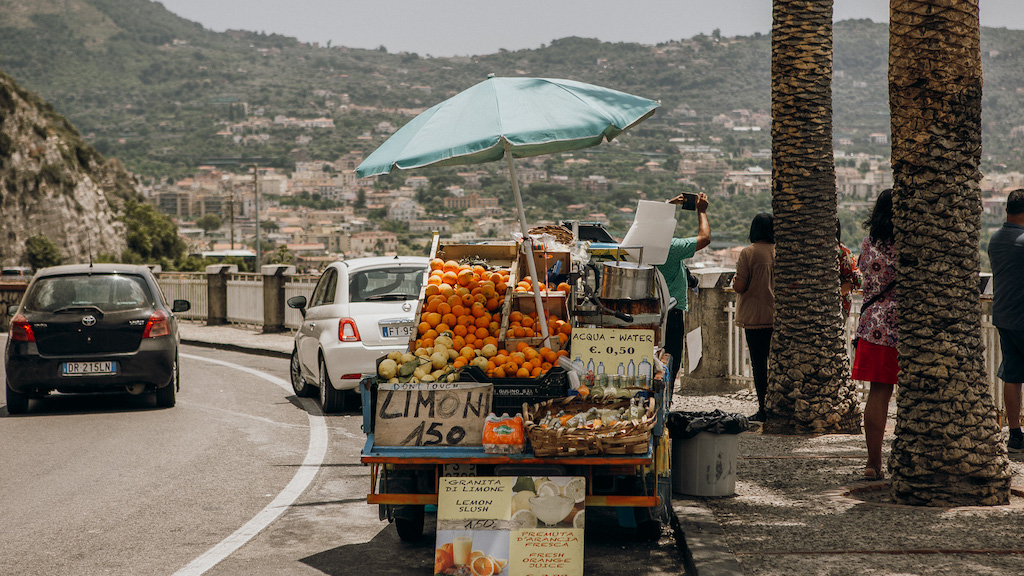 Getting Around the Amalfi Coast
There are two main ways to get around the Amalfi Coast by public transport—ferry and bus. Read on to find out the pros and cons of both.
Amalfi Coast Ferries
Pros: Gives panoramic views and lets you avoid the traffic
Cons: More expensive than buses and only run between April and October
The company Travelmar has service that stops at all towns along the coast, including smaller towns like Cetara, Minori, and Praiano. They run beginning April 1st, and their relatively small open-air boats let you get a spectacular coastline view. Tickets range from €5 to €15 depending on distance.
The company NLG has direct ferries from Salerno to Positano and Amalfi, and between Positano and Amalfi. Positano Jet also has circulation between those three main hubs. Positano Jet is slightly faster, but slightly more expensive, with one way tickets ranging from €15 to €20.
Insider's tip: There are two ports in Salerno. When traveling from Salerno, make sure you check your ticket. Travelmar and Positano Jet depart from Concordia, and NLG from Manfredi.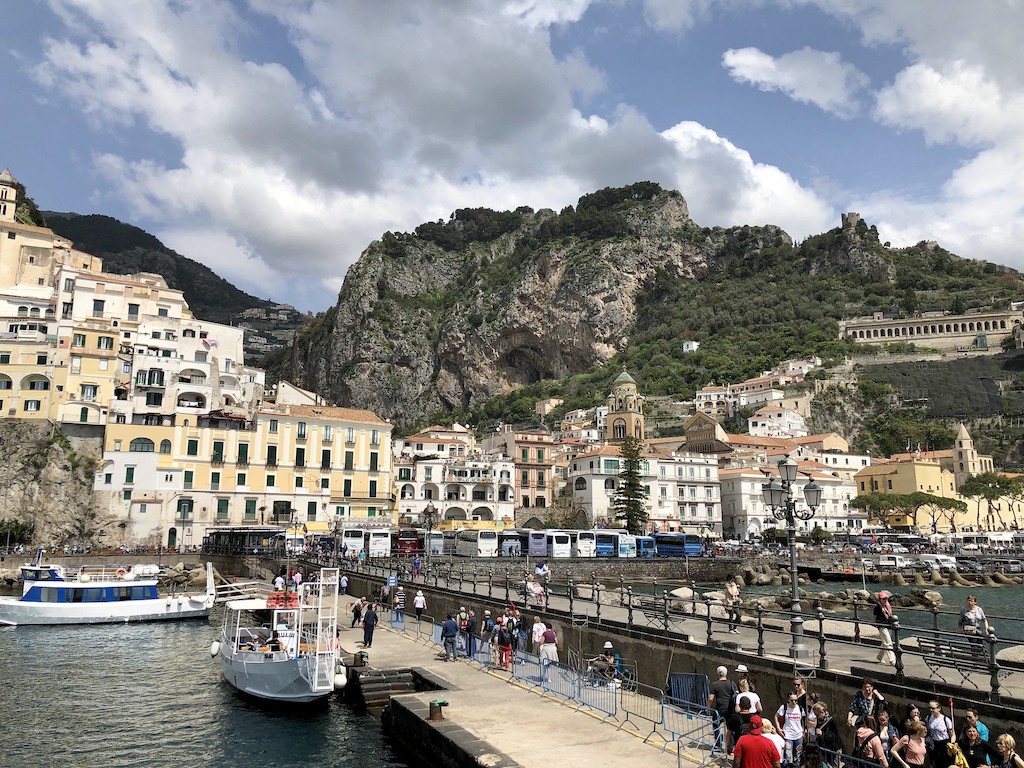 Amalfi Coast Buses
Pros: Cheapest option, allows you to go up into hill towns like Ravello and Bomerano
Cons: Traffic. If there's a ferry, opt for that during the peak summer months
The bus company that services the Amalfi Coast is called SITA. You can buy tickets at the tobacco shops called tabaccherie, along with many coffee bars. They cost €2 – €2.90 for one trip, or you can get a day pass for €8.
You can check the SITA website for timetables, but it's only in Italian. Positano.com provides a good English timetable and other information. The Moovit app is also pretty reliable in terms of searching routes and timetables. Because of traffic, buses are sometimes late, so be prepared to wait, especially during the high season! We recommend taking buses only when traveling inland or during the low season, and sticking to ferries when possible.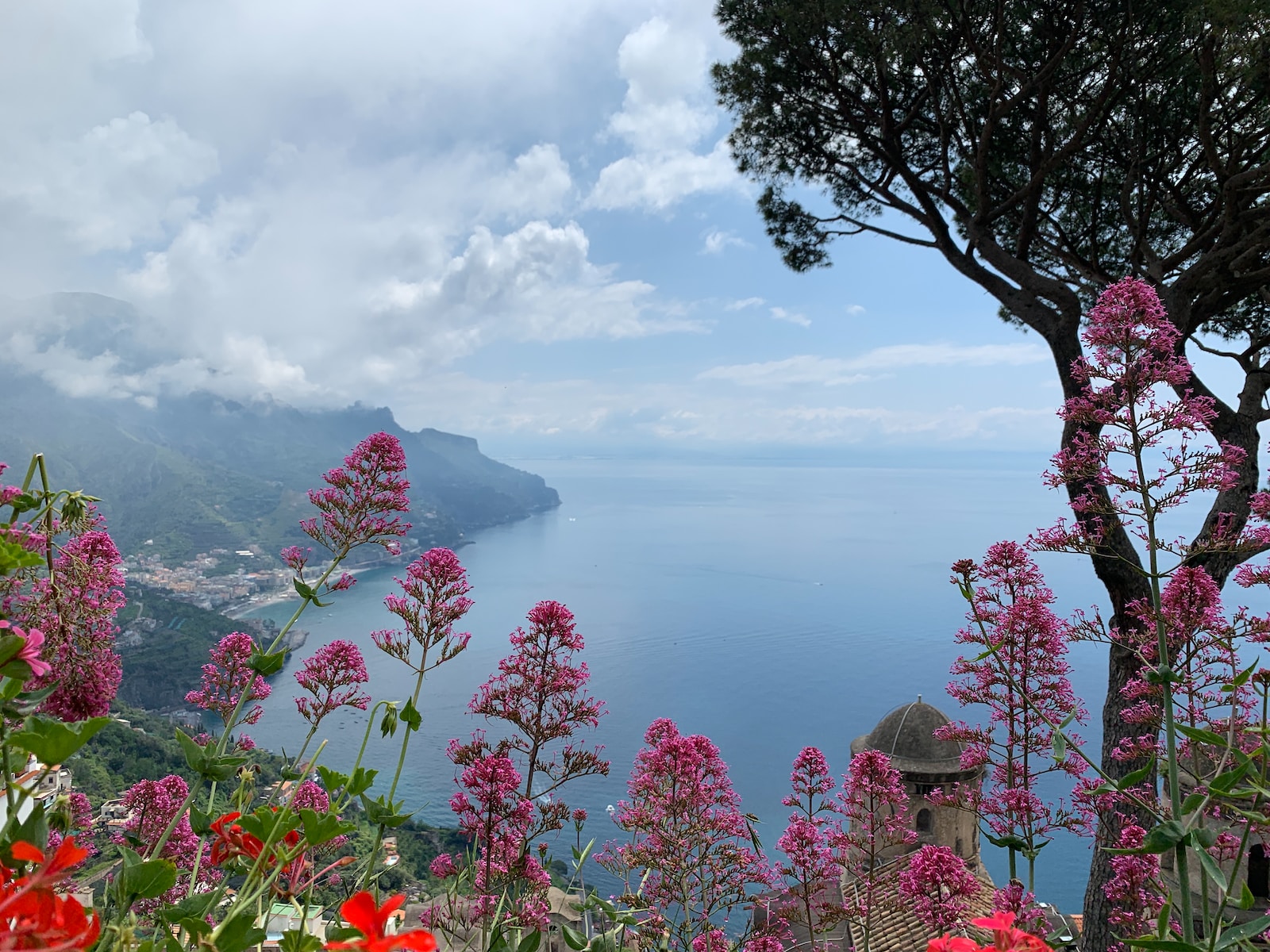 Traveling by bus is more than worth it to soak up this view from the gardens of Villa Rufolo in Ravello. Photo credit: Ilenia F.
Have limited time and want to make the most of your Italian adventure? Join us for Boat-Hopping on the Amalfi Coast on our day trip from Rome! Relax and enjoy a perfect day on the Amalfi Coast; your expert guide is on hand to answer any questions and to handle all logistics.