Welcome to Milan! Now, where should we grab an aperitivo? Because if you are in Milan even for just one day, the one experience you can't miss is a little aperitivo.
Of course, the tradition is practiced throughout Italy, but there is something about Milan's aperitivo that just stands out. Maybe its the relaxation it offers at the end of a busy working day, or maybe its the fact that bars in Milan love to continue to out-do one another, always looking for ways to be more creative and offer more at this Italian "happy hour." Whatever it is, we know that Milan is the city for aperitivo.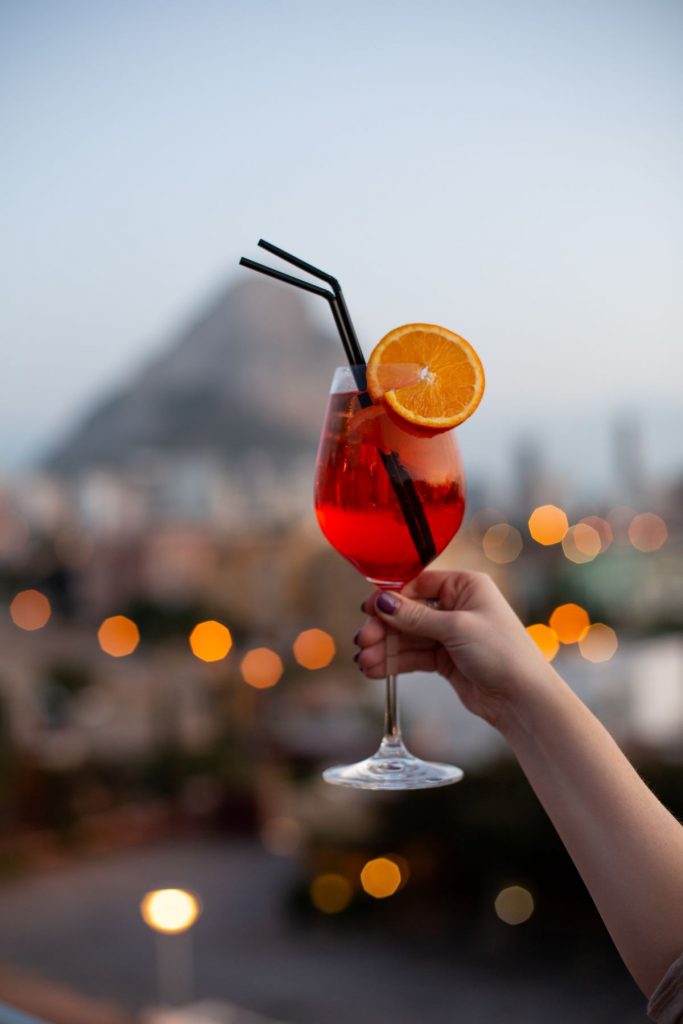 What Is Aperitivo?
If you haven't yet experienced this bite of Italian culture, be ready to fall in love. Aperitivo is an Italian tradition of drinks, snacks and of course friends. It is a moment of the day, between about 5 PM and 8 PM where amici gather together to wind down from the day and share a few laughs over a drink and a bite to eat.

Literally the word comes from the verb "to open" and was meant to serve as a moment to open your appetite for dinner. Many different European cultures have something similar – the french love a little aperitif and hors d'oeuvres, the Spanish enjoy tapas to fill them before dinner, the Portuguese have petiscos. And the Italians? We've got aperitivo.

Now aperitivo comes in all shapes in sizes, it could be just a few snacks served with a beer, or it could be a buffet apericena served with a classic spritz. However it is served, it is a beautiful moment of the day where locals and visitors join in a timeless tradition.
Milan Aperitivo: Not All the Same!
While we often say Milan is famous for it's aperitivo, it might be better said that it is famous for its apericena.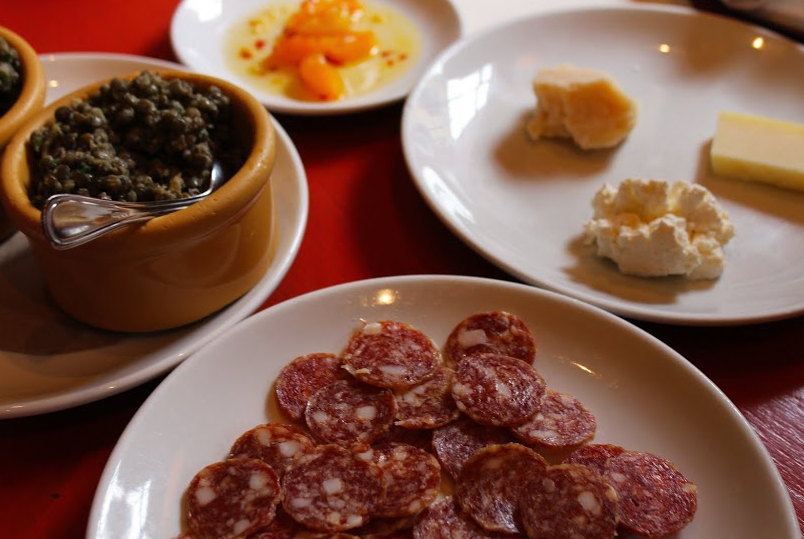 What's the difference? Well, apericena is defined as a more fulfilling aperitivo, one that often serves a full buffet of snacks, where guests can enjoy a full meal with their drink. Instead, Aperitivo could be either just a few little bar snacks – like chips and olives, or just a set plate of local bites – like a tagliere, or charcuterie board.
Milan has it all. Whatever you are in the mood for you will be able to find it on every corner. Just because one bar offers more food doesn't mean it is necessarily better or worse, it all depends on the atmosphere you are looking for.
We've narrowed down our favorite spots in Milan for an aperitivo based on food and drink offerings as well as their vibe. Keep reading to explore our favorite Milan aperitivos!
Our Favorite Spots in Milan for Aperitivo
There are hundreds and hundreds of bars in Milan, each one with its own personality. Narrowing down a list of our absolute favorites was no easy task, but if you only have a quick trip to Milan, these are the spots we'd say you should definitely try!
Un Posto A Milano
Un Posto a Milano brings a little bit of the countryside to the urban center. It is a transformed old cascina – a farmhouse. It now offers open space to host events, a restaurant, and a bar, plus a hostel! While the spot itself is cool to have a look around, we also love their philosophy. They focus on organic and local ingredients, plus offer a selection of natural wines.
Every day they have a selection of offerings available for aperitivo snacks, made with seasonal and local ingredients. You can choose from a selection of sweet and savory bites and pair them with a fresh juice, cocktail, wine, or beer.
Here you will pay a bit extra for your aperitivo, rather than have it included in the price. However, their food is well worth the extra cost, and the full experience of a kilometer 0 aperitivo is unlike any other.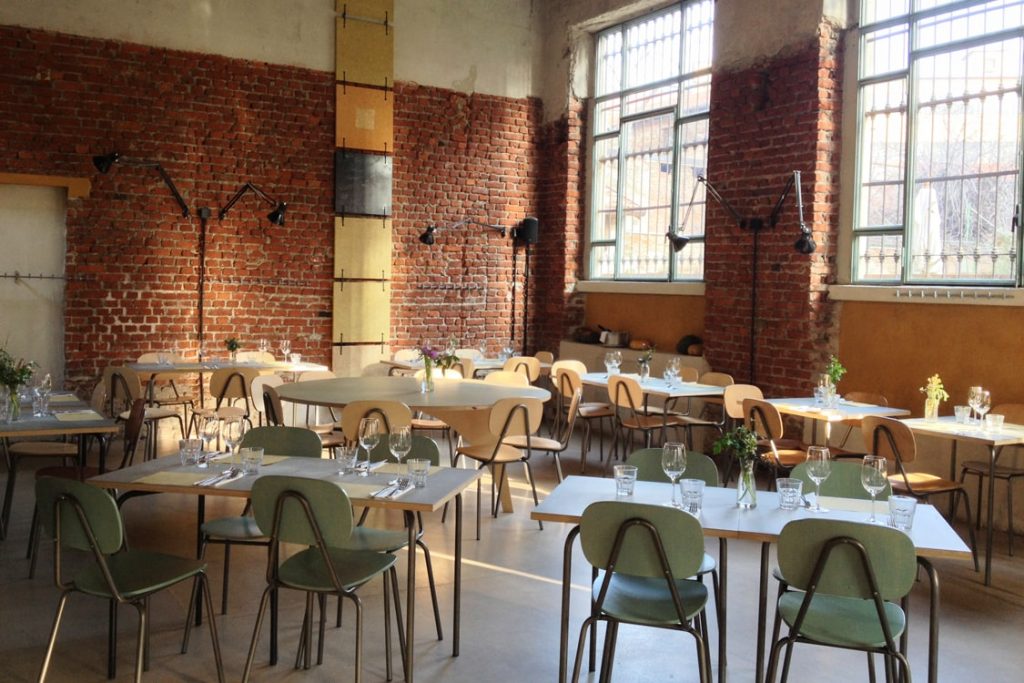 Un Posto a Milano's sprawling interior marries rustic with modern. Photo Credit: Un Posto a Milano
Fonderie Milanese
Feeling like you need a bit more of an apericena to fulfill your appetite? Head on over to Fonderie Milanese. This ex-foundry has been transformed into a trendy bar with exposed wooden beams and rough brick walls. Sit inside for a bit of a hip moody feel. Or head to the back for some fresh air in their open garden.
Fonderie serves up a buffet apericena and is one of the most popular aperitivo's in Milan with locals, especially local students from the nearby Bocconi University. Because of this, you might want to head there a little early or try to book a spot, but we promise it will be worth it!
While here we suggest you order one of their funky cocktails, they even have two mocktails available for those of you who would rather skip the alcohol.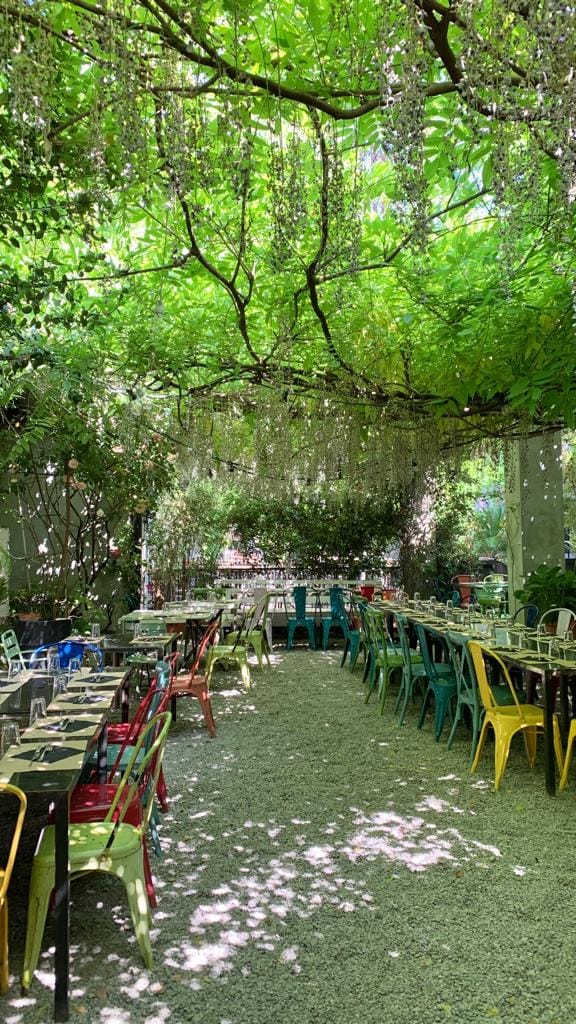 Fonderie Milanese sports one of the best outside dining areas in Milan. Photo Credit: Fonderie Milanese
ASVN – Associazione Salumi e Vini Naturali
Personally, we love a classic tagliere, the italian charcuterie board. There is no better place to try one than the Associazione Salumi e Vini Naturali (Natural Salumi and Wine Association).
Located in the courtyard garden of Corso Garibaldi 41, around the corner from Parco Sempione, this is an especially great spot during the summer. However, they do have a bit of indoor seating for the colder months as well.
They offer an extensive list of natural wines from all over Italy. Prices by the glass range depend on the wine offered. The tagliere are available separately from your drink and in small or large format, so you can make your aperitivo just the right size.
In addition to an extensive wine collection, ASVN offers tailored sizes of charcuterie boards to enjoy alongside drinking. Photo Credit: Associazione Salumi e Vini Naturali
La Hora Feliz
Get into the true spirit of Milan's Apericena with La Hora Feliz. It's not a trendy setting with craft cocktails or gastronomic refinement. No, La Hora Feliz is all about the experience.
For under €20 you can get a massive spritz and access to all-you-can-eat apericena buffet. The locale is simple, but it is one of our favorites when we're meeting big groups of friends. It has plenty of space and even a buffet suited to vegetarians.

Expect a younger crowd here, and for it to be a bit chaotic on weekends. Yet that is also part of the fun; if you are new to Milan you might want to come here and make new friends!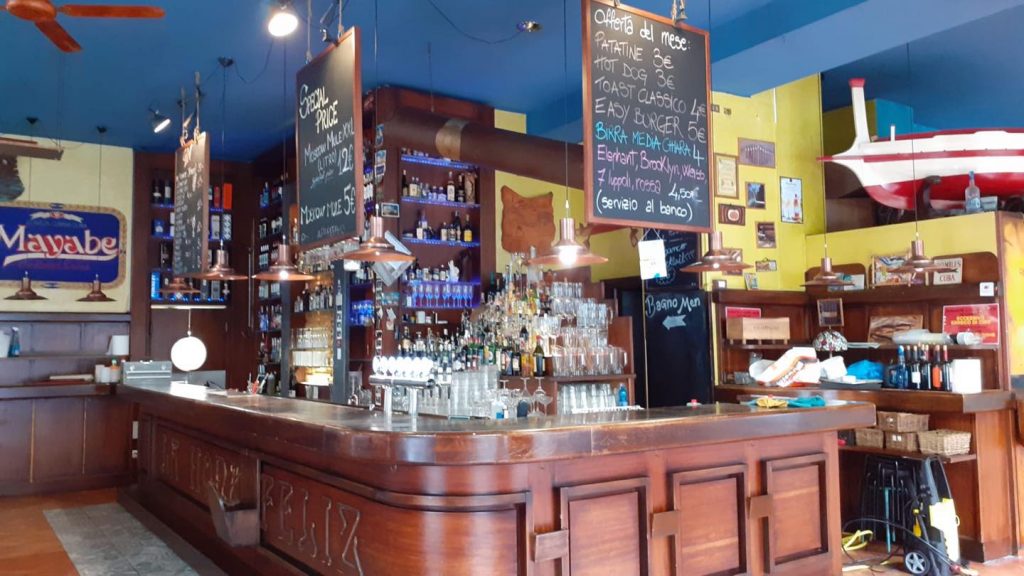 La Hora Feliz can fill up, even later at night. Photo credit: La Hora Feliz
MAG Cafe
MAG is a true symbol of the Navigli neighborhood. This hip cafè and bar is a must in Milan. Their ever-changing cocktail menu will always keep your palate entertained. It's not just the drinks that will keep you entertained; the food is also excellent. Every season, MAG chooses a new theme and completely redesigns the menu. In the past it has been a metro map as well as a story book with famous fairy tales.
This is a cozy bar, better for more intimate aperitivo plans, say with a new date or your best friend. Every buzzing cocktail will be served with just a few light snacks. If you find yourself with a bit more of an appetite there are more small plates you can order. However, that might be your cue to head over one of the Navigli restaurants for a delicious Milanese dining experience.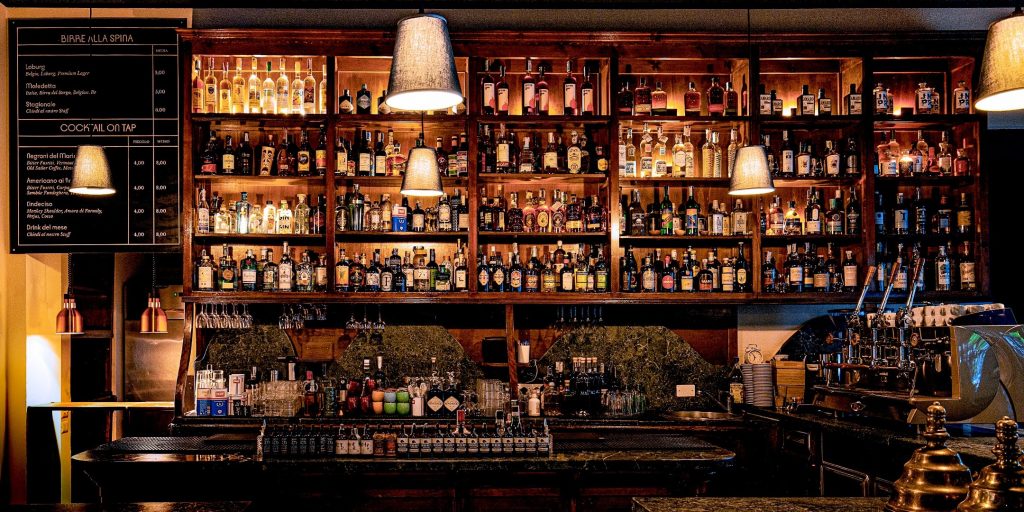 MAG Cafe sports an impressive Amaro collection to bolster your small bites. Photo Credit: MAG Cafe