The Colosseum, one of the most recognized structures on the planet, is also the greatest relic of antiquity. It's also a hot spot on every Rome-goer's checklist, and naturally, the burning question for many is, "Where are the best restaurants near the Colosseum?'"
After spending time exploring this iconic symbol of Rome, you're bound to have built up an appetite. Lucky for you, there are a handful of really great restaurants within walking distance.
Here are eight of the best restaurants near the Colosseum to eat like a victorious gladiator.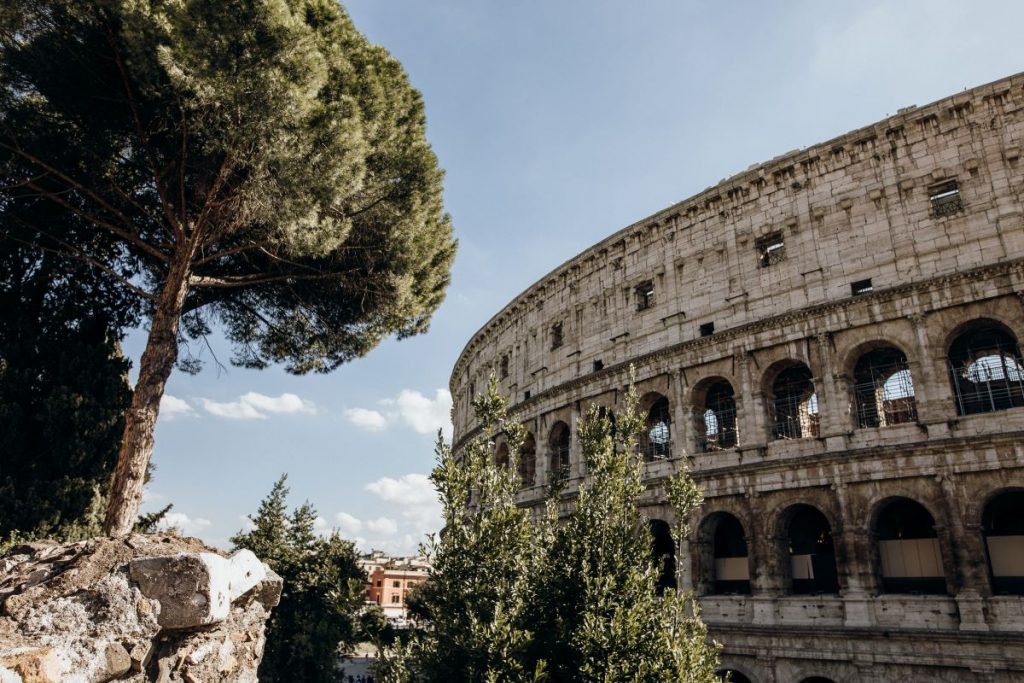 Al Cardello
Yes, it's mostly fellow tourists at Al Cardello these days, but it's a charming place nonetheless. Located in the Monti neighborhood, about five minutes walking northwest from the Colosseum, Al Cardello is the type of place where the menu may never materialize. You had your heart set on a bowl of carbonara or amatriciana? Well, instead, your dining fate may depend upon the whims of the chef/owner.
If he wants you to have the seafood fettuccine, then you're going to get the seafood fettuccine (and, hopefully, like it!).
All that to say: If you'd rather decide your own fate for lunch, then we suggest heading elsewhere. But if you want to have a dining experience that you won't have back home, point yourself to this ancient trattoria.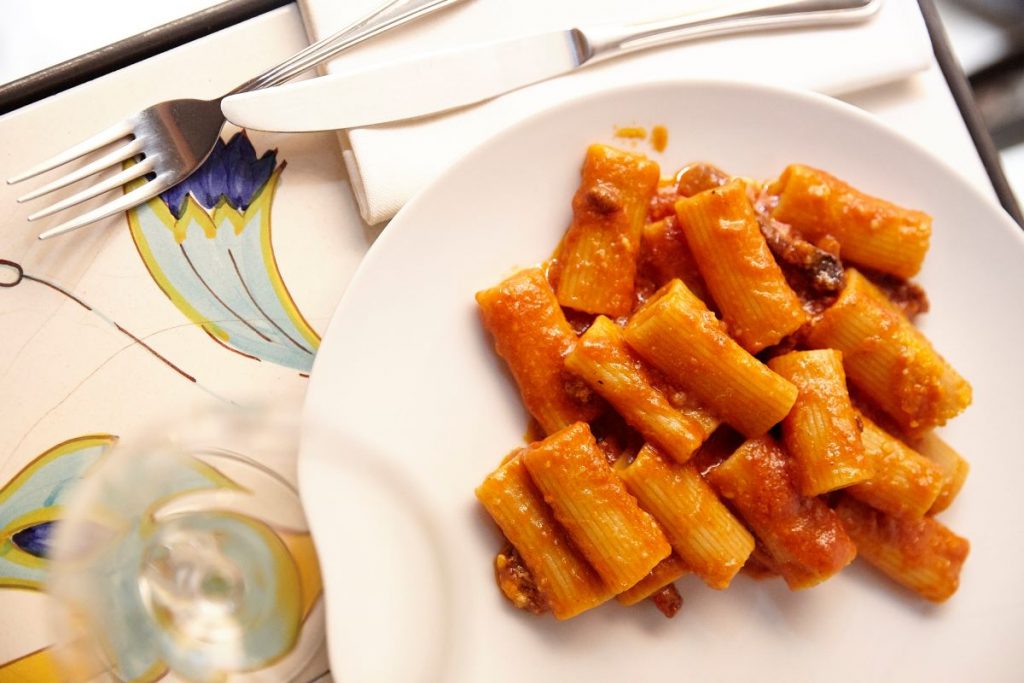 Al Vino al Vino
This wine bar, also located in Monti, attracts both wine aficionados and local hipsters for its simple charms: tile-topped tables and walls lined with bottles of wine for the taking (and the drinking). The accessible, affordable Italian wine list is but one of the attractions: cheese plates and sliced meats (much of which hails from Lazio) accent the vino-fueled fun here. Al Vino Al Vino (Via dei Serpenti) is about 12 minutes walking from the Colosseum.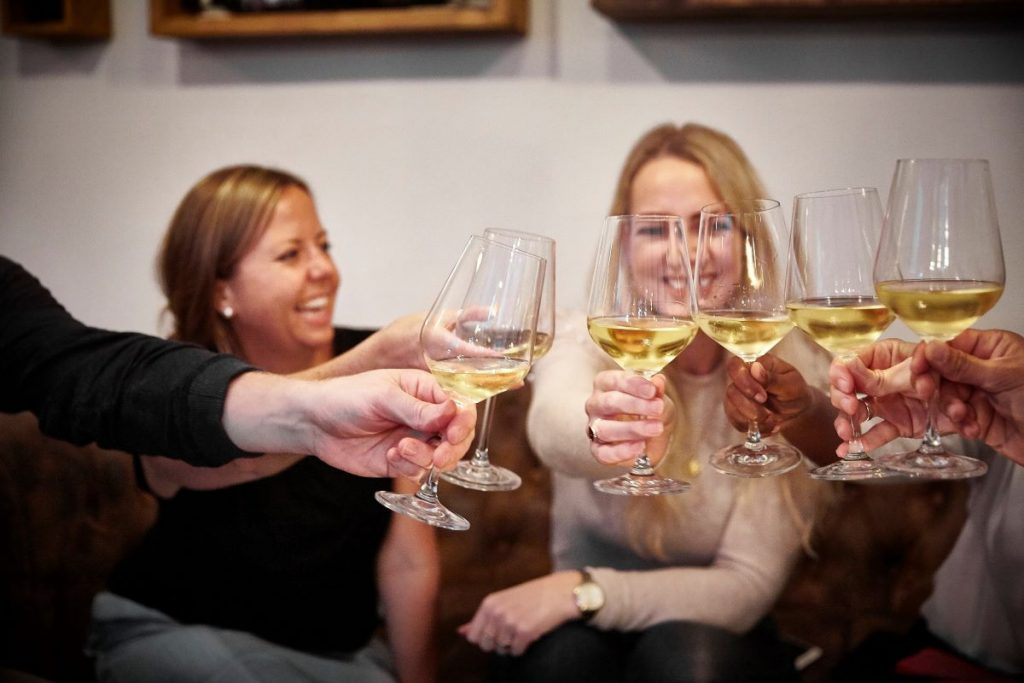 Ce Stamo a Pensà
A six-minute walk into the Monti neighborhood from the Colosseum, Ce Stamo a Pensà is perfect for when you want something quick and relatively unique.
The owners hail from Naples and the food on offer here is strictly Neapolitan (that is, a version of Neapolitan pizza and not pizza alla Romana). They specialize in fried pizza, a Naples speciality that was born after World War I. Instead of cooking it in an oven, they drop the dough in sizzling hot oil. It's a real treat. 
It's also open late, so it's good for a bite before retiring for the night.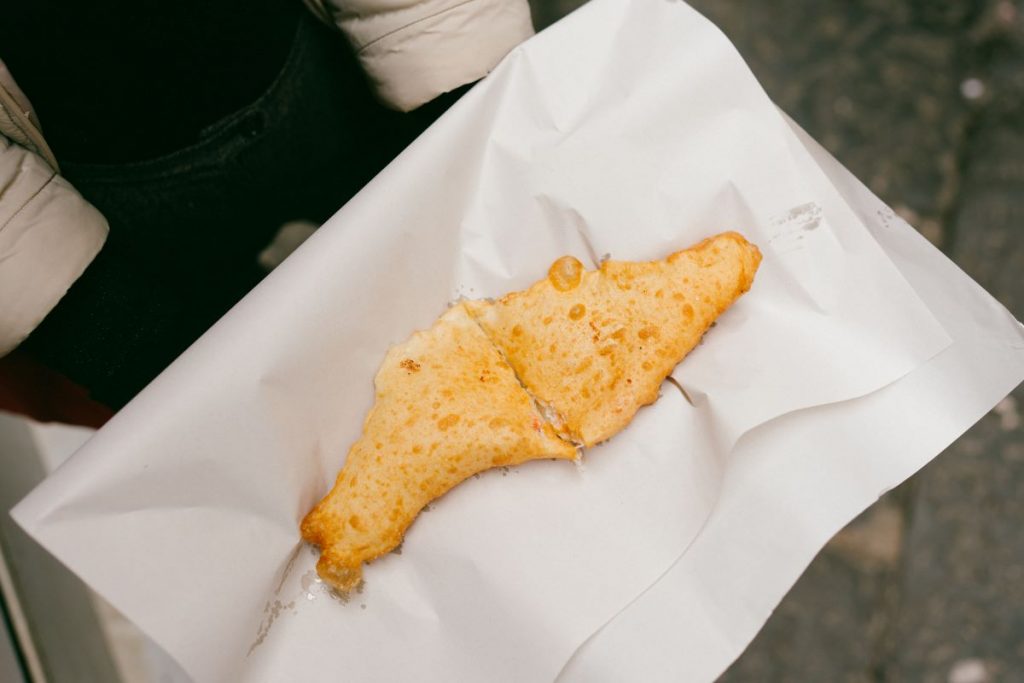 Il Tempio di Iside
A 10-minute stroll down from the Colosseum down Via Labicana, Il Tempio di Iside is an elegant, splurge-worthy eatery that specializes in seafood and fish. Start with the crudi, raw fish, before moving on to one of the handful of seafood-laden pasta dishes. The spaghetti with sea urchin is particularly great here. It's not seafood in Naples, but it's still excellent.

For the secondi, or main courses, there are whole roasted fish and salmon steak, among other delights.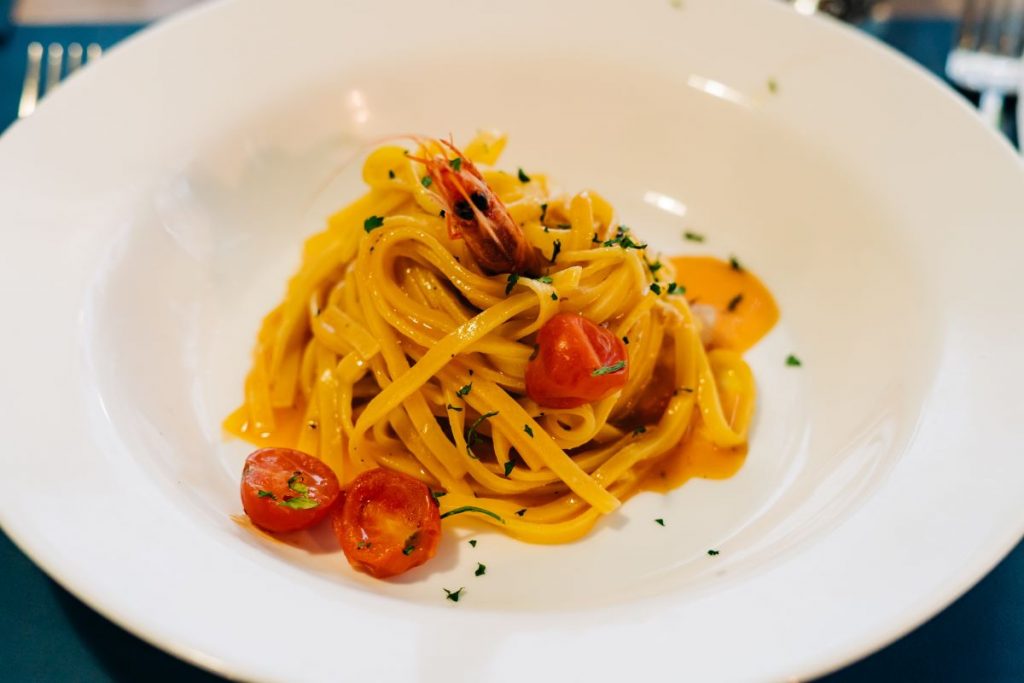 La Vecchia Roma
Located on the charming, narrow Via Urbana that runs parallel with the bustling and ugly Via Cavour, affordable La Vecchia Roma is not going to win any awards for its food and service. That said, it's a classic family-run Roman trattoria serving up classic Roman pasta dishes.

At night they do better-than-average pizza alla Romana: cracker then crispy dough topped with tangy tomato sauce and various toppings of your choosing. The mismatched framed photos on the walls and red-and-white-checked tablecloths make this the no-frills restaurant you imagined when you pictured yourself eating in Rome.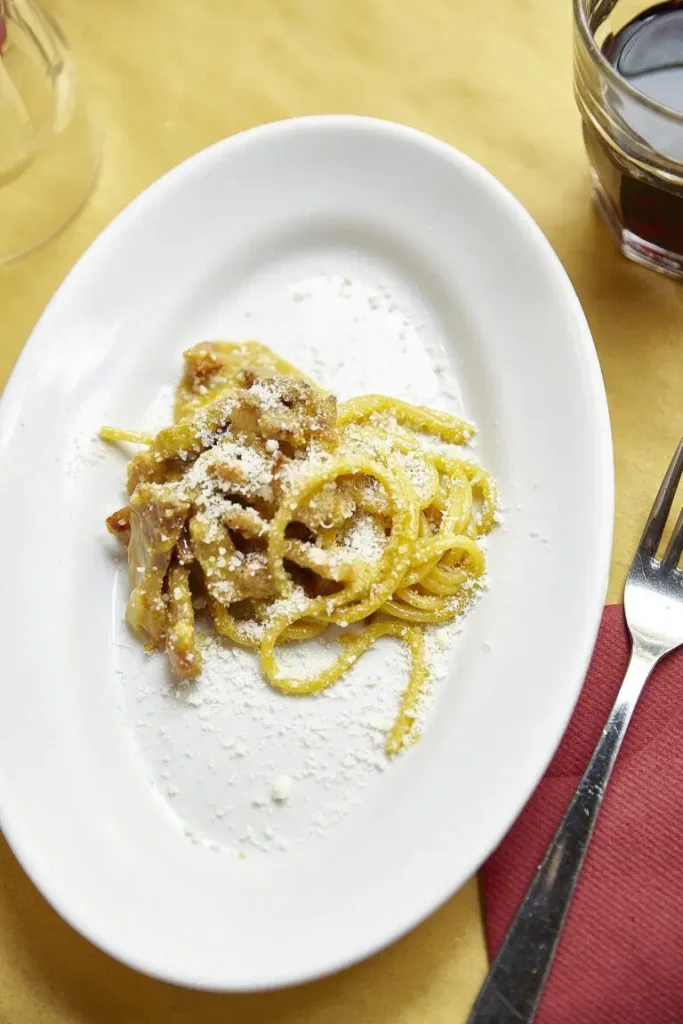 Taverna Romana
Set down a narrow alleyway adjacent to Via Cavour and a cobblestone's throw from the Roman Forum (and just a few minutes' stroll from the Colosseum), Taverna Romana (Via della Madonna dei Monti, 79) has been around for a few generations now.
The atmospheric wood-clad dining room is the perfect place to tuck into a bowl of carbonara or cacio e pepe before digging into tender roasted lamb or oxtail slathered in a tangy tomato sauce.
While it may not hold an official membership in the esteemed "best cacio e pepe in Rome" club, it certainly deserves an honorary seat at the table, and is no doubt one of the best restaurants near the Colosseum.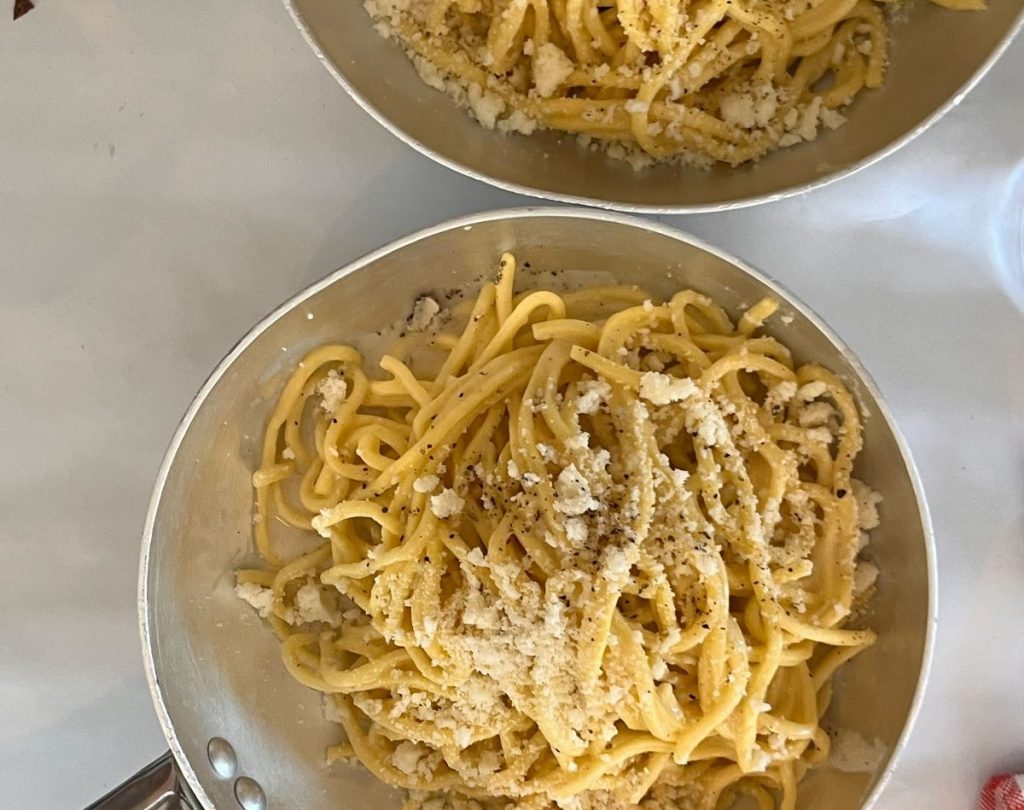 Trattoria Luzzi
Wedged between the Colosseum and San Giovanni in Laterano—just two blocks northeast of the Colosseum—Luzzi has been feeding Romans and visitors for three generations now. The owner is a big fan of AS Roma football team, evidenced by the Roma-bedecked interior. But try to nab an outdoor table for maximum Roman dining pleasure.
This is the type of place where, if you become a regular, they'll plop down the bottle of limoncello after you pay your bill—a sign that they recognize you and you can drink all the lemon-accented liqueur you want (within reason, of course).

Luzzi doesn't have any particular specialty except being a true-to-its-roots Roman trattoria, serving up all the classic Roman pasta dishes plus some meaty secondi.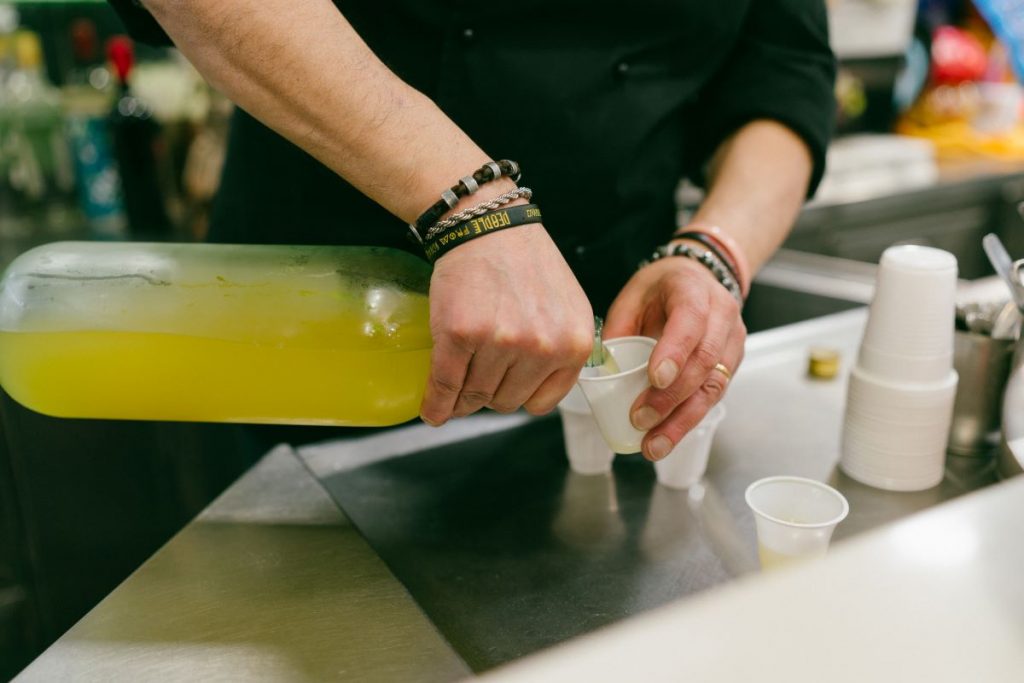 Trattoria Monti
This exceptional restaurant, situated near the Basilica of Santa Maria Maggiore, offers an elegant yet laid-back dining experience. Although it's a 20-minute walk from the Colosseum, its quality earns it a well-deserved spot on our list of the best restaurants near the Colosseum.
Run by the Camerucci family, Trattoria Monti (Via di San Vito, 13) serves up dishes from the family's home region of Le Marche, on the east coast of the Italian peninsula.
The narrow dining room is only big enough for a handful of tables, so make a reservation, especially for dinner.
First timers should get the parmesan cheese tortino, a luscious soufflé or the coffee-coaster-size ravioli stuffed with cheese and a semi-cooked egg. There's also heartier fare like hen cooked in lard or cod laced with saffron.