A life-changing visit to the 9/11 Memorial Museum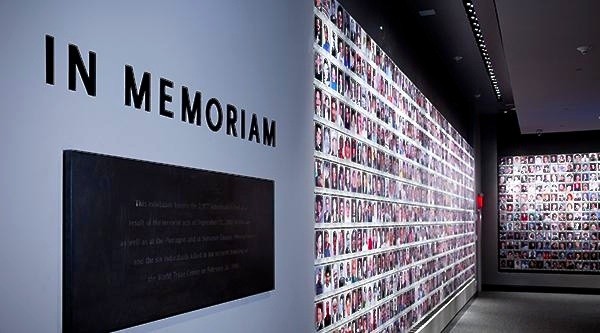 The 9/11 Memorial Museum is unlike any other museum I've ever visited in the entire world. Gone are the feelings of awe and fascination that you would typically experience at a museum. These feelings are instead replaced by a sense of shock and, on some occasions, absolute devastation. Yet, despite the extremely powerful emotions experienced at the 9/11 Memorial Museum, it really is an absolute must-visit New York City attraction.
Moving exhibits and heart-breaking stories
From the minute you set foot inside the museum, you begin to feel the gravity and importance of the events that unfolded there. As the museum is underground, the bustling sounds of New York City can no longer be heard and visitors speak in hushed voices, as a mark of respect for the many lives lost as a result of this terrible event.
As you make your way around the 9/11 memorial museum you will find countless numbers of exhibits and items relating to 9/11, including pieces salvaged from the fallen towers, personal items from those who lost their lives and a number of moving audio testimonials from those who witnessed the attacks.
An unmissable museum
Of all of the exhibits, the one that should not be missed is 'September, 11 2001'. This exhibit takes visitors on a walk through of the day's events in chronological order and includes everything from news reports from the day, amateur footage of the attacks themselves and items such as a perfectly preserved, ash covered interior of a clothing store.
The 9/11 Memorial Museum also does a truly spectacular job at highlighting the reality of the huge numbers of lives lost, something that can be difficult to fathom. There are phones, wallets, metro passes, shoes and backpacks on display, all of which come with a story of their owners attached. There is also a beautiful Memorial Exhibition filled with the photos of every single person who lost their lives. This exhibit also has an excellent interactive feature that allows you to search through these photos and learn more about the people in them.
Beautiful Foundation Hall
After walking around these exhibits, it's natural to be left with a lot of emotions. A great place to process what you've seen is the incredible Foundation Hall. This vast space is home to the 'Last Column', the final steel beam removed from Ground Zero. It features posters, pictures and markings made by grieving friends and family to honor their fallen loved ones.
Prior to visiting the 9/11 Memorial Museum, I knew a great deal about 9/11. Like the rest of the world, I was glued to the news on that fateful day. However, after spending a couple of hours walking around these harrowing exhibits, I have a new found understanding of the loss and bravery of those affected by this massive tragedy.
Walks of New York's 9/11 Memorial Tour is the best way to get a greater understanding of what exactly happened on September 11, 2001. Pre-reserved 9/11 Memorial Museum tickets are included – book your place on this special tour today.
About the author: This blog post was written by Ruth Aravena, an Irish travel blogger and newly-initiated resident of NYC. She joined forces with Walks of New York to get to grips with the city during her first few weeks of residence. The tours are ours, but all opinions are her own.