The list of the best museums in NYC is long and hotly debated. Whatever you're looking for, New York probably has a museum dedicated to it, no matter how esoteric. While we're used to hearing about the most classic ones like the Museum of Natural History, the Metropolitan Museum of Art , and the Guggenheim, the city is also jam-packed with lesser-known gems. These New York museums are often devoted to niche subjects or local interests. They are perfect for those looking for unique experiences in a city where everything has "been done" or for those with a deep interest in the history and culture of the city itself.
1. The Tenement Museum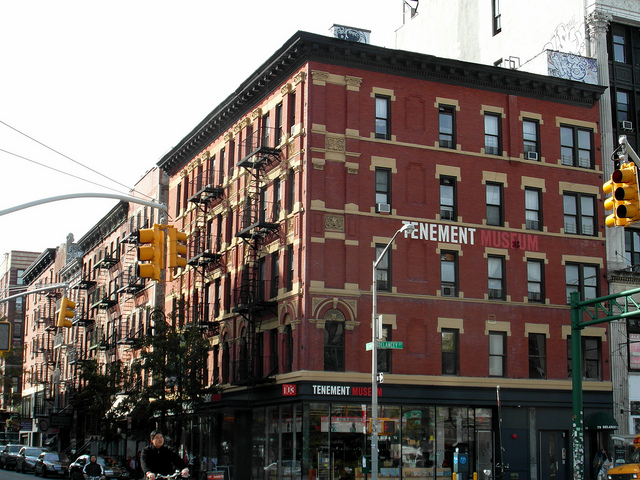 The story of New York City has always been driven by immigration. Between 1905 and 1914, it's estimated that more than one million immigrants per year passed through Ellis Island. For many, New York City became home, and they set up multi-family tenement buildings on Manhattan's Lower East Side. Along with Ellis Island, the Tenement Museum is one of the best museums in NYC to learn about the city's unique history of immigration. Located in a former tenement apartment at 97 Orchard Street, it's a living testament to the important role of working-class immigrants in the fabric of New York City culture. This NYC museum uses costumed actors to teach you about the various roles and stories of the city's immigrants. With its great location and unique installations it has become a must-see for visitors looking for something different.
Insiders' Tip: Tours run throughout the day, so visit the museum's website before heading over to make sure you get a ticket to the tour of your choosing. If you want to learn a little more about immigration to New York, you can't miss Walks of New York's Statue of Liberty and Ellis Island Tour. 
Hours: Friday through Wednesday, 10:00 a.m. to 6:30 p.m.; Thursday, 10:00 a.m. to 8:30 p.m.
Location: 103 Orchard Street, New York, NY
Admission: Adults: $25; Students: $20; Seniors (65+): $20
Website: https://www.tenement.org
2. The Noguchi Museum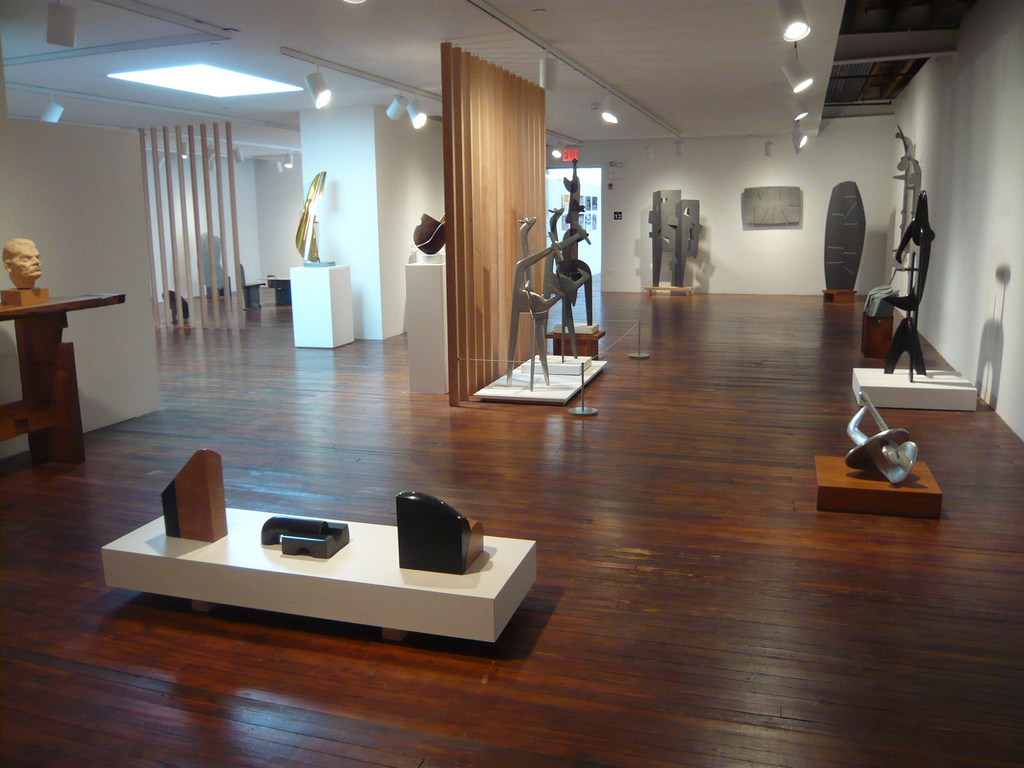 Established by Japanese-American artist Isamu Noguchi in 1985, this museum showcased his life's work. Its 12 galleries have become a peaceful oasis from the chaos of the city that is a favorite among those in the know. Noguchi's work captures the harmony of modern sculpture with natural elements, all alluding to his Japanese heritage and set in this 27,000 square foot space in the Queens neighborhood of Long Island City. The museum is also nestled into an area with a lot of the best museums in New York, including the Socrates Sculpture Park, MoMA PS1, and the Museum of the Moving Image. However, if you're looking for something a little different than the big art museums, this is a great option.
For more information on the Museum of Modern Art check out our MOMA blog.
Insiders' Tip: On a warm, sunny day, after you visit the Noguchi Museum take a walk over to Roosevelt Island (there's a walking bridge just south of the museum). It's a great spot for a picnic lunch, and you can take the famous cable car back into Manhattan from there.
Hours: Wednesday through Friday, 10:00 a.m. to 5:00 p.m.; Saturday and Sunday, 11:00 a.m. to 6:00 p.m.; CLOSED Monday and Tuesday
Location: 9-01 33rd Road (at Vernon Boulevard), Long Island City, NY
Admission: Adults: $10; Seniors (65+): $5; Students: $5; Children Under 12: FREE
Website: http://www.noguchi.org/
3. The Museum of the American Gangster
Hollywood has glorified the role of America's 20th-century gangsters, and New York is the setting for some of the best scenes in gangster-movie history. But the story of organized crime in America is much deeper (and darker) than what you typically see on the big screen. Located on St. Mark's Place between 1st and 2nd Ave. in the East Village (a frequent hangout for Al Capone, Lucky Luciano, and John Gotti), visitors can get a detailed look at what life was like for these criminals during the prohibition era, complete with photos, newspapers, and original documents from that time period. Significant items also include bullets from the Saint Valentine's Day massacre and John Dillinger's death mask. It's a must-see for anyone interested in crime stories and the history of New York's notorious gangsters.
For the ultimate gangster experience don't miss Walks of New York's Crime tour, led by retired NYPD detectives.
Insiders' Tip: The admission includes a guided tour of the museum, so plan according to the time of each tour. Tours run daily at 1:00 p.m., 2:30 p.m., and 4:00 p.m.
Hours: Daily, 1:00 p.m. to 6:00 p.m.
Location: 80 St. Marks Pl., New York, NY
Admission: Adult: $20; Students and Seniors: $12
Website: http://www.museumoftheamericangangster.org 
4. Museum of Mathematics (MoMATH)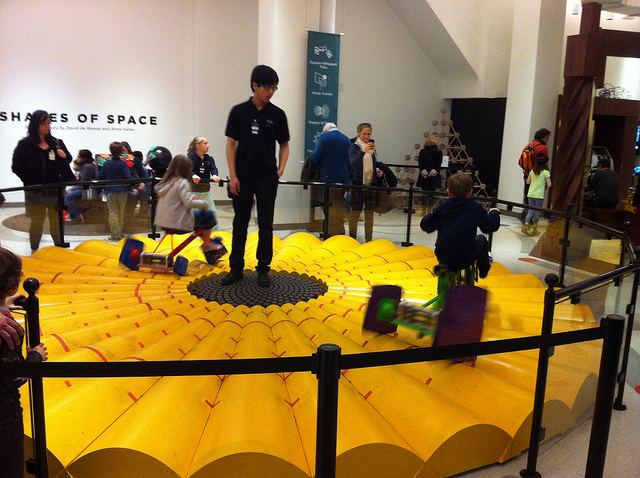 MoMATH is one of the the best museums in NYC for the entire family. Don't be put off by the numbers and equations, whoever said math can't be fun had never been here. At MoMATH the formulas you learned in school come to life in a series of interactive exhibits. Great for all ages, you can take a ride on a bike with square wheels, see how light and color can be manipulated through mathematics, and create geometric sculptures. It's as much of a visual experience as educational, and because it's so close to Madison Park, it's a great stop in between lunch at Shake Shack and dinner at Eataly.
Insiders' Tip: This museum is very kid-friendly—with so many interactive exhibits, it's a wonderland for young learners, so be sure to add it to your list if you are traveling with youngsters.
Hours: Daily, 10:00 a.m. to 5:00 p.m. Closes at 2:30 p.m. the first Wednesday of every month.
Location: 11 East 26th St., New York, NY
Admission: Adults: $15; Child, Student, Senior: $9
Website: http://www.momath.org
5. New York City Fire Museum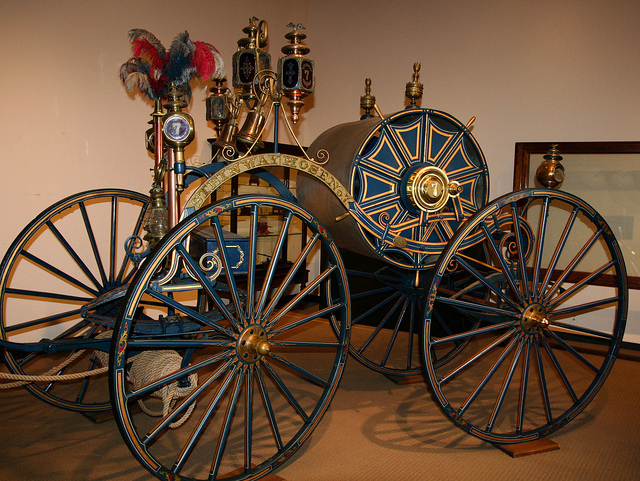 The New York Fire Department, or FDNY, is arguably the most famous fire department in the world. This NYC museum dedicated to the history of the city's fire fighters offers an in-depth look at how the department has evolved while preserving its culture and history. The museum's permanent collections house an extensive collection of artifacts from the history of the fire department, with alarms and vehicles from every era, tools and clothing used by modern firefighters, and featured exhibits on specific pieces of the department's history. The museum also has a permanent memorial dedicated to the 343 members of the FDNY-EMS who lost their lives on September 11, 2001.
If the heroism and self-sacrifice of the FDNY is something you would like to learn more about you can't miss our 9/11 Tour.
Insiders' Tip: The New York City Fire Museum offers an educational course designed to teach participants how to prevent fires in the home. It takes place a mock apartment to show how to prevent fires. A great interactive exhibit for kids.
Hours: Daily, 10:00 a.m. to 5:00 p.m.
Location: 278 Spring Street, New York, NY
Admission: Adults: $8; Children under 12: $5
Website: www.nycfiremuseum.org
6. The Morbid Anatomy Museum
This one is a little out there. With artifacts, writings, and discussions centered around death, funeral ceremonies, medicine, and more, this is the perfect NYC museum for anyone interested in the morbid details of humans and the vast array of cultural practices surrounding the end of life. There are plenty of skulls, taxidermied animals, weird biology, and books to make your spine tingle, too.
Insiders' Tip: The museum hosts a film series and podcast online, so if you want to get a sense of what the museums is like before going, be sure to check it out.
Hours: Daily (except Tuesdays), 12:00 p.m. to 6:00 p.m.
Location: 424-A 3rd Ave, Brooklyn, NY
Admission: Adults: $8; Seniors and Students: $6; Children 12 & under: FREE
Website: http://morbidanatomymuseum.org
7. The City Reliquary
This non-profit community museum celebrates nostalgia with a collection of New York City artifacts arranged according to their decades. From old souvenirs of the past, and the signs that once graced the entrance to some of New York City's most famous buildings (the 2nd Ave. Deli has a former sign in the Reliquary's collection), to baseball memorabilia, and original subway tokens, this museum provides small snapshots into the everyday lives of New Yorkers through the years. As far as New York museums go, it's small but has a lot to show off.
Insiders' Tip: Be sure to check out the rotating Community Collections exhibits, which tell the story of past residents in the Brooklyn neighborhood.
Hours: Thursday through Sunday, 12:00 p.m. to 6:00 p.m.
Location: 370 Metropolitan Ave., Brooklyn, NY
Admission: Adults: $5; Students and Seniors: $4; Children: FREE
Website: http://www.cityreliquary.org
8. The Museum of Sex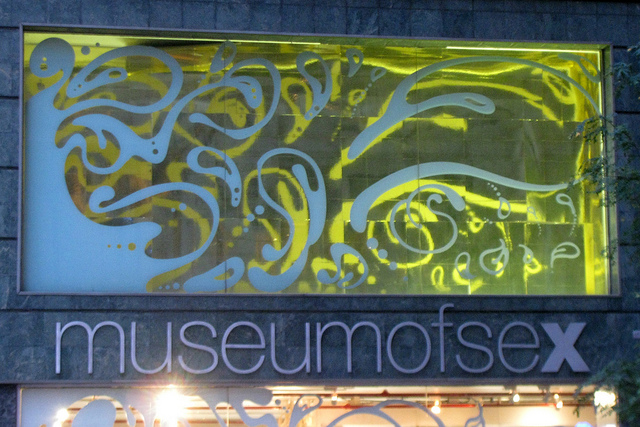 The entrance to New York's Museum of Sex greets you with an array of tools, books, and accessories all pertaining to the subject of this tasteful yet titillating NYC museum. Simply visiting the gift shop is a popular activity, but for those ages 18 and up there's a whole world of exploration in the museum. While some aspects are bit tacky (for example, the "Jump For Joy" exhibit that includes inflated breasts that you can bounce around), some of the other exhibits delve deep into the history, art, and nature of sex.
Insiders' Tip: the MoSex has one of the best bars/cafes in the neighborhood. If you need a break after browsing the museum, this is a great spot to grab a coffee, tea, or beer before moving onto your next activity.
Hours: Sunday through Thursday, 10:00 a.m. to 9 p.m.; Friday and Saturday 11 a.m. to 11 p.m.
Location: 233 5th Ave., New York, NY
Admission: Adults: $18.50; Seniors, Students, and Military: $16.50
Website: http://www.museumofsex.com
9. Hamilton Grange National Memorial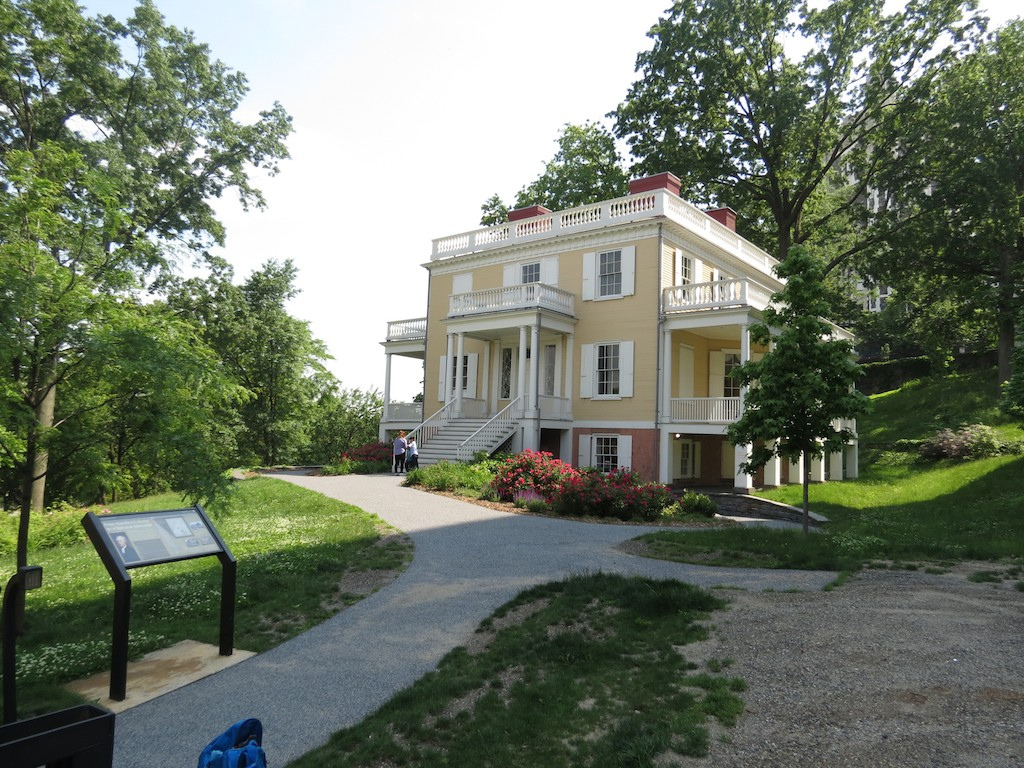 You may not be able to land tickets to Broadway's sensation 'Hamilton' –  a hip hop musical about the life of America's found father Alexander Hamilton – but that doesn't mean you can't see a part of this founding father's life here in New York City. During his final years (before political rival Aaron Burr famously killed him in a duel) Hamilton built this home in the area now called Hamilton Heights. Thanks to the efforts of a local church and the National Parks Service, the home was preserved (and relocated twice), becoming a memorial and museum dedicated to Hamilton's legacy. Today, you can visit the museum and walk through the rooms Hamilton, his family, and other significant characters in American political history once walked through. The museum also features some stunning pieces of original furniture. As a very interesting side note, you can learn the improbable story of how the National Parks Service moved the entire house down the street in one piece.
Insiders' Tip: Take the tour, it's worth it. Tours run at 10:00 a.m., 11:00 a.m., 2:00 p.m., and 4:00 p.m. They are run by the park rangers who really enjoy giving you a colorful picture of what life was like during the time of the Founding Fathers.
Hours: Wednesday through Sunday, 9:00 a.m. to 5:00 p.m.
Location: 414 West 141st Street, New York, NY
Admission: FREE
Website: http://www.nps.gov/hagr/index.htm
10. New York Transit Museum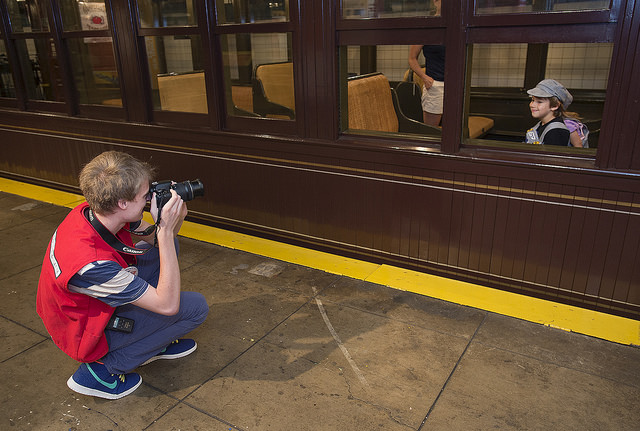 Possibly the most important part of New York City's infrastructure, the subway system connects all five boroughs through its complex network of subterranean tunnels. To celebrate and preserve its history, New York City's Metropolitan Transportation Authority's museum showcases exhibits that commemorate the past, present, and future of the subway. With art installations, educational exhibits on the subway's creation, and artifacts from previous decades, this museum is an unexpected gem among the best museums in NYC.
Insiders' Tip: The Transit Museum has an extra gift shop in Grand Central Station with a few tiny pieces you can see while passing through, but the actual museum is just a short subway ride away in Brooklyn.
Hours: Tuesday through Friday, 10:00 a.m. to 4:00 p.m.; Saturday and Sunday, 11:00 a.m. to 5:00 p.m.
Location: Boerum Pl & Schermerhorn Street, Brooklyn, NY
Admission: Adults: $7; Children age 2 to 17: $5; Seniors: $5 and Free on Wednesdys
Website: http://web.mta.info/mta/museum
Honorable Mentions
New Yorkers love to create museums for odd things, especially in small spaces. It's actually not out of character for city dwellers to open up museums in their own homes, hallways, or even the odd discontinued elevator. If you're interested in checking out a few of these, we recommend the Torah Animal World, a museum dedicated to taxidermy in the home of a New Yorker; the Long Island City Elevator Historical Society; the Troll Museum, which Atlas Obscura describes as "A sixth floor walk-up in New York City's Lower East Side, where a woman in elf ears named Reverend Jen, along with her pet chihuahua, Reverend Jen Jr., give a guided tour of a unique collection of vintage trolls and troll memorabilia"; and of course, the new Tonya Harding & Nancy Kerrigan 1994 Museum, which is located in someone's hallway and highlights memorabilia from that classic moment in ice skating history.