Visiting Times Square, The Met, Katz's Deli, Central Park, Broadway, the Empire State Building, enjoying authentic NYC pizza (whether it's the high-end variety or the dollar slices), and taking the ferry to the Statue of Liberty are just a few of the iconic experiences you can enjoy throughout the diverse NYC neighborhoods. These sites and activities, even if they're considered touristy, are essential for any visitor to experience at least once.
Perhaps one of the most obvious is the State of Liberty (and Ellis Island). These are essential—you can't visit New York and come home and tell your friends and family that you didn't take a few hours and get up-close and personal with Lady Liberty.
At Walks, we're committed to organizing small group tours so that our guests enjoy the tours more, have intimate and curated experiences and get access to our entertaining and expert guides.
Here are five reasons why you should join our guided tour of the State of Liberty and Ellis Island.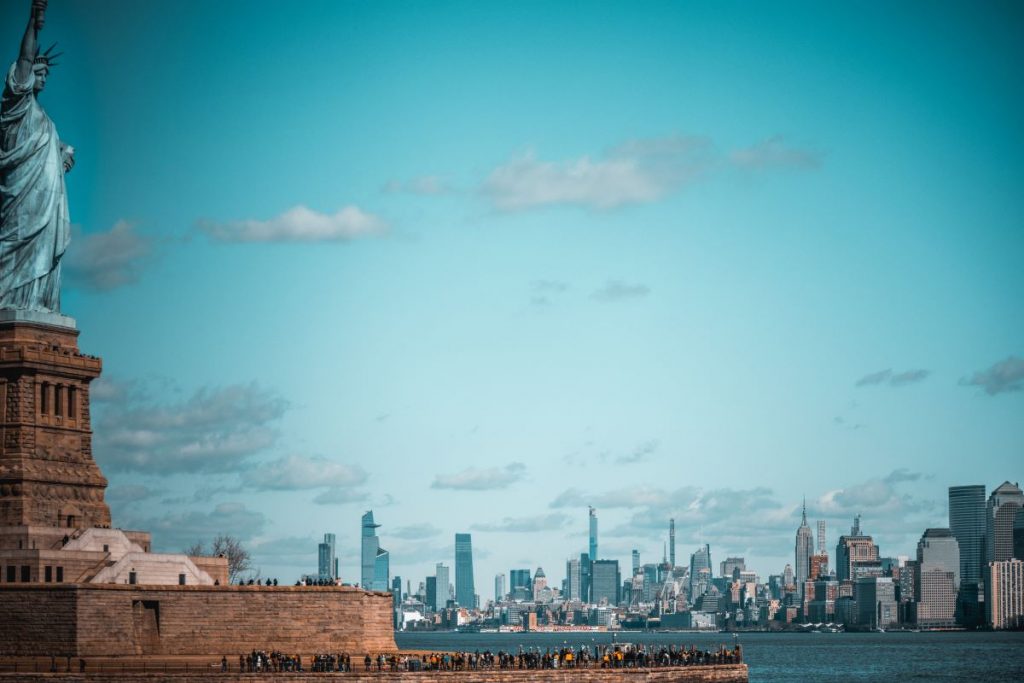 The Ferry to Statue of Liberty
When you first meet your guide at the tip of lower Manhattan, you'll be given your ticket for the ferry and they will regale you with historical anecdotes and facts, mentally preparing you for what you're about to experience. No waiting in ticket lines here. Just stroll onto the ferry, after going through a quick airport-style security check.

The ferry to Statue of Liberty leaves early, allowing you to escape the hustle and bustle so you can explore this iconic landmark with lesser crowds. The ferry stops at Liberty Island and Ellis Island before returning to Manhattan and offers a clean and comfortable experience (plus snacks, beverages, and souvenirs are available onboard!).
The best part? Your Walks guide knows the best places for maximum cruising experience and will guide you to the section on the ferry where you'll get the best views.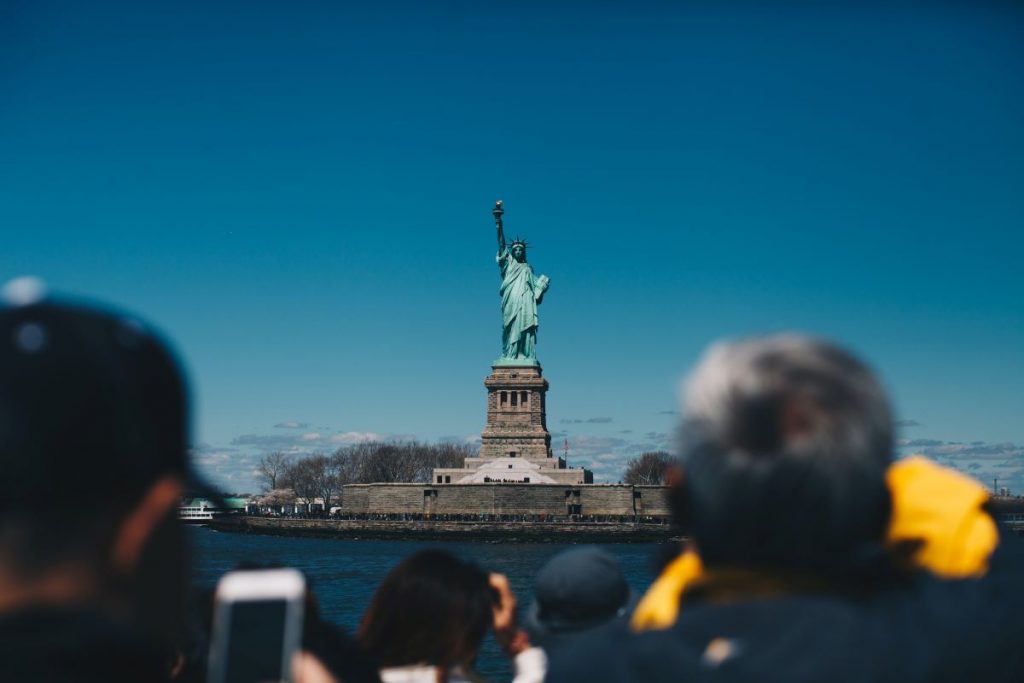 Up Close With Lady Liberty
The half-day tour includes ferry tickets and access to both monuments (including Lady Liberty's frequently sold-out pedestal and museum) and an expert guide who will share the fascinating stories behind these national treasures…including a few secrets.
Plus, you get to see the statue from a totally different perspective—literally and figuratively. Bonus, there are stunning views of the southern Manhattan skyline that will light up your Instagram.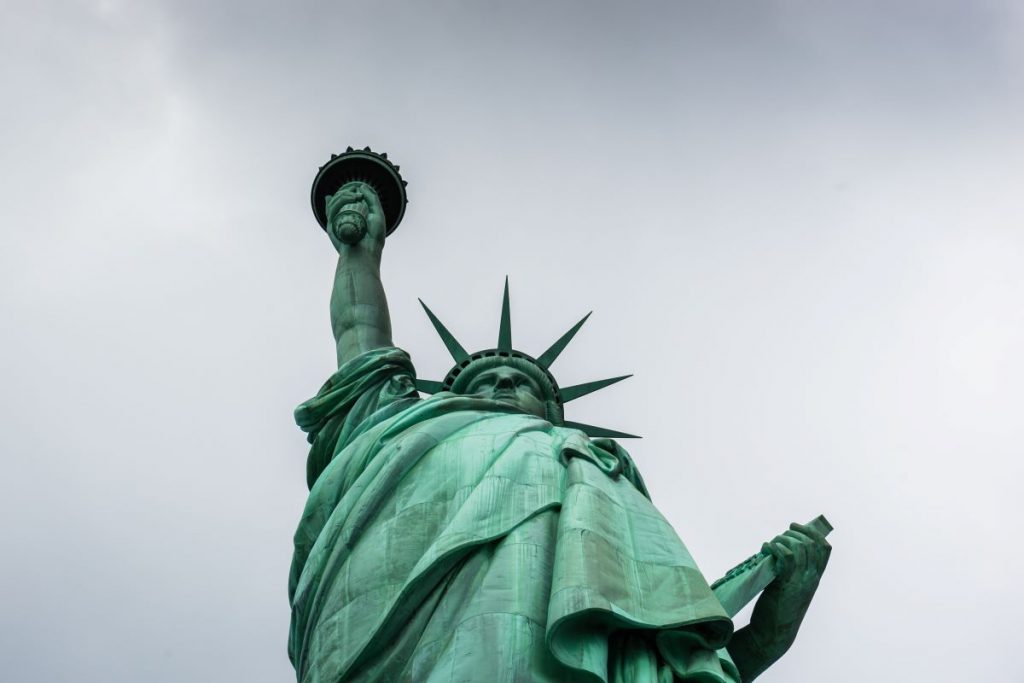 Learn About Immigrants' Journey
After saying farewell to Liberty Island, it's back on the ferry for the short cruise to Ellis Island. Following in the footsteps of the immigrants, you'll depart the Ellis Island ferry and enter the main building, where you'll find a display of luggage and cases brought by new arrivals.
Here your guide will give you an intriguing account of what it was like to arrive here as an immigrant over a century ago. The place will come alive upon hearing these tales.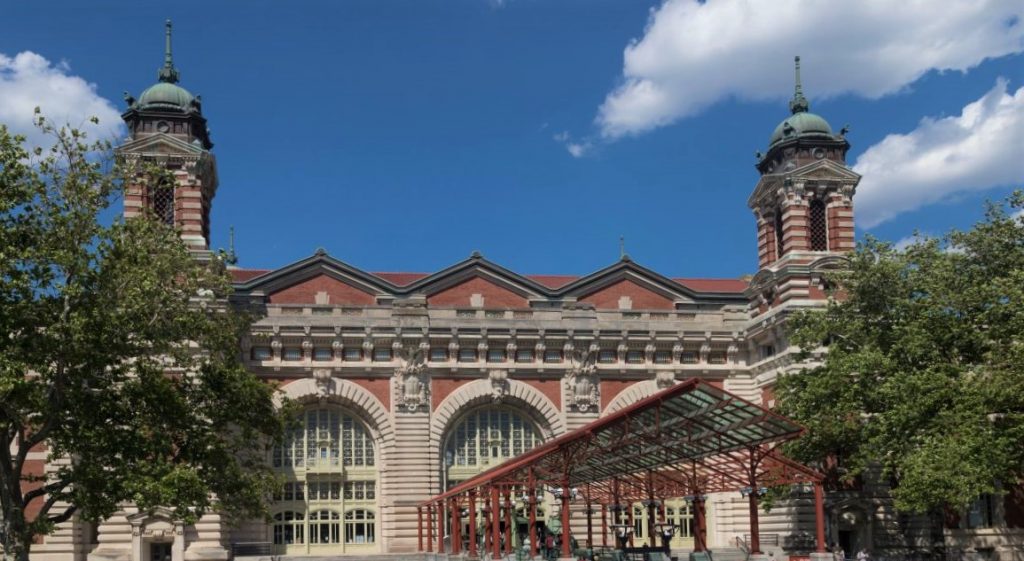 Your Own DIY Tour
After a while, the guide will set you free, allowing you to roam around Ellis Island as you wish. Here you can take your time and go at your own pace.
To the left is the main information desk, offering brochures and maps (available in several languages), helpful Park Rangers and screening times for the 45-minute documentary film Isle of Hope, Isle of Tears (which we recommended seeing).
This level includes a permanent exhibition called Journeys: The Peopling of America 1550-1890, the theater showing the documentary, and the interactive Flag of Faces, a large video installation filled with images submitted by individuals of their families, their ancestors, or even themselves.
To the right is a good cafeteria, as well as a gift shop and restrooms.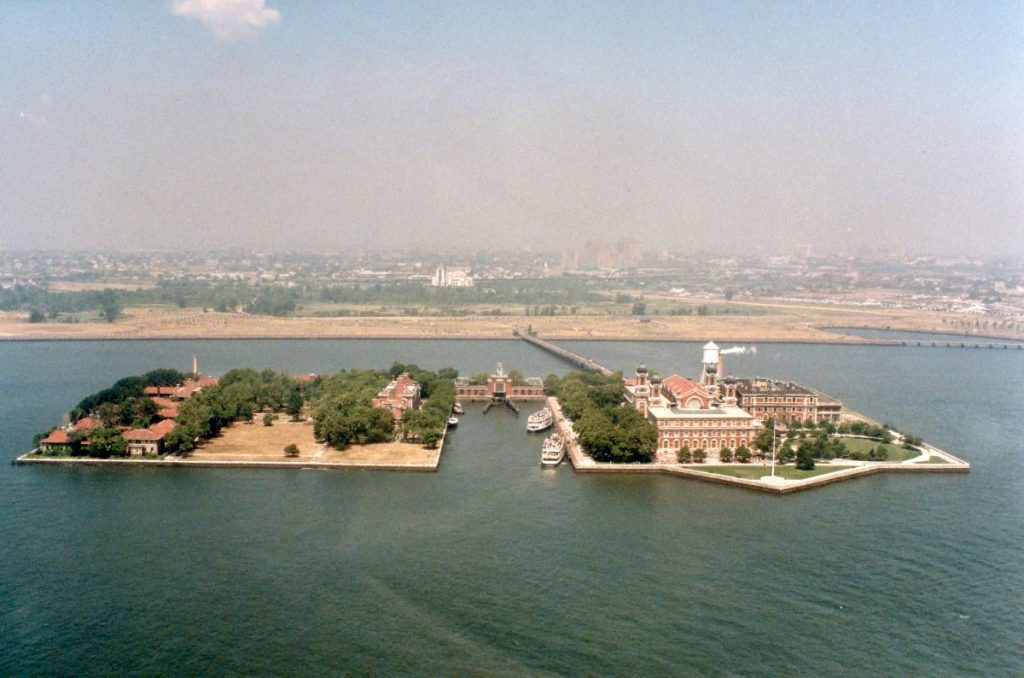 Get To Know Your Ancestors
Want to look up your family history? Behind the info desk is the Family Immigration History Center, which provides visitors with computer and multimedia technology, as well as professional assistance for investigating immigration history, family documentation, and genealogical exploration.
Continue in the immigrants' footsteps up the stairs (elevators are available at either end of the building) to the Registry Room, where millions of hopefuls waited to be interviewed by inspectors at the standing desks at the far end.
At the southwest corner of this level is an intriguing exhibit, Through America's Gate, which chronicles the immigrants' experience at Ellis Island—including physical and mental examinations.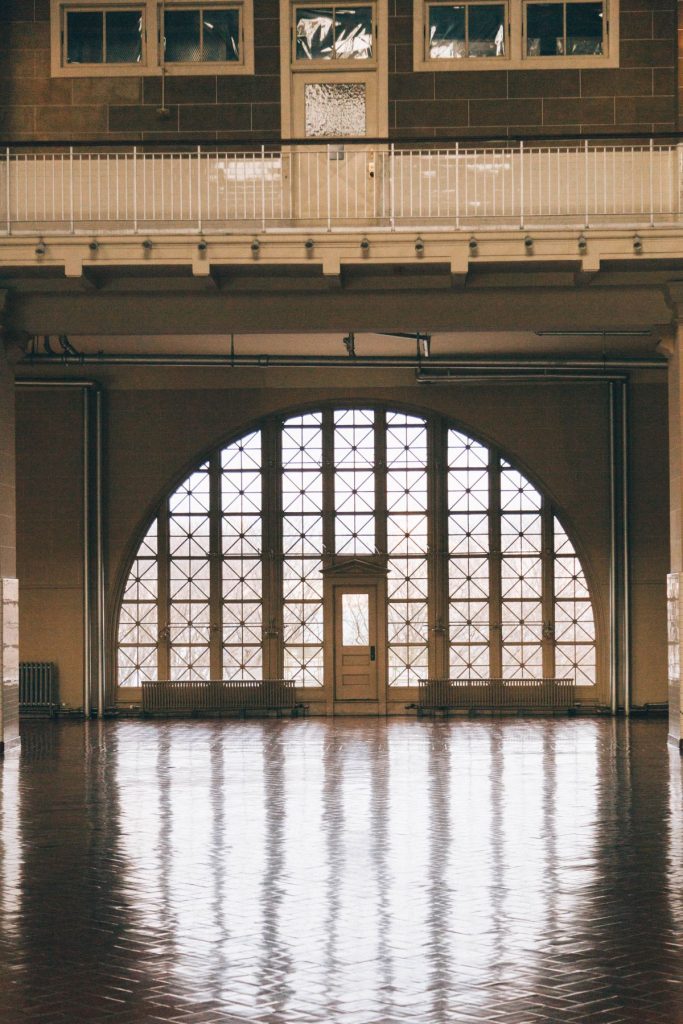 On the third floor are several fascinating and moving exhibits, including Peak Immigration Years, exploring the journey to America and the challenges faced upon arrival, and Treasures from Home, displaying prized possessions brought from homelands. There is also an exhibit about the restoration of Ellis Island (allowed to badly decay for decades) and temporary exhibits.
Travelers Love Our Ferry to Statue of Liberty Tour
Creating memorable moments for our guests is at the core of our mission. Here's what previous travelers have said about our Fully Guided Statue of Liberty Tour with Ellis Island.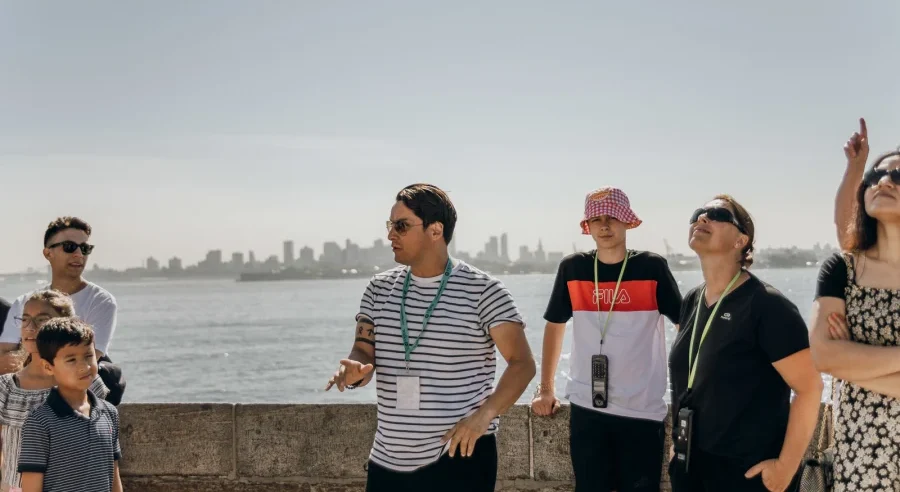 What Guests Say
"Marla was excellent, both in historical accuracy and entertainment value. She made learning about both Lady Liberty and Ellis Island fun. Her style draws you in and you want to listen to her closely so you don't miss anything. Perfect tour for me and my small group – enough information where you learned a lot but weren't overwhelmed with facts and figures given to you without context. It was great that she had the ipad with her and could show us supplemental pictures along the way. Thanks Marla!" – Jennifer
"My preteen daughter wanted to see the Statue of Liberty and Ellis Island on her first trip to New York. I'm so glad we booked the experience through Walks. Rob was a fantastic tour guide who made the experience much more meaningful, especially the history he shared about Ellis Island. Highly recommend this tour!" – Erin
"Rob was an amazing tour guide. He was very knowledgeable about the history of The Statue of Liberty and Ellis Island. He even showed us how his family was connected to Ellis Island. This made the tour more personable." – Demika
Taking a half-day guided tour of the Statue of Liberty and Ellis Island is the best way to get a deeper knowledge and understanding of the significance of these two sites. Don't miss our guided ferry to Statue of Liberty Tour + Ellis Island. Join us!