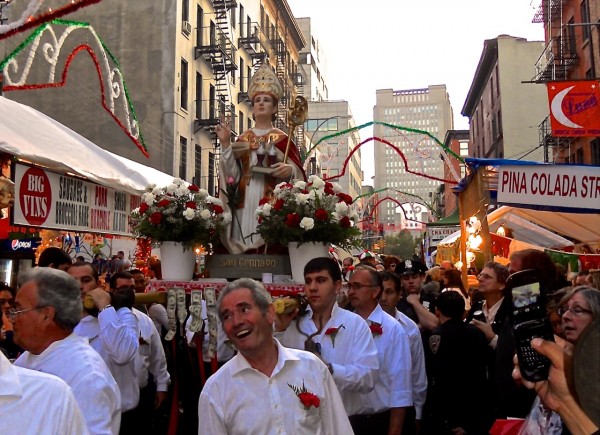 New York has been called "the Italian American capital" because it is home to the largest Italian American population in the U.S.  There are Italian communities in all five boroughs of the city, most with deep roots in their area.  Italians helped build the modern city and have made a profound impact on NYC's arts, politics, dialect, and, of course, cuisine.  Italian food is a staple of the NYC diet…I mean, what's more quintessential New York than its pizza?
NYC's Italian Immigrants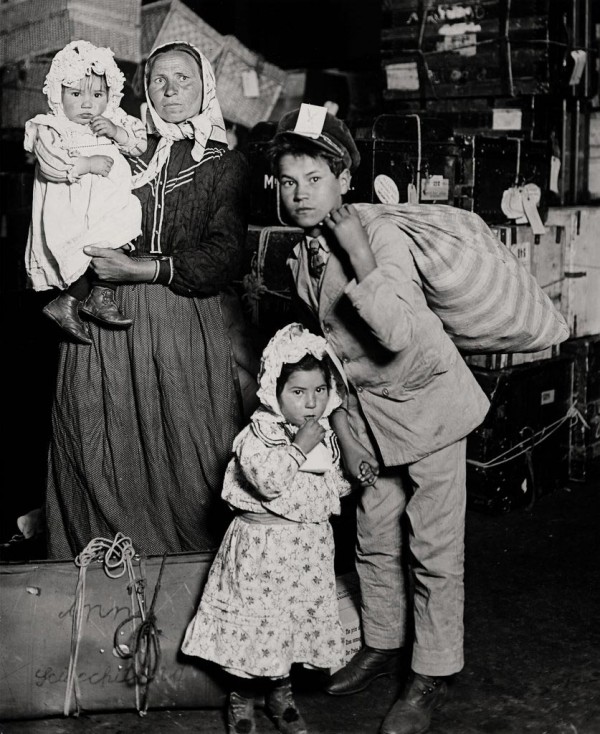 New York had relatively few Italian residents during its first two centuries.  In 1860 only about 1400 New Yorkers were of Italian descent.  Most of them eked out a living as dockworkers, fruit vendors, organ grinders, or rag pickers while living in the decaying Five Points slum.  However in the 1860s a wave of immigration from Italy began that became a flood by the end of the century. Between 1900 and 1914, almost two million Italians emigrated to America, most arriving in New York.  By 1930 NYC was home to over a million Italian Americans – a whopping 17 percent of the city's population.
Most Italian immigrants came from southern Italy and were contadini (landless farmers) fleeing severe poverty.  Some of the earliest arrivals were men seeking work and intending to return home to their families with their earnings (which they often did).  Men were sometimes recruited by padroni (labor brokers), who paid their passage, food, and lodging and hired them out as work gangs (pocketing most of the wages).  Having little education, many Italian men found work as laborers, digging ditches, paving roads, and building projects like the Brooklyn Bridge, the subway, and Grand Central Terminal.  Some created small businesses as street vendors, grocers, and barbers.  Italian women and girls often worked in the garment industry.
Like most immigrants facing language and cultural barriers, the Italians created ethnic enclaves.  The first communities were centered on Mulberry Street north of the Five Points, in Greenwich Village, and East Harlem.  Though New Yorkers labeled the newcomers "Italians," the immigrants identified primarily with their home region or village and organized their neighborhoods accordingly.  Thus, Mulberry Street was distinctly Neapolitan, Mott Street held the Calabresi, Hester Street the Apulians, etc.  Elizabeth Street was strictly Sicilian, and each block (even tenement) was inhabited by a specific Sicilian town.  Martin Scorsese, who grew up in Little Italy, remembered that an engagement to a person from another block was considered a "mixed marriage."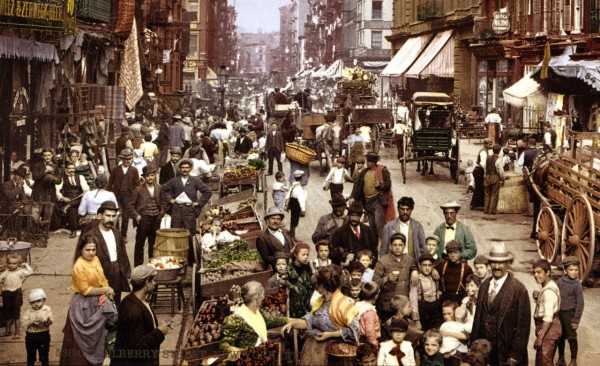 The tight-knit Italian American communities (given the confined housing and crowded streets, they had to be close) focused on fundamental traditions of family, food, and faith.  Cultural conflicts sometimes arose with other immigrants, specifically when they were forced to share churches with Irish Catholics.  Italians chose to worship in church basements rather than attend a "foreign" Irish mass.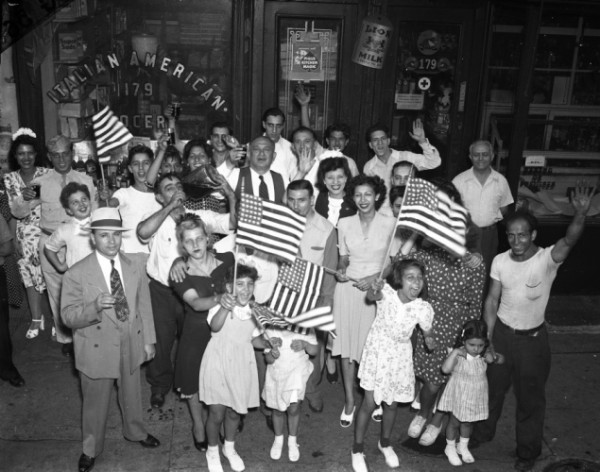 Faced with considerable discrimination and poverty, Italian communities formed mutual aid societies, as well as clubs focused on culture (particularly music and opera), and organizations to stage religious festivals.  Less benevolent organizations were the crime syndicates of La Cosa Nostra, which were based on Sicilian secret societies.  During Prohibition the "families" developed into the American Mafia.
Italian immigrants dreamed of escaping the decrepit tenements and teeming streets of their neighborhoods, and throughout the 20th century their descendants did just that. Today large Italian districts are found in Brooklyn's Bensonhurst and Bay Ridge (settings of the film Saturday Night Fever), Howard Beach and Ozone Park in Queens, Belmont in the Bronx, and Staten Island (where 55% of residents are of Italian heritage).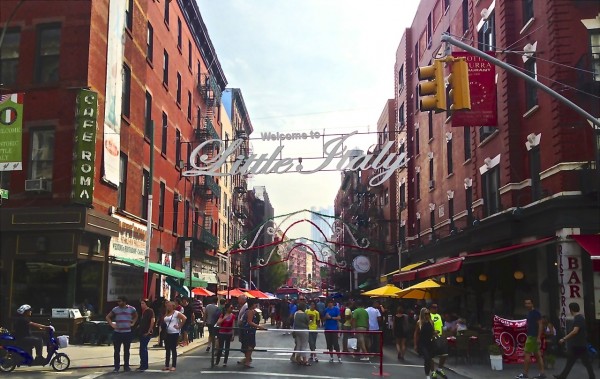 NYC Historic Italian Neighborhoods-
Though few Italians reside in the old neighborhoods of Little Italy, Greenwich Village, and Italian Harlem, vestiges of Italian immigrant culture can be found.  Specifically, a smattering of family-fun ristorantes, food shops, and cafes have survived that are well worth a visit.  The neighborhoods also host traditional Italian festivals. See our guide to NYC's Classic Italian Neighborhoods and the Best Restaurants in Little Italy for more information.
Explore NYC's Italian Culture –
The tiny Italian American Museum is housed in a former Little Italy community bank.  The intimate space displays belongings of neighborhood families, offering a glimpse of daily immigrant life and important local occasions.
New York Italians is an organization dedicated to preserving and celebrating Italian culture with events, culinary programs, language classes, and educational lectures.  Their Meet-up group is active and a great way to join the fun.
The Italian Cultural Institute in New York presents events and exhibitions, as well as Italian language courses.
Scuola Italiana del Greenwich Village provides instruction in Italian language and presents a roster of events focused on Italian culture and history.
The website i-Italy features news and stories focused on Italian American culture and events.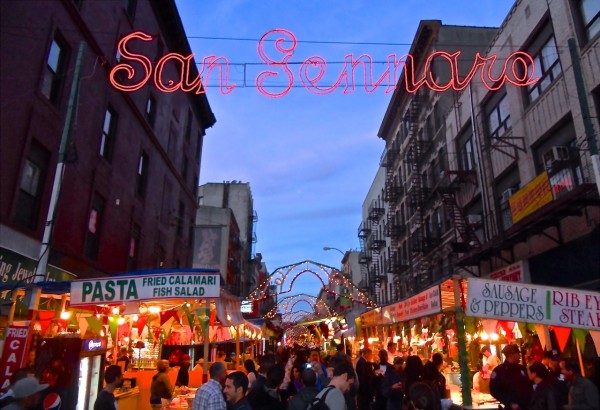 NYC Italian Festivals –
Attending one of NYC's annual Italian Festivals is a great way to experience traditional Italian culture (and celebrate with Italian Americans).  According to the Order Sons of Italy in America, the NYC region hosts 35 Italian cultural festivals annually, more than anywhere else in the nation.
Most Italian festivals are held in honor a patron saint and usually include an outdoor religious procession, amateur bands, food stands, and entertainment.  Larger celebrations may include carnival rides and games and firework displays.  The festivals are organized by amateur organizations committed to keeping the culture of their immigrant forefathers alive.
Some of the great Italian events include…
Italian Harlem's Dance of the Giglio

Feast of St. Anthony of Giovinazzo (May, Little Italy)  – A religious procession up Mulberry Street from Broome to Spring Streets, along with pageants, music and great Italian food.

Feast of St. Anthony of Padua (June, Bronx) – Belmont's "Little Italy" hosts this 5-day celebration which includes a procession on Arthur Ave., "Dancing of the Giglio" (a 75 ft. devotional tower), musical entertainment, a carnival and, of course, plenty of excellent food.
Our Lady of Pompeii Bleecker Street Festival (June, Greenwich Village) – The Italian immigrant parish church hosts vendors on Sixth Avenue, once the heart of Italian Greenwich Village.
Feast of St. Anthony (June, Greenwich Village) – Historic St. Anthony of Padua celebrates their patron saint with special masses, food and a procession of the statue of St. Anthony through south Greenwich Village.
Giglio di Sant Antonio (August, East Harlem) Italian Harlem springs back to life for this three-day festival.  The culmination is the Dancing of the 80 ft. giglio through the streets of Harlem.
Ferragosto (September, Bronx) – Arthur Avenue throws a street party in celebration of the Harvest Season. The local Italian food vendors line the avenue and there's music, street performers and activities for kids.
Columbus Day, celebrating Italian culture Photo: europeworld.com

Feast of San Gennaro (September, Little Italy) – every year a million people descend on Little Italy for this 11-day celebration of the patron Saint of Naples. In addition to the religious processions, there's lots of great Italian food & music, as well as carnival attractions.
Columbus Day Parade (October, midtown Manhattan) – the world's largest celebration of Italian-American culture, the parade marches up Fifth Avenue (44th – 72nd Streets) with 35,000 marchers, bands, floats and nearly one million spectators.
What is your favorite Italian neighborhood, tradition or celebration?