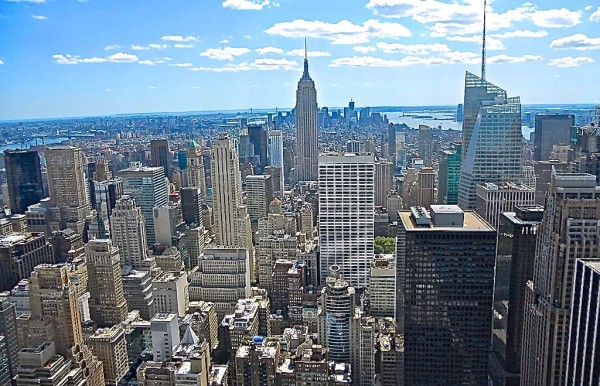 Chicago may have invented skyscrapers, but New York made them works of art. Since the 1890s skyscrapers have sprung from the bedrock of Manhattan, creating a skyline that embodies the city's energy, ambition and power. NYC is home to hundreds of soaring towers, which are regularly being created…and sometimes recreated. Here are several of New York's must-see skyscrapers.
The Empire State Building – once known as "the Eighth Wonder of the World," it was the world's tallest building for over forty years and still dominates the center of Manhattan's skyline. The iconic 102-story building has been an emblem of NYC since King Kong brought it fame in the 1933 film, and a trip to its sky-high observatories is a quintessential New York experience. Every night the top floors are illuminated with colors that celebrate holidays, seasons, or local events. To learn some of the landmark's unusual secrets, see our post 10 Wacky Facts About the Empire State Building.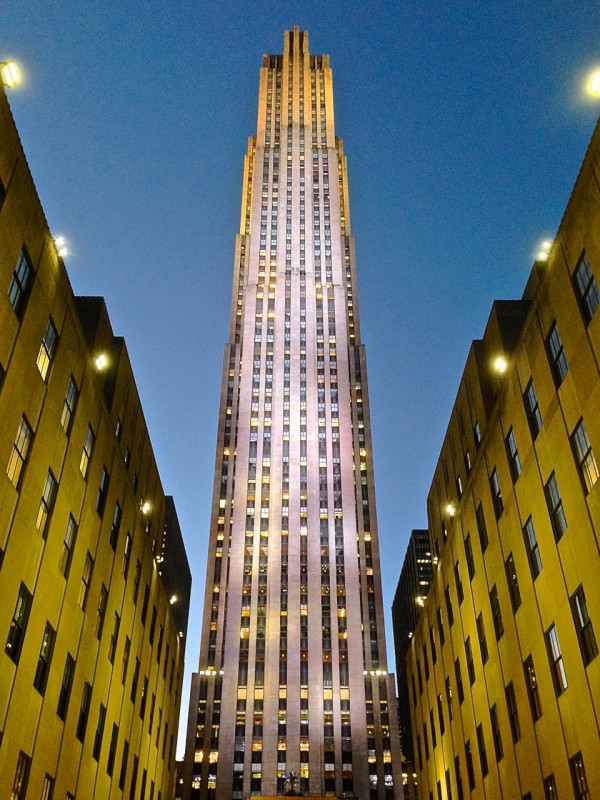 G.E. Building – the splendid 70-story tower that is the focal point of Rockefeller Center. Sometimes called "30 Rock" for its address (30 Rockefeller Plaza), the building features marvelous Art Deco works & design including a sleek black and gold lobby, allegorical murals, reliefs over the plaza entrance, and a brilliant mosaic at the Sixth Avenue entrance. Built for the Radio Corporation of America (aka RCA), "30 Rock" has been home to NBC studios since 1933 and hosts broadcasts of NBC Nightly News, the Tonight Show, and Saturday Night Live to name a few. A trip to its Top of the Rock observation deck provides arguably the finest airy view in the city.
Chrysler Building – this 70-story tower is an Art Deco masterpiece. Built in 1930 by Walter Chrysler to showcase his automobile corporation, the building features a gleaming sun-burst chrome spire, steel eagle gargoyles, and winged ornaments inspired by 1929 Chrysler radiator caps. Entering the triangular marble lobby is like stepping into a bygone era with its Art Deco design, ceiling murals, lavish red marble, and inlaid elevator doors. Unfortunately, the rest of the building is closed to the public.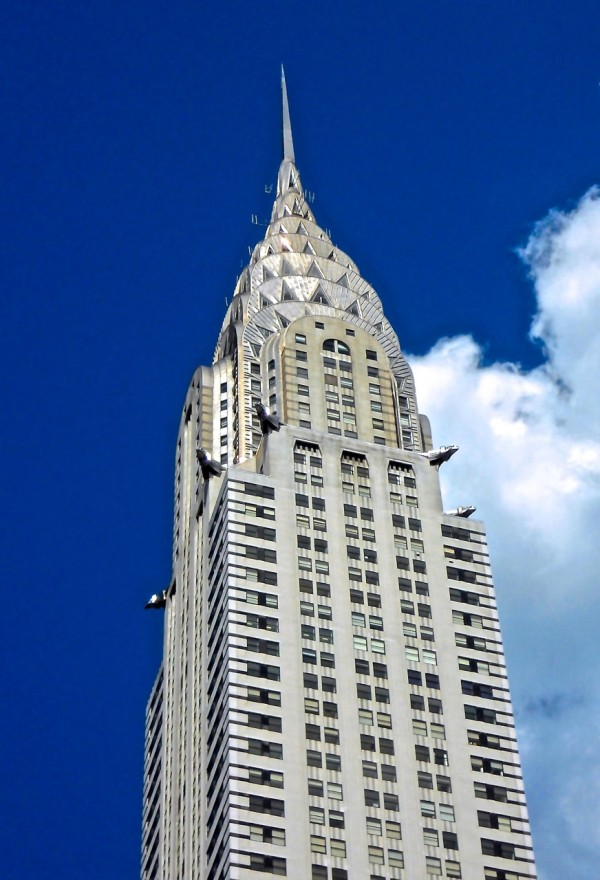 Flatiron Building – the celebrated triangular wedge-shaped skyscraper that still inspires awe. Rising 22 stories, it was so groundbreaking at its 1902 debut that New Yorkers feared it would topple over. Built on the triangular plot at the intersection of Broadway & Fifth Avenue, the building's point is just 6.5 feet wide. Its exterior walls are adorned with elaborate terra cotta Greek faces, lion heads, and geometric designs. The Flatiron has been the subject of famous paintings and photos, and it is featured in numerous films including the "Spiderman" movies.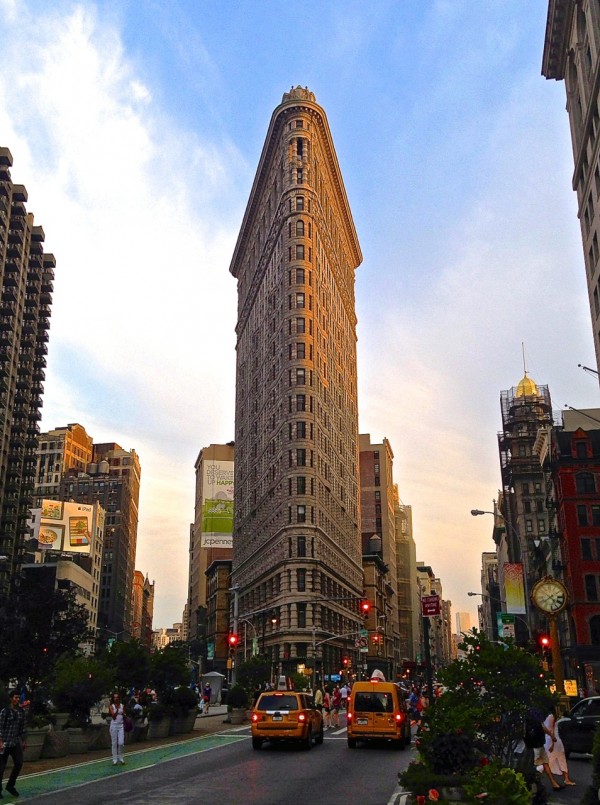 One World Trade Center – At 1,776 feet, the new One World Trade Center is the tallest building in the Western Hemisphere and NYC's newest landmark. The reflective glass 104-story structure will primarily house offices, but will also feature a grand lobby, restaurants, retail businesses, and an observation deck at the top. The building's innovative design includes elements for maximum safety and security, as well as sustainable features making it incredibly efficient and "green." One World Trade is slated to open this year.
Woolworth Building – Sometimes known as "The Cathedral of Commerce" the 60-story tower is ornamented with Gothic terra cotta details and crowned by a grand copper pyramid with tracery and gargoyles. Opened in 1913, it was the world's tallest building until 1930. Frank Woolworth (founder of the chain of five-and-ten-cent stores) is said to have paid its $13.5 million cost…in cash. (That's a lot of nickels and dimes.) The spectacular marble lobby, featuring stunning mosaics and sculptures, has been restricted for security since 9/11. The top 30 floors are currently being converted to ultra-luxury residences.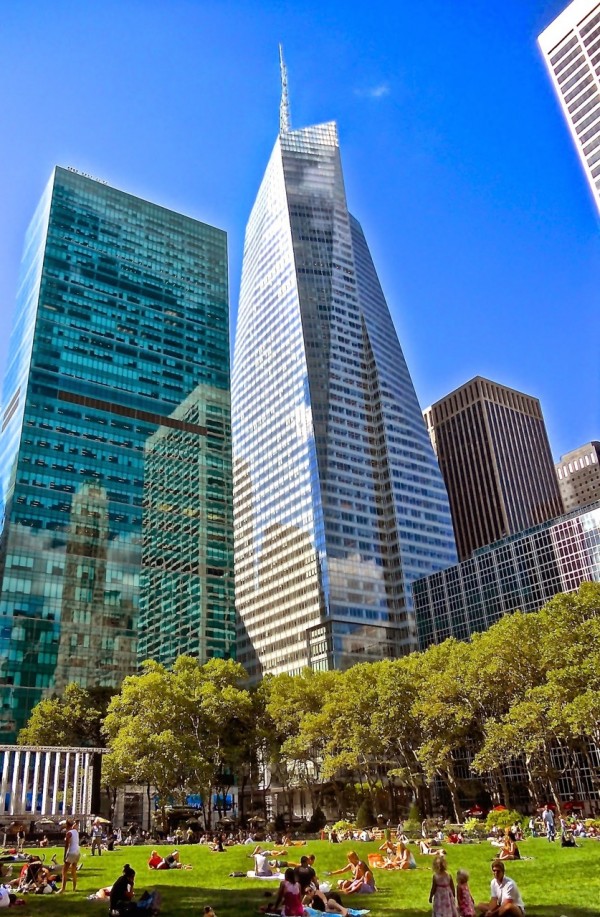 Bank of America Tower – This 55-story angular glass tower opened in 2009, and is considered a model for "green" skyscrapers. It's innovative eco-design includes use of recycled materials in the structure, a special glass casing that contains heat and maximizes natural light, reuse of rainwater, and state-of-the-art ventilation and cooling systems that are very efficient and clean. The tower's lobby atrium is lovely spot to escape the elements and relax.
American Radiator Building – one of the city's finest Art Deco towers. Built in 1924 for the American Radiator Company, its design by Raymond Hood (chief architect of Rockefeller Center) features unique black bricks with gold trim and decoration, which combine to resemble a radiator's flame. The beauty of its design inspired Georgia O'Keefe to make it the subject one of her classic paintings. It is now home to the chic Bryant Park Hotel.
If you'd like to explore these landmarks, join us on our Highlights of New York Tour. On the tour we visit Rockefeller Center, the Chrysler Building, the Radiator Building and Bank of America Tower, as well as classic landmarks like St. Patrick's Cathedral, Grand Central Terminal, the NY Public Library, and Times Square.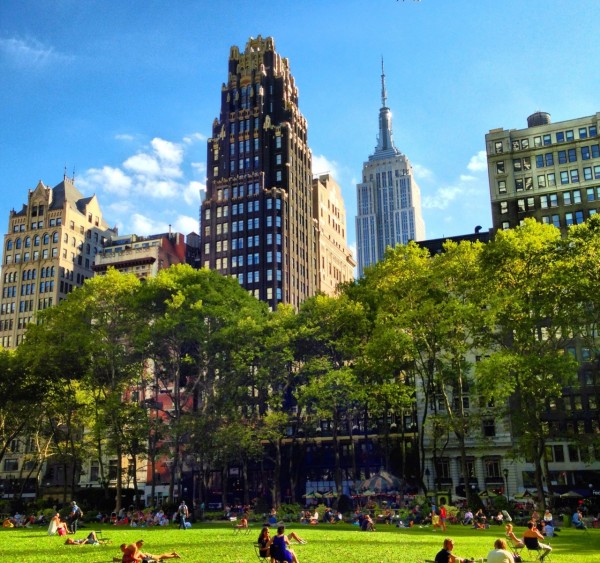 What's your favorite NYC skyscraper? Tell us in the comments below.