NYC has an extensive network of bus routes, many serving areas without subway service. Generally, Manhattan routes run north-south along the avenues, and east-west along the island's major streets (Houston, 14th, 23rd, 42nd, etc.). Crosstown routes are particularly popular since few subway lines cross Manhattan. Several bus routes cross the East/Harlem River bridges, connecting the boroughs. Given the city's traffic and the number of bus stops (usually every 2-3 blocks), buses are not the quickest way to travel, but they can be a convenient option.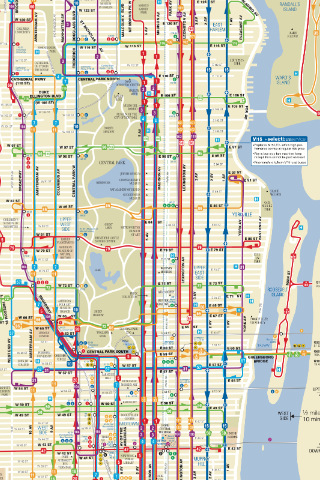 Bus stops are located at street corners and have a tall, round blue sign with a bus emblem and route number. Most stops include a rectangular box attached to the sign pole that displays a route map and schedule. Maps and schedules can also be found on the MTA's website.
Generally, buses run every 10-15 minutes during weekdays, with reduced service nights, weekends and holidays (approx. 20-30 minutes).
When a bus arrives, check the bus route displayed over its front windshield because several routes may share a stop. Enter through the front doors, beside the driver.
The bus fare is $2.25, payable with MetroCard or cash. Insert your MetroCard into the slot on the farebox, or feed coins into the larger slot (no bills or pennies, and exact change is required – drivers cannot make change).
To request a stop, press one of the yellow strips located between the windows or one of the red "stop" buttons on the grab bars. Exit through the rear doors. Once the bus has come to a stop, a green light over the doors will indicate they can be opened. In most buses you must press the yellow strip to open the doors.
If you paid with MetroCard, you can transfer from subway to bus (or vice versa) or intersecting bus routes within two hours for free. If you paid with coins, ask the driver for a transfer, which can be used for intersecting buses within two hours.
All NYC buses are accessible to customers using wheelchairs. Certain seats are reserved for wheelchair users, and must be relinquished when required. Other seats near the front are reserved for the elderly or those with mobility issues.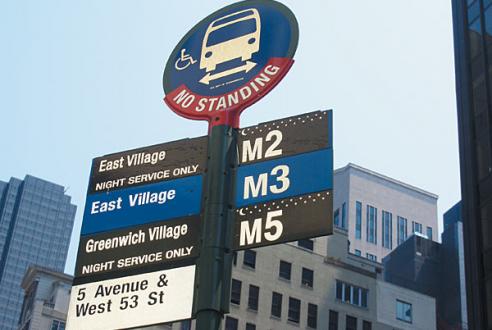 Baby strollers should be folded before boarding the bus, and remain folded during the ride.
Read the bus maps carefully, as many routes turn or loop as they progress.
Bus route will be affected by street closures, which can be frequent due to parades, U.N. activity, and street fairs.
The M60 route travels from Broadway and 106th St to LaGuardia Airport in 30 minutes for a regular fare.
For more information, see the MTA's website, including its TripPlanner. Hopstop is a useful website/mobile app. The MTA's App Center offers several helpful mobile apps, including Bus NYC and myBus –NYC.