During the mid-1800s California gold rush, numerous restaurants emerged in San Francisco to cater to the adventurous crowds seeking their fortunes. A few of those hearty establishments are still around today and are counted amongst San Francisco's oldest restaurants.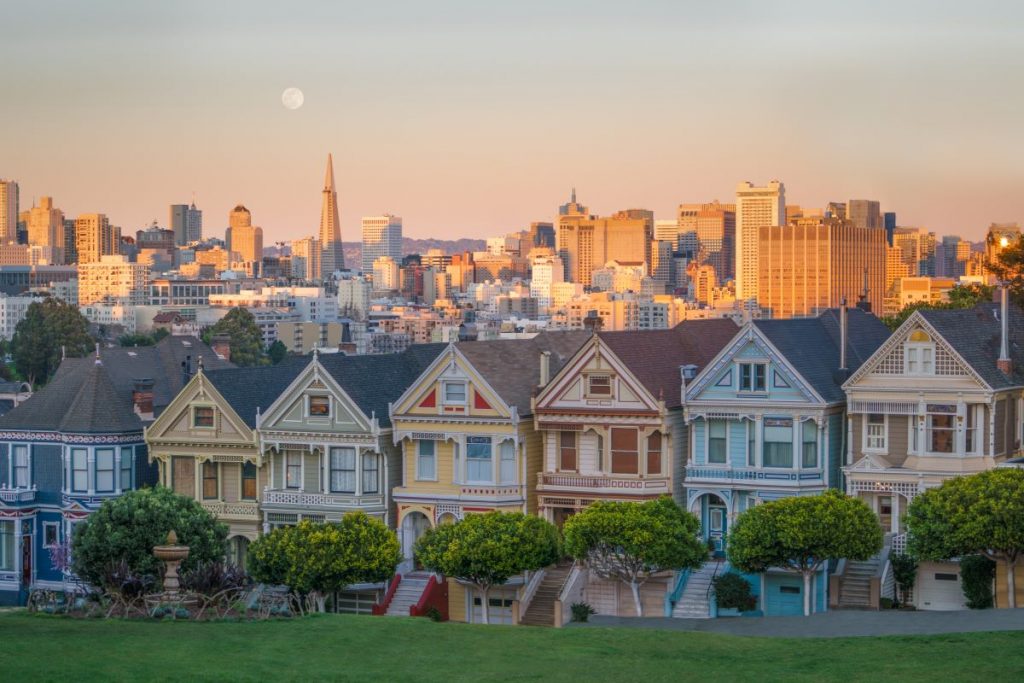 Another significant moment in San Francisco's history was the 1906 earthquake and fire, which once again influenced the city's culinary landscape. After being destroyed, some restaurant owners set up tents to serve their neighbors hot meals as San Francisco rebuilt itself, eventually moving into new buildings.
The oldest restaurants in San Francisco are a resilient part of the City's fiber, providing nourishment to neighborhoods and visitors alike for well over a hundred years.
Here are some of San Francisco's legacy eateries and the impact they've had in their communities.
Tadich Grill (1849)
What started in 1849 as a coffee stand at the docks grilling fresh-caught fish for sailors and merchants, Tadich Grill (240 California Street) got its start during San Francisco's gold rush crazed days. The restaurant settled into its current Financial District digs in 1967, serving over seventy-five European bistro-style entrees. Guaranteed today there's sure to be something you'll love on the menu!
The restaurant's cozy gold-hued wood panel dining room and entertaining bar chatter make repeat customers and tourists feel at home. Servers wear the trade's traditional white jackets while making impeccable food and drink suggestions. Known for its classic seafood cioppino (tomato-based fish stew) and bread pudding rice custard dessert, the legendary restaurant keeps the mesquite grill flames stoked, adding choice cuts of meat and fish filets to the fire.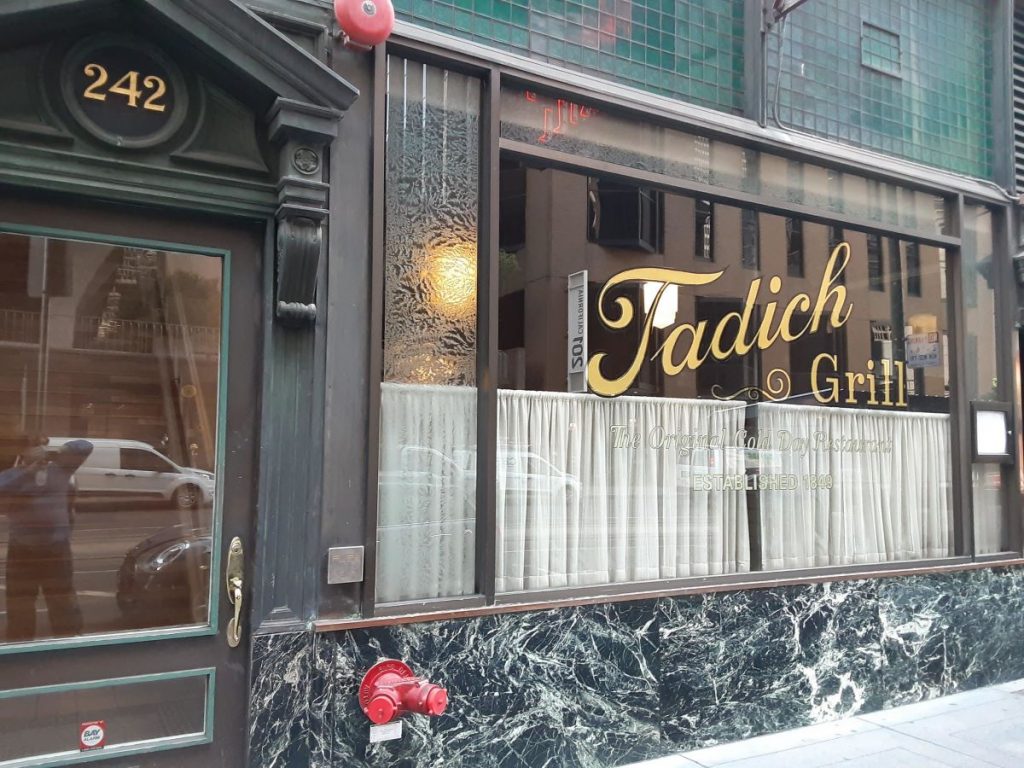 The Old Clam House (1861)
The Old Clam House, founded in 1861, holds the distinction of being the city's oldest restaurant in its original location, having survived the 1906 San Francisco earthquake unscathed.
Its long wood bar, antique silver tin ceiling, and intimate seating areas have seen waterfront workers and neighborhood clientele enjoy shellfish platters for many years.
The restaurant's authentic "old west" façade with barrels of hooch and fishing gear roof vignette build anticipation for the unique dining experience inside. The Old Clam House sources seasonal ingredients from local farmers markets, ensuring fresh flavors. Specialty pasta dishes like pappardelle noodles with wild boar introduce unexpected combinations, and sizzling iron skillets brimming with shrimp, crab, and clams are favorites.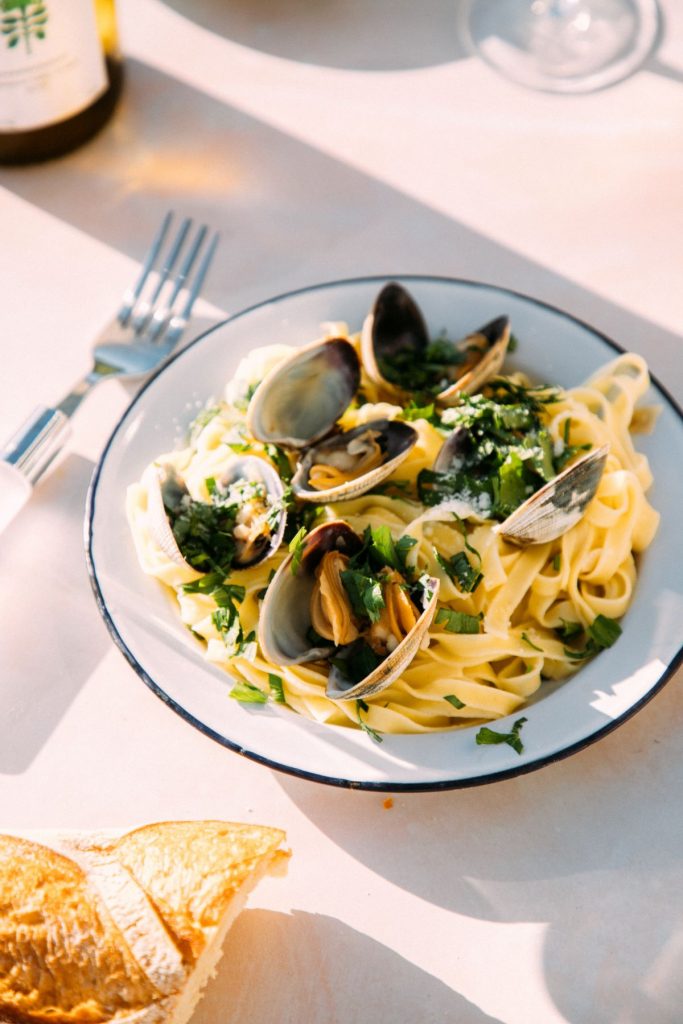 Fior d' Italia (1886)
Established in 1886, Fior d' Italia is the oldest restaurant in the country serving Northern Italian cuisine. The restaurant's first patrons were a rough crowd, including gold miners on the hunt for riches. When the restaurant was destroyed in the 1906 earthquake, the owners set up a tent to serve soup to San Francisco residents as they rebuilt.
Fior d' Italia, now located on the first floor of the historic San Remo Hotel in North Beach, has a luxurious Victorian interior and intimate booths perfect for celebrating with family and friends. The restaurant's Northern Italian dishes evoke hearty flavors of home cooking, especially house-made pastas. Warm up with minestrone soup, awaken your taste buds with a zesty burrata cheese and tomato starter, and try something new, like braised rabbit. Don't leave this treasure without trying the cannoli or tiramisu for dessert.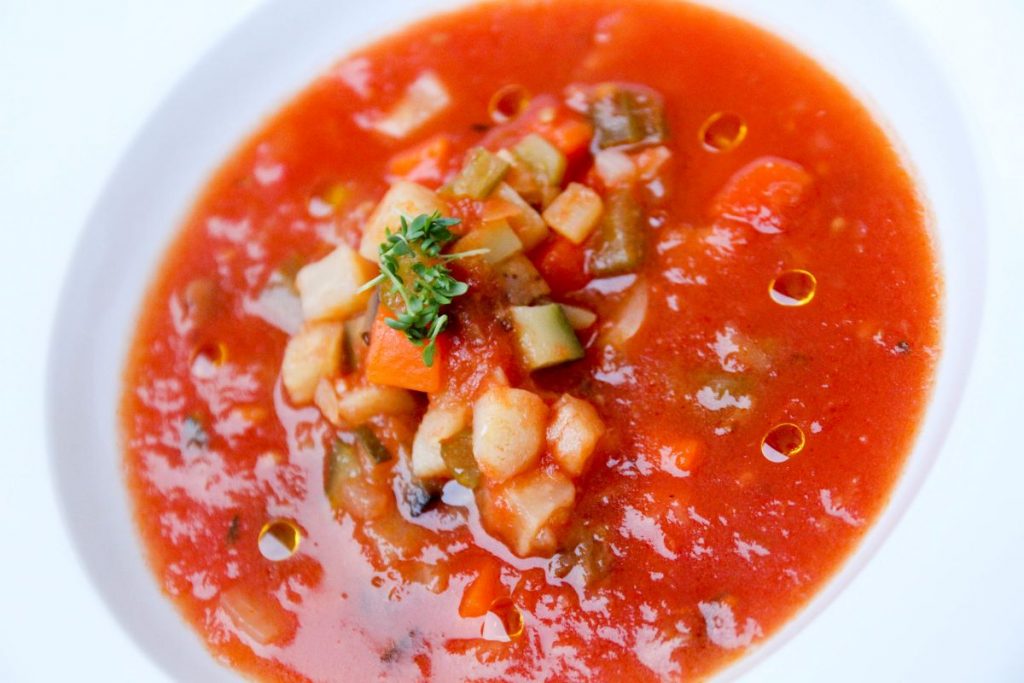 Schroeder's (1893)
Good times are in-store anywhere you can raise a boot brimming with beer. Schroeder's, a Bavarian beer hall in San Francisco's downtown Financial District is such a place. Opening in 1893 as a place for office workers to lift pints, the restaurant has remained in its current Front Street location since being rebuilt after the 1906 earthquake.
Schroeder's communal seating, shuffleboard challenges, and extensive beer stein collection to pore over with a giant Bavarian pretzel or flight of German beer in hand ensure you'll leave with a new friend or two. The restaurant serves German comfort foods perfect for pairing with foggy city days, like hearty plates of breaded chicken schnitzel accompanied by fresh spätzle (egg noodles). Or follow a bite of bratwurst sausage with a thick, foamy sip of draft German beer.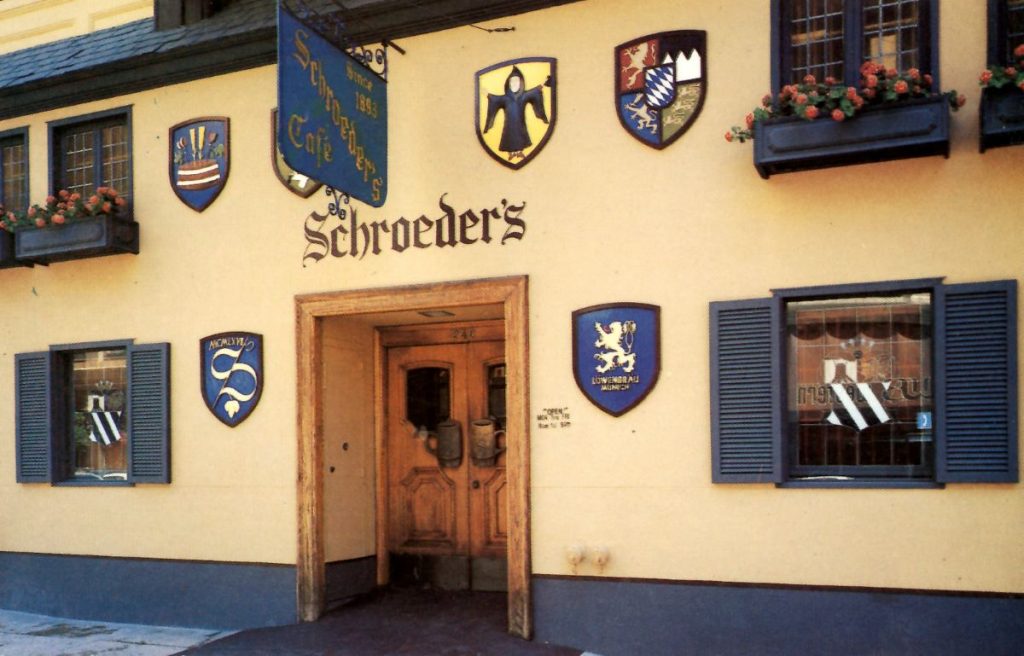 Sodini's Green Valley (1906)
Italian shops and restaurants fill the ground floors of San Francisco's North Beach historic district. Sodini's Green Valley restaurant, a neighborhood favorite since 1906, is tucked away from Columbus Avenue's tourist crowd on vibrant Green Street. Its red and green glowing vintage neon sign and interior décor paying homage to Rat Pack crooner culture take diners back decades.
Sodini's Green Valley makes diners feel like part of the family through its Tuscan-style sharable starters, pizzas, and heaps of pasta. Discover their large pasta menu, where linguini can be paired with meatballs or seafood, and jumbo ravioli is stuffed with cheese, beef, or both! Devour a char-broiled steak, chicken or veal parmigiana, or a personal pizza with your favorite toppings.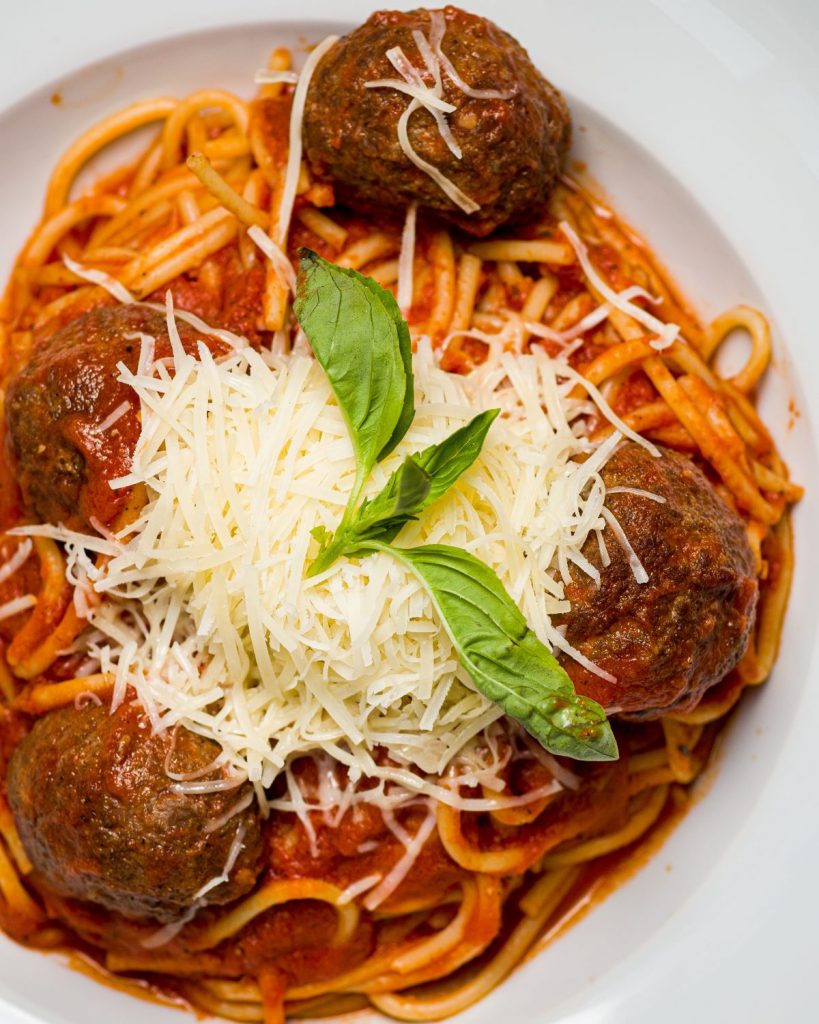 Sam Wo Restaurant (1908)
Opening in 1908 to feed locals as they recovered from the 1906 earthquake, Sam Wo Restaurant is one of Chinatown's oldest restaurants. The restaurant was famous for the tradition of siu yeh, serving Cantonese cuisine until late at night. It was also known for employing Edsel Ford Fong, nicknamed "World's Rudest Waiter," who said what he thought, funny or otherwise, attracting tourists to the inexpensive yet delicious Chinese food dive.
Sam Wo Restaurant had to relocate from its Washington Street home of 104 years to Clay Street across from Portsmouth Square, boasting views of downtown skyscrapers. Specialties jook (rice porridge with a choice of meat topping) and BBQ pork rice noodle rolls are favorites. The restaurant isn't open as late as it used to be, but it's still the place for learning how to use chopsticks.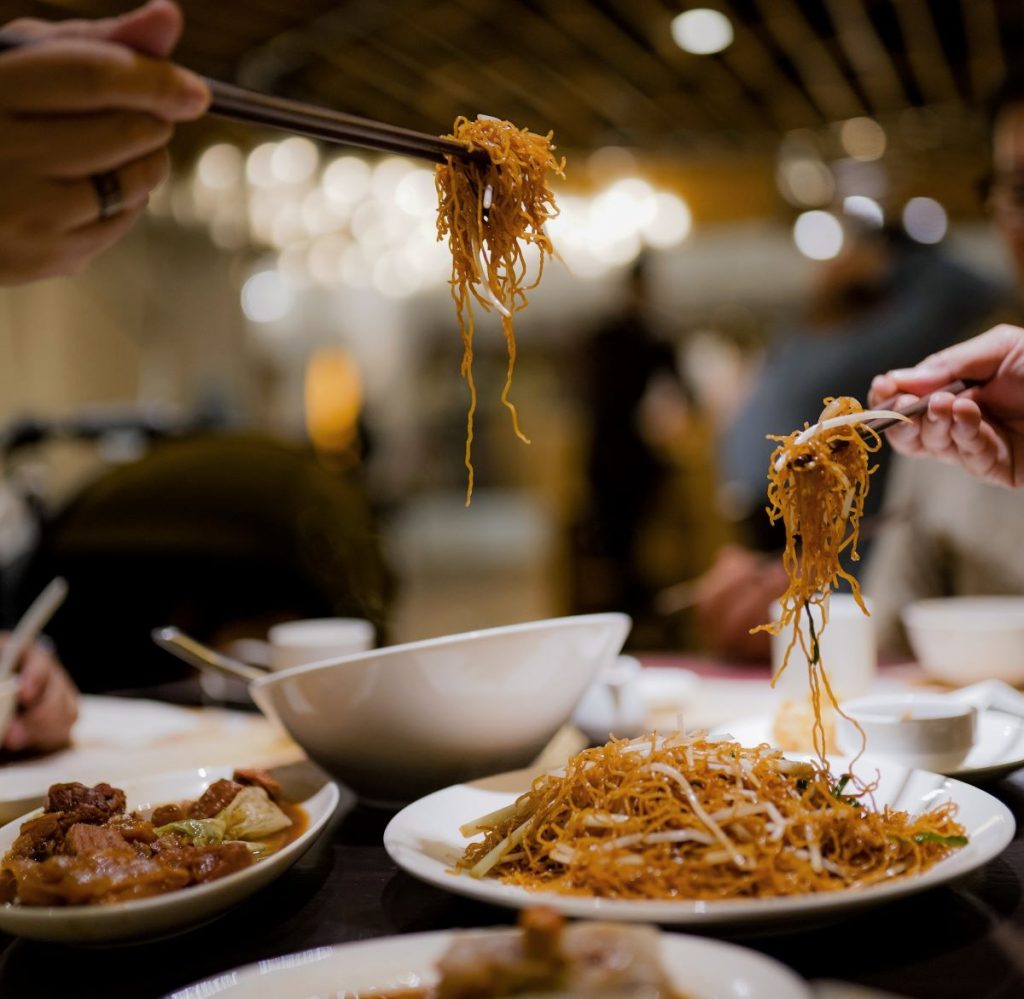 Insider's tip: Looking for more great Chinese food in the city? Don't miss these must-try dim sum restaurants in San Francisco.
St. Francis Fountain (1918)
For the past one hundred years, St. Francis Fountain's soda jerks have been busy scooping hot fudge sundaes and ice cream sodas for Mission District kids and kids at heart. Continuously operating at the same location since 1918, St. Francis Fountain is San Francisco's oldest diner. The place maintains its 1949 look sporting a long white bar top and stools, stiff wood dining booths, and nostalgic painted and neon signage.
Come on in for a full breakfast, lunch, or mid-day dessert. Comfort food like biscuits and gravy or overflowing breakfast burritos will fuel most of your day. If you stop for lunch, there are burgers and sandwiches like chicken salad or an S.F. Rueben on rye to choose from. Peruse the display of vintage candies inside St. Francis' original 1920s candy cases. You can't leave without a sweet or two!