With its tree-lined streets and pretty red bricked houses, a leisurely West Village stroll feels as though you've just stepped into a New York postcard. From quaint coffee shops to picturesque parks, The West Village is a wonderful representation of New York City.
There are lots of lovely parks in NYC but the West Village is home to one of the prettiest, Washington Square Park. Thanks to its impressive arch and even more impressive water-fountain, this park is a favorite amongst New Yorkers looking for a place to sit with a cup of coffee or enjoy some sunshine. As you walk around you'll also encounter off-beat street performers as well as some very intense chess players—there's always something going here on here to keep you entertained!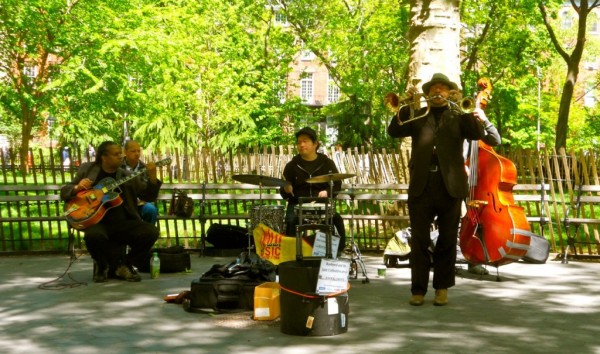 A West Village Stroll on Commerce Street
Just a few minutes' walk from Washington Square Park is the beautiful Commerce Street, easily one of the most Instagram-worthy streets in NYC. Walking down it feels like stepping back in time to thanks to its gorgeous town-houses and tree-lined sidewalks. Every single building is a piece of history, with some even dating back as far as the 18th century. The famous Cherry Lane Theatre is also located on Commerce Street. It was here that Barbra Streisand worked as an understudy and assistant stage manager before she got her big Broadway break.
Taking a fascinating West Village stroll past some of NYC's most famous spots, you'll definitely be feeling a little peckish so why not refuel at once of our favourite West Village Restaurants Molly's Cupcakes? Choose from flavors such as crème brulee, blueberry cheesecake and peanut-butter nutella then grab a seat on one the swing chairs and devour your cupcake in style! Just be warned, these sweet treats are addictive and there's a 99% chance you'll be back for more.
A West Village Stroll – At Night
As day goes into night, the West Village becomes a hotspot for the after-work crowd who love hanging out at its friendly bars and uber cool jazz clubs. One of the most fun places to find jazz in the West Village is Fat Cat. From the outside, Fat Cat's basement setting and dim-lighting may make it seem like any other jazz club, but don't be fooled, at this club you can challenge your friends to a game of ping pong, shuffleboard or pool while swaying to the beats of talented musicians. The venue also serves $4 beers and $9 dollar cocktails, what more can you ask for?
Another extremely popular West Village venue is The Stonewall Inn, made famous as the site of the 1969 riots which launched the gay rights movement. The music at this bar is always incredible and there are lots of fun weekly events to attend including flip-cup karaoke and drag queen bingo. The bartenders are also super friendly and, most importantly, know how to make a mean cosmopolitan!
Despite its name, the West Village has the same amount to see and do as many cities, and we highly recommend that you take the time to enjoy a West Village stroll on your next NYC trip. You could easily spend your entire New York vacation just exploring this one area, but regardless of how long you're in this neighborhood for, you'll find it very hard to leave!
About the author: This blog post was written by Ruth Aravena, an Irish travel blogger and newly-initiated resident of NYC. She joined forces with Walks of New York to get to grips with the city during her first few weeks of residence. The tours are ours, but all opinions are her own.