Now, there's a new way to sort through New York's abundance of  events and shows: with an app for NYC! After all, with everything going on here, staying in the know and keeping track of exhibits, shows, concerts, and events can be a real challenge. But thanks to some great new apps, you can keep track of it all, even on the go.
Here are our favorite mobile apps on New York's finest cultural offerings and events. This will be part of a series on best apps for New York, so stay tuned for more posts!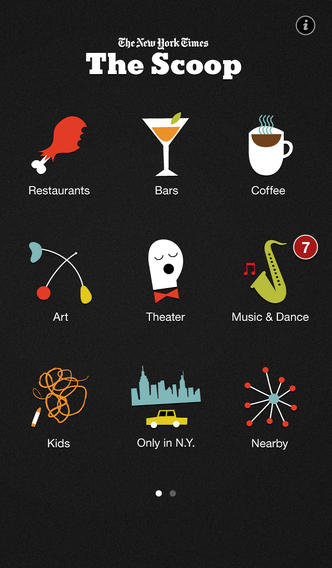 Time Out New York: A free mobile version of the go-to NYC magazine, the easy-to-navigate app includes listings for art, comedy, museums and attractions, music, nightlife, film, theater, and things to do (as well as restaurants, bars, and shopping). You'll also find curated lists, reviews, booking for tickets and reservations, and discounted offers. IOS, Android, and Windows. Free.
NY Times The Scoop: An "insider's guide" to New York from the staff of the New York Times. It features up-to-date listings of cultural offerings, events, and experiences (plus restaurants and bars).  It also includes reviews and category lists by Times' critics. IOS. Free.
NYC Events: The NYC government's app lists permitted events like parades, street fairs, and festivals. It includes details, directions, and street closings. IOS. Free.
Goings On: The New Yorker: This app by the venerable magazine provides event listings and recommendations from its critics. Browse curated listings by category—movies, art, night life, theatre, dance, classical music, readings—and find recommendations. There are also audio tours, created by their esteemed writers. IOS and Android. Free.
NYC-Arts: Produced by New York's acclaimed PBS television program, the app includes an arts calendar and video previews.  The listings can be browsed by category, location, or venue. IOS. Free.
NY ArtBeat: Focused on New York's visual arts scene, this app allows you to browse current exhibitions, sort by popularity, media, area, days till end, and find nearby events via GPS. It also includes opening receptions and other smart lists. IOS and Android. $1.99.
Culture Now: This app allows you to explore public art collections, historical and recent buildings, and cultural institutions. You can listen to related artists, architects, historians, or watch their videos.  IOS and Android. $1.99.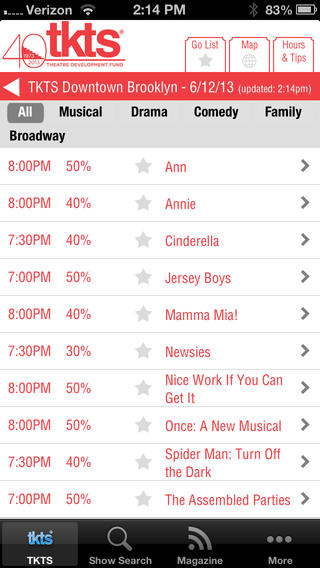 TKTS: Provides a real-time display of what is currently on sale at all three TKTS Discount Booths. Also includes detailed information on NYC theater, dance, and music, including performance schedules, theatre locations, and links to official show websites. IOS, Android and Windows. Free.
Broadway.org:  Produced by the Broadway League, the trade organization of the theater industry, this app provides in-depth information about current and upcoming shows (including rush ticket policies), links to buy tickets, maps, and information on restaurants and hotels in the theater district. IOS and Android. Free.
Arts for Transit App: Provides comprehensive information about the wide variety of permanent artwork throughout NYC's subway system.  Works can be searched by subway line or artist. IOS and Android. Free.
SubCulture.FM: Allows riders to identify their favorite musicians performing in the subway. Scan a musician's QR code and you will get descriptions, music samples, can buy their singles, or listen to other subway artists on subculture.fm radio. IOS. Free.
Oh, one more app you'll definitely want: Twitter, so you can follow @walksofnewyork. Our twitter feed is filled with information about daily events and culture in NYC!
What's you favorite app for staying informed about NYC's cultural events? Tell us in the comments!