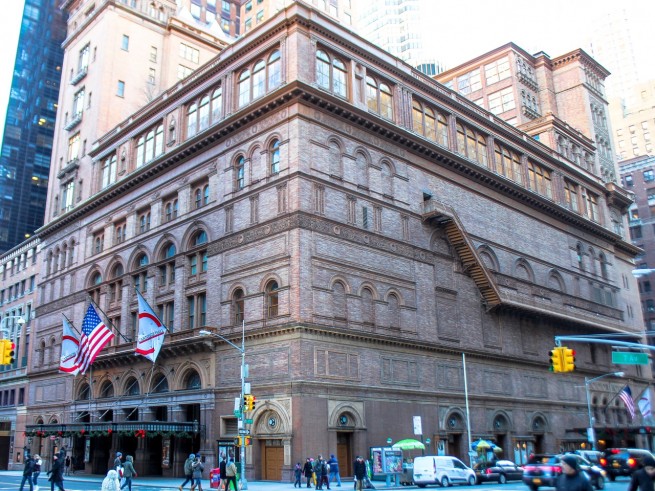 Carnegie Hall is one of the world's finest venues for music. Throughout it's history, the hall has presented exalted artists including Tchaikovsky, Caruso, Toscanini, Mahler, Richard Strauss, Duke Ellington, Leonard Bernstein, Frank Sinatra, Maria Callas, Judy Garland, and the Beatles to name a few. With its elegant design, near-perfect acoustics, and performances by the world's greatest musical artists, Carnegie Hall is an essential destination for lovers of music.
History
Wealthy steel magnate Andrew Carnegie built Carnegie Hall as a labor of love – his love of music and his new bride, Louise (she was a member of the Oratorio Society of New York, for which the hall was initially built). When the cornerstone was laid in 1890 (at an undeveloped intersection just south of Central Park), Carnegie proclaimed, "It is probable that this Hall will intertwine itself with the history of our country." Prophetic words: since its 1891 opening night (lead by none other than Tchaikovsky), the venue has presented the most renowned classical music ensembles, conductors and soloists of their time. It has also hosted greats of Jazz, Pop and World Music, as well as comedians and famed orators like Mark Twain, Theodore Roosevelt, and Booker T. Washington.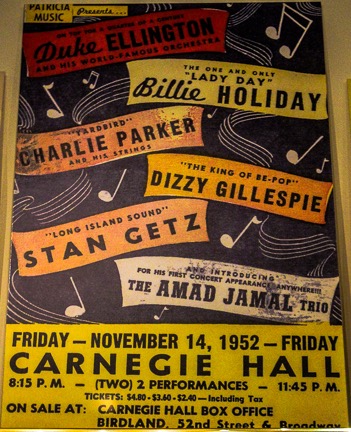 In addition to great performers, the hall has presented world premiere performances of works by Dvorak, Richard Strauss, Gershwin, Rachmaninoff, Duke Ellington, Britten, Stravinsky, and Bernstein.
Unfortunately, Carnegie Hall's history hasn't been entirely harmonious. When the New York Philharmonic (once the hall's primary tenant) relocated to Lincoln Center, the venue was sold to a developer who intended to demolish the building and replace it with a bland office tower. But public outcry saved Carnegie Hall, it was designated a National Historic Landmark, and sold to New York City for $5,000,000. The Carnegie Hall Corporation was formed to run the hall and today they oversee operations, maintenance (the hall was substantially renovated in 1983-86), programming and the organization's education initiatives.
Visit Carnegie Hall
Carnegie Hall is located at West 57th Street & 7th Avenue.
Subway: A, C, B, D, or 1 to 59th Street / Columbus Circle, N, Q, R to 57th Street / Seventh Avenue, B, D, E to Seventh Avenue, or F to 57th Street / Sixth Avenue.
Bus: M5, M7, M20, M31 and M104 stop nearby.
Carnegie Hall is open to the public for performances and guided tours (see below).
Carnegie Hall presents approximately 250 performances during its season – generally October through June. There are few performances during the summer months and, except for special events, the building is closed to the public. See the hall's calendar for a complete schedule and roster of performances.
Carnegie Hall is comprised of three concert halls:
Stern Auditorium / Perelman Stage – the famed hall where so many historic performances and world premieres have taken place. The auditorium features five levels, 2,804 seats, an elegant design and ideal acoustics.
Zankel Hall – a 599-seat hall that presents chamber music, recitals, and contemporary music from classical, pop, jazz, and world music artists.
 Weill Recital Hall – an intimate 268-seat hall that offers recitals, chamber music concerts, panel discussions, and master classes.
The Box Office is open Monday–Saturday, 11 AM–6 PM, Sunday, 12 PM–6 PM. On performance days, the box office remains open until 30 minutes after "curtain."
Tickets can also be purchased online, or via phone: 212-247-7800, Daily, 8 AM–8 PM
Ticket prices vary depending on performance and seating location. In general, prices range from approximately $135 for the lower levels to $22 in the balcony.
In an effort to keep great music accessible to everyone, Carnegie Hall offers discount tickets to most performances. The discounts include 50% off the full price for seats with obstructed views in the main hall, and a limited numbers of same-day tickets for only $10!
$10 Student tickets are available to most performances, and 30% off tickets for Members of the Military. See here for details about these discount ticket programs.
There is no dress code at Carnegie Hall. However, conservative semi-formal attire is most appropriate.
Photography or recording of any kind is prohibited during performances. Use of cell phones or electronic devices is not allowed inside the auditoriums.
Coat check is available. They are unable to accept large items or luggage.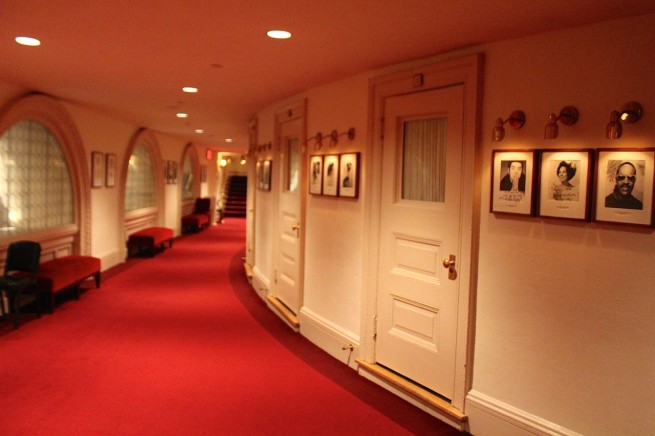 When attending a performance in the main auditorium, check the hallways which are lined with autographed photos of the luminaries who have performed at Carnegie Hall.
Also accessible to audiences in the main hall is the Rose Museum, which exhibits concert programs, photographs, autographed posters, musical manuscripts and video from Carnegie Hall's illustrious history. The museum is also open to the public daily 11am – 4:30pm (entrance: 154 West 57th Street, 2nd floor). Closed July 1 – October 1.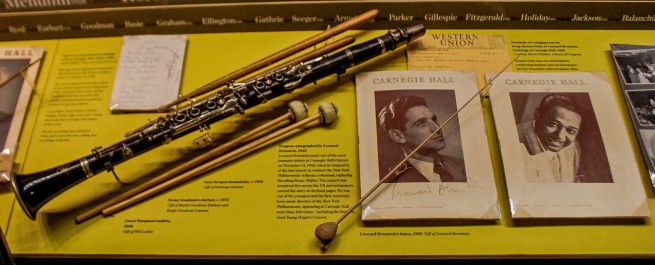 Citi Café, located on the ground level, is available for a pre-concert drink or bite to eat. There are also bars outside Weill Recital Hall and Zankel Hall where one can enjoy a drink and snacks.
For dining before or after a performance, Carnegie Hall has put together a helpful Neighborhood Guide listing restaurants and parking facilities that are close to the venue.
Carnegie Hall Tours – the hall offers tours daily from October through late June. Public tours are offered Monday through Friday at 11:30 AM, 12:30 PM, 2 PM, and 3 PM; Saturday at 11:30 AM and 12:30 PM; and Sunday at 12:30 PM.  Tickets are available at the Box Office, $15 per person, $10 for students/seniors, and $5 for children under 12. It's advisable to arrive early to purchase tickets as availability is limited. Tours depart from the main lobby. Tours are subject to the Hall's performance and rehearsal schedule so be sure to check the website before heading to the venue.
To keep up with current events and happenings at Carnegie Hall, check their Blog and/or their YouTube Channel. Or follow them on Twitter and Facebook.

Have you attended a performance at Carnegie Hall? Tell us about it in the comments below.