As the backdrop for countless romantic movies, New York City has worked its way into the pantheon of incredible places to go for romantic weekend trips. With Valentine's Day right around the corner, here's our list of the best ways to maximize the romance on your next visit to New York, with tips on what to see and do specifically during these colder winter months.
Take in the City from the Rooftop of the Empire State Building
The 1993 film 'Sleepless in Seattle' solidified the observation deck on the 86th floor of the Empire State Building as one of the most romantic places in New York City. It's been labeled numerous times in the press as one of the best locations in the city to propose, and each Valentine's Day, 14 couples are selected to actually get married on the top of the NYC landmark. Usurprisingly, this spot is known for its large crowds, so if you go make sure to plan enough time there to really take in the sights with your loved one.
Walks Tip: Buy your Empire State Building tickets online—this will save time waiting in the ticket line, and if you purchase an express pass, you can bypass the elevator line as well (you will still have to wait in line to go through security, though). The observatory opens every day at 8 a.m. and closes at 2 a.m., so if you are trying to pack a lot into your weekend, save this part of your trip for first thing in the morning or later in the evening. Plus, this is a great way to wrap up a romantic outing with some of the best views of the city lights.
For more tips and tricks to visiting New York's most iconic tower, read our blog on how to visit the Empire State Building. 
Try Skating at One of the City's Rinks

Ice skating at Rockefeller Center is widely considered one of the most romantic things to do in New York during the winter. Unfortunately, this means it's almost always packed with, well, young people in love. If you don't want to stand in line (which can be quite long) to get a chance to skate, don't worry, there are plenty of other options that are just as magical. Bryant Park's Bank of America Winter Village is another popular rink and can accommodate more people. The downside is that it can be a little expensive to rent skates (even though admission is free). But if you don't mind splurging, the scenery more than compensates for the price, with the New York Public Library and views of Midtown's skyscrapers surrounding the rink on all four corners. If you get cold you can always warm up after your skate at the rink-side restaurant, Celsius.
Central Park's Wollman Rink, located in the southeast corner of the park, has similarly beautiful views of the city. The rink is a little smaller, but prices are cheaper than other rinks for entry and skate rentals. If you're looking for romance, this is our pick – its intimate setting in Central Park gives you a chance to escape the noise of the city and you'll have more space to skate. Plus, you can always take advantage of the scenery for some selfies with your date.
Walks Tip: Most rinks have a time limit on how long you can skate in order to accommodate crowds. Also be aware that rinks may become more crowded during the warmest hours of the day.
If you are still set on going to Rockefeller Center, we don't blame you – its spectacular. Here's a guide to what to see and do at Rockefeller Center.
Stroll Through Central Park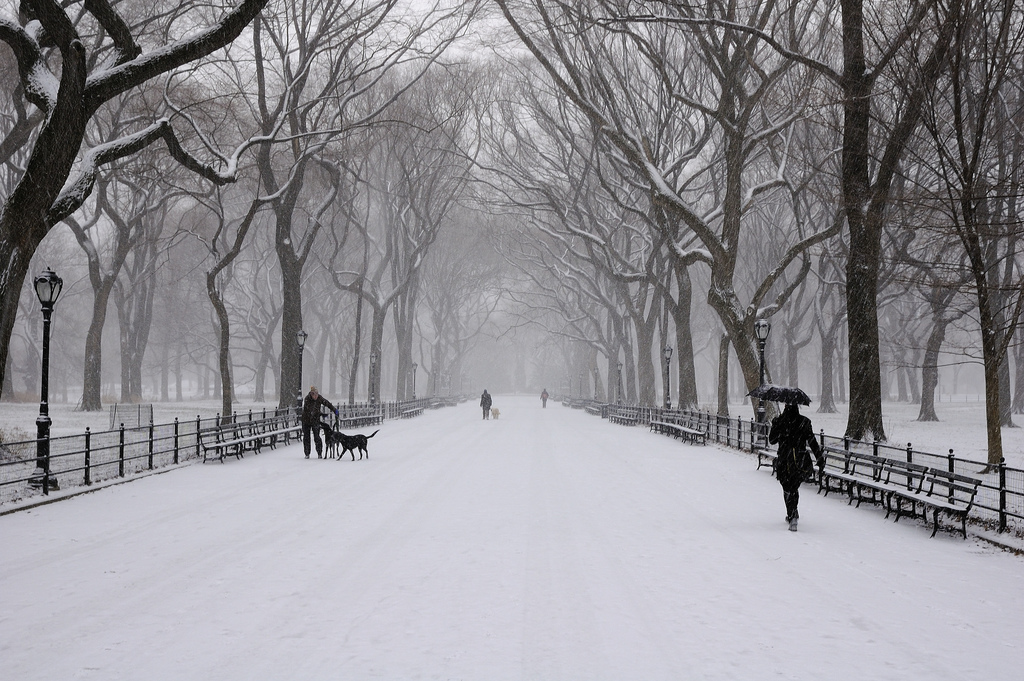 If the cold doesn't turn you away, Central Park is perennially one of the most romantic places in New York, and with a fresh coat of snow, it becomes a winter wonderland. With bridges, fountains, and scenic paths popping up around every bend, you and your date can dedicate as much time as you want to see the sights. The Bethesda Terrace and Fountain, located next to the The Lake (Yes, it's really just called "The Lake"), is a perfect spot to take some photos. In fact, this is such a popular spot for romantic shots if you go on a Saturday afternoon you will most likely spot at least one bridal party. A little north of the Bethesda Terrace is Belvedere Castle, a stone folly (a medieval-looking building constructed for decoration) set on the highest point of the park that is now used as an observation deck and the official weather station for the park. From the tower, you can see the entire park and surrounding buildings, and figure out where that winding path you found actually leads.
When you start to get cold, you can always pop into the Tavern on the Green or the elegant Loeb Boathouse lakeside restaurant for some food and drinks while you warm up.
If you'd prefer to take in Central Park wrapped up with your loved one, the Central Park carriage rides are a popular year-round activity. Carriages are parked along Central Park South between 5th and 6th Avenues—just walk up and ask a driver when they are available, or, you can book a time on Central Park's website: http://www.centralpark.com/guide/activities/horse-drawn-carriages.html.
Fun Fact: The NYC Central Park horse carriage program has existed since 1935 but they didn't get their first female carriage driver until 1967 when a woman named Maggie Cogan took up the reigns, literally. Today, the carriages are out most days, but to protect the horses they don't operate in temperatures below 19 degrees fahrenheit, during a blizzard, or in temperatures above 89 degrees.
Walks Tip: Central Park spans 40 blocks north to south, and four east to west, takes up approximately 843 acres, and contains countless curving paths. It's easy to get lost. Be sure to grab a map of the park before heading out on your walk, and make a note of the spots you want to see on your self-guided tour.
For more things to see in the park, check out our blog on what to do in Central Park. 
Dinner and a Show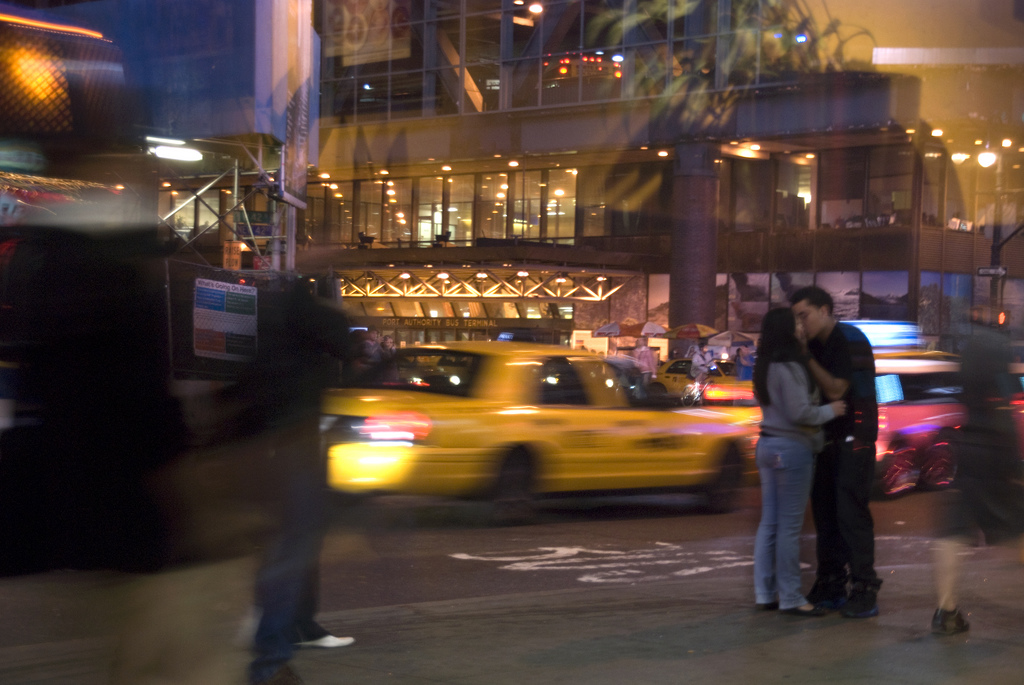 Sometimes romance is as simple as sticking to the classics, and there's no more classic NYC date than dinner at one of many romantic restaurants in New York and show for dessert. A lot of restaurants have dinner and theater deals, so talk with your hotel concierge about what kinds of reservations you can book to make sure you get to your show on time. Our favorite romantic restaurant in NYC that also accommodates theater is The Haven Rooftop, located on the roof of the Sanctuary Hotel (132 West 47th St.). It offers a prix fixe menu for theater goers, with three courses for $45. It's a great deal, and you can't beat the location in the heart of the theater district. If you are feeling rushed, you can come back after your show to get your dessert!
For the show, if there is something specific you want to see, we'd recommend reserving your tickets online at Broadway.com, but if you want to try your luck at finding cheaper seats, you can always check out the TKTS booth, located on Broadway and 49th Street in the heart of Times Square (They offer discounted tickets on the day of the show, so when you arrive you can choose from what's available. It's a great way to save some money, and still get to see a show on Broadway!).
Walks Tip: Most shows offer matinee performances on Sundays, so if you're concerned about time, you can always see the show first and eat dinner afterwards to keep stress levels down while you enjoy your day. Check out this blog post for more tips on seeing a show on Broadway. 
Learn Together at a Museum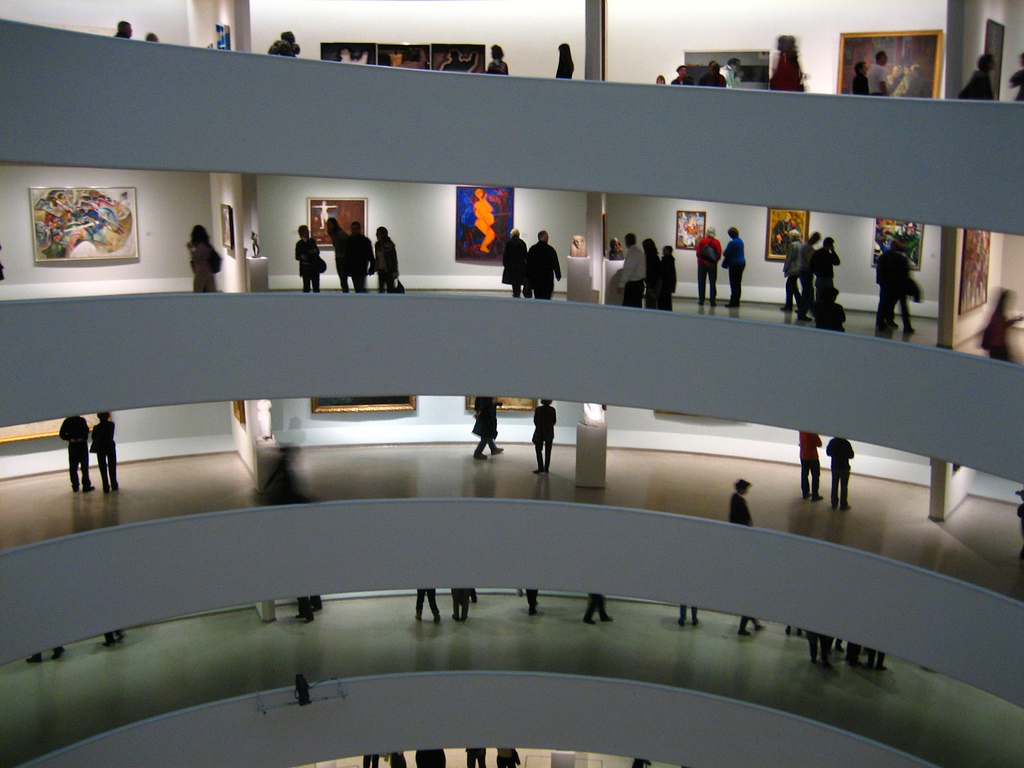 New York City's museum circuit offers something for everyone—if it's classic art, we have the Met. If you're looking for history, we recommend the New York Historical Society. And all movie buffs, should take the N or Q trains out to Queens to visit The Museum of the Moving Image. But when it comes to romantic things to do in NYC, museums can also offer you some of the most surprising options.
When you think of romance, flowers often spring to mind, and a trip to the New York Botanical Garden elevates them from a pre-date gift to an entire experience. Located in the Bronx, the Garden is open year-round and is home to over 1 million living plants from all climates and regions of the world. The museum sits a little beyond the other main attractions in NYC, but its absolutely worth it. Just take the B, D, or 4 train up to the Bedford Park Blvd. station in the Bronx.
For something closer to your hotel, we recommend the Museum of Natural History on the Upper West Side. You can take the B or C trains right up to the museum on 81st street, or walk over after a stroll through Central Park, and spend the afternoon looking at every exhibit or browsing the highlights. To ramp up the romance we recommend a visit to the Butterfly Conservatory, open seasonally from September to May. Here, you can learn about the thousands of butterfly and moth species, their life cycles, and more, all while mingling with the more than 500 live butterflies that inhabit this exhibit. It's a captivating experience that will be the highlight of any romantic weekend.
For those with an eye on the sky, the museum is also home to the Hayden Planetarium, where you can get a virtual tour of the cosmos. Admission costs extra, so be sure to purchase tickets to both the main museum and the planetarium. For more info on visiting the museum, check out our guide to what to see and do and in Museum of Natural History. 
Walks Tip: Some museums (but not all) follow a 'suggested admission' approach. This means that while it's recommended to spend the full suggested price (for example, the Metropolitan Museum of Art suggests $25 for admission), you can still get admission for your own price if you pay in cash. This is great if you are hoping to save a little cash, or if you have a short amount of time to see the museum. Just remember, these museums rely on admission fees, so paying the full amount helps keep cultural programs going throughout the year.
Drink With Me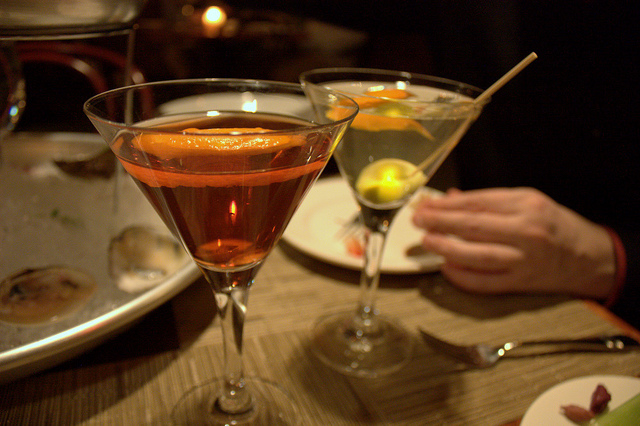 We won't say that all the bars in NYC are equally romantic, but there is something for everyone and the most romantic bars in New York are better than any in the world. Quite possibly one of the best is in the restaurant One If By Land, Two If By Sea. It's located in the heart of Greenwich Village in an old carriage house that dates back to the 18th century, and is another one of the city's most popular spots for engagement proposals. While getting a table here can be tough, a stop at their bar still gives you the chance to enjoy your date's company in the beautiful historic setting, and also gives you a good reason to dress up.
If it's views you're looking for, the newly-opened Pier A Harbor House offers just that. This bar/restaurant/event space has two bar options with food and drink specials stretching late into the night. The space is a bit more casual, but the views of New York Harbor are stunning. You can see everything from the Statue of Liberty, to Ellis Island, and even Staten Island, all from the warmth of your bar stool.
For a more secluded option look into the backrooms and secret doors of NYC's speakeasies. New York City was a hub for the clandestined drinking of prohibition-era America and modern-day New York is keeping this tradition alive with hard-to-spot bars dotted throughout the city. The Back Room in the Lower East Side is a popular locale, with its classic 1920s theme and drinks served in teacups. Other options are The Bathtub Gin in Chelsea (complete with dark seating and, yup, a bathtub in the center); Little Branch in the West Village, which offers some carefully crafted cocktails that are vaunted by most NYC drink snobs; and if you want to have a great story when you return home, visit PDT (Please Don't Tell), a speakeasy hidden within Crif Dogs restaurant on St. Marks Place. 
If cocktails are you thing, don't miss our blog on the best craft cocktails in NYC.
Watch Out for Traps
New York City has a lot to see in just a short amount of time, so you need to be wary of some of the bigger tourist traps that can drag down a trip. If you and your date have a sweet tooth, and are looking for a romantic cafe, try popping into a lesser-known spot versus waiting hours for a table at Serendipity III or standing in the cold at Magnolia's Bakery. Our favorite cafe for an intimate dessert is Lady M, with locations on W. 40th Street near Bryant Park, W. 58th Street, and E. 78th Street. The crepe cake – 20 layers of thin crepes stacked with a custard cream – is a dream come true..
Beware of pedicab drivers. While taking a romantic trip on the back of a bike may sound fun, it can be a huge waste of time and money. Prices are steep for short distances, and pedicab drivers are known for scams, including tacking on a $100-per-person fee on unsuspecting tourists. It's better to skip this option and ride the subway.
Finally, one of the biggest hubs for tourist traps in New York City is still Times Square. This doesn't mean you should avoid it – it's an iconic landmark in the city that you need to experience at least once. But be aware that you'll be harassed by comedy clubs, costumed characters offering to take pictures, and a number of overpriced cafes, restaurants, and shops – all experiences that may not be enjoyable if you're looking for the perfect day/night of romance. It's best to make this spot a sight to see, but don't base an entire day around it if you're in the mood for love.