Fascinating stories and exhibits on the Ellis Island tour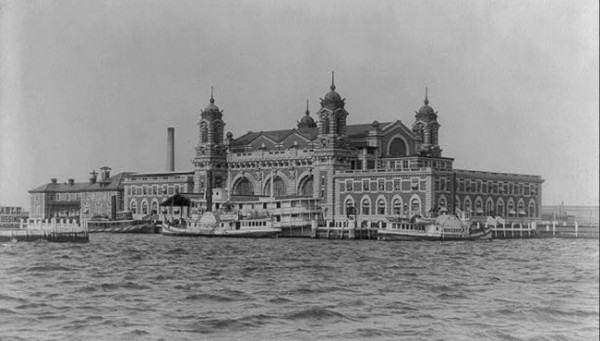 As one of the most important places in the history of the United States of America, Ellis Island is a destination not to be missed when visiting New York City. Take part in an Ellis Island Tour and learn all there is to know about this fascinating place.
From its opening in 1882 until its closure in 1954, over 12 million immigrants entered the United States via Ellis Island. Today, its incredible history is clear to see in its halls and corridors which were walked by some of America's most note-worthy citizens. If you want to see this important piece of America's history, then make sure you take part in the Walks of New York Statue of Liberty Tour & Ellis Island Tour. Taking our tour via ferry to Statue of Liberty and Ellis Island is a quintessential activity to do when visiting NYC, so don't miss out. Here's what you can expect:
Ellis Island Immigration Building
When you first step off the boat on Ellis Island you are met with the imposing structure of the main immigration building. It is here that millions of people from countries all over the world first began their quest to become American citizens.
Inside the building, there are a selection of exhibits that will take you through the history of Ellis Island and those who passed through it. The exhibits also give a fantastic glimpse into the immigration experience, which is very different from what people go through today!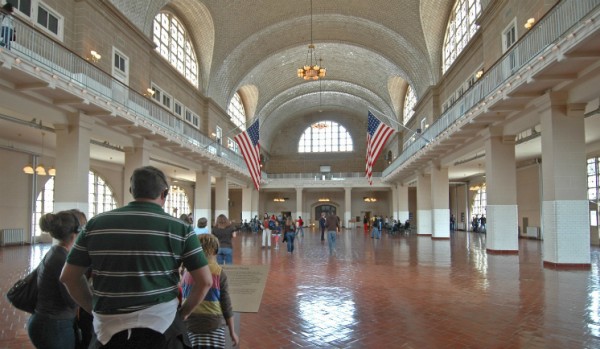 Interesting exhibits
One of the most interesting exhibits on the Ellis Island Tour is entitled 'Through America's Gate' and details, step-by-step, what most arrivals experienced on Ellis Island. In this exhibition, visitors will also find different items used in the immigration process — including some terrifying looking buttonhooks used to turn new arrivals' eyelids inside out to look for any signs of trachoma.
Just before this exhibit lies the 'Registry Room', a massive hall where new arrivals were processed. On certain days, the hall would be filled with up to 5,000 people waiting to undergo medical and legal examinations. While walking through the hall today, it's easy to imagine just how intimidated the thousands of new arrivals were to be met with such as vast, imposing space.
Immigrant stories
Also located on Ellis Island is a bronze statue of Annie Moore, the first ever immigrant to pass through Ellis Island. She was just 17 years old at the time of her arrival in 1891 and had arrived on a ship from Co. Cork, Ireland. Annie's story is a quintessential story of immigration and learning more about her is definitely a must for visitors to Ellis Island.
Another highlight of the Ellis Island Tour is the moving and award-winning documentary 'Island of Hope, Island of Tears'. The film gives viewers the background into why and how so many immigrants decided to journey to United States. The story explains how these people gave up everything they had in a truly touching tribute to those brave enough to chase their dreams.
With so many fascinating stories and exhibits to explore, Ellis Island is easily one of the most interesting historical sites in New York City.
Don't miss out on visiting this historical landmark – book your Ellis Island Tour with Walks of New York today.
About the author: This blog post was written by Ruth Aravena, an Irish travel blogger and newly-initiated resident of NYC. She joined forces with Walks of New York to get to grips with the city during her first few weeks of residence. The tours are ours but all opinions are her own.