African Americans have been an integral part of NYC since it's founding.  While the first Black residents were bought to the city against their will, African Americans eventually streamed into NYC from all over the country (and the world), seeking a better life.  February is Black History Month.  Here are some ways to celebrate the enormous contributions NYC's Black citizens have made to the city's character and culture.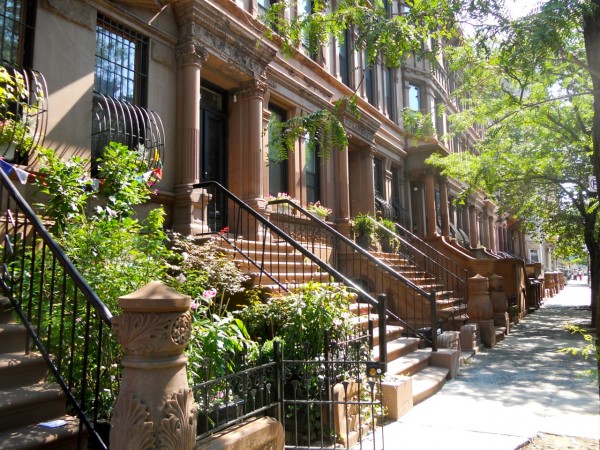 Harlem
Often called the "Black Capital of America," Harlem is unquestionably the city's most historic center of Black culture and history.  A great way to explore the neighborhood is on our Harlem Walking Tour, which takes in famed sites like Abyssinian Baptist Church, Strivers' Row, the Harlem YMCA, and 125th Street. And if all that exploring works up an appetite, be sure to check our list of great Harlem dining.
Schomberg Center for Research in Black Culture – this branch of the NY Public Library is one of the world's leading research facilities for African experiences and cultures.  In addition to the research library and exhibits, the Center hosts events including discussions, theater and musical performances, and a film series.  Check their program schedule for calendar and details. (And be sure and see the wonderful Aaron Douglas murals hanging above the main reading room).
Studio Museum in Harlem – Located on historic 125th St., this museum showcases works by artists of American descent.  Besides its impressive permanent collection, the museum hosts exhibitions and programs.  The museum is open Thursday – Sunday (Sundays free).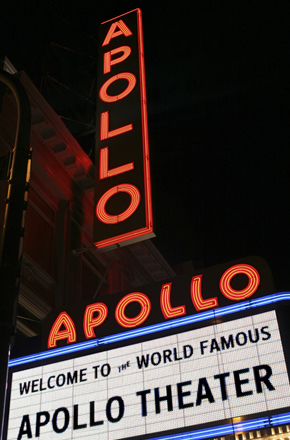 Apollo Theater – the landmark theater that launched the careers of Ella Fitzgerald, Billie Holiday, James Brown, Jimmy Hendrix, and the Jackson Five to name just a few.  In addition to concerts, the raucous Amateur Night is back February 18.  Theater tours are also available.  The theater will host a free Open House February 21, 12-5pm, including performances and workshops.
National Jazz Museum in Harlem – at this intimate museum, you can peruse exhibits, explore their library, and enjoy a vast CD and DVD archive. They also present a busy roster of performances and events.
Rest of NYC
African Burial Ground – this Lower Manhattan site is the resting place of more than 15,000 free and enslaved Africans who were buried during the 17th & 18th Century.  Discovered in 1991 during construction of a Federal building, a National Monument and Visitors Center now stands at the site.
Brooklyn Historical Society – the Historical Society observes Black History Month with screenings of The African-Americans: Many Rivers to Cross (February 5) and Brooklyn Boheme (February 1, 8, 15 and 22), a book talk on the Underground Railroad with Eric Foner (February 17) and a lecture by Wes Jackson and Albert Johnson about the interactions between hip-hop and the literary world (February 25).  Also check out their exhibition Brooklyn Abolitionists/In Pursuit of Freedom and a replica of their rare copy of the Emancipation Proclamation.
Central Park's Arsenal – NYC Parks presents The Migration, a exhibition featuring works by more than 20 artists on the Great Migration and its impact. During this period, which lasted roughly from the onset of World War I until the 1960s, some 6 million African Americans moved north and west to escape the racial segregation and discrimination still prevalent well after the end of the Civil War.
Brooklyn Museum – The museum's monthly First Saturday, a free night of music, film and other public programming, presents Black History Month: Living Legacy on February 7th. Highlights include music by Bilal and Water Seed; screenings of Black Enuf, The Peculiar Kind and Soul Food Junkies; and discussions with Kim Drew, founder of the blog Black Contemporary Art, and renowned spoken-word artist J. Ivy.
Weeksville Heritage Center – Weeksville was a village of free African Americans founded just after the abolition of slavery in New York.  The community thrived during the 19th and early 20th centuries, and included schools, churches, newspapers, and benevolent associations.  It also participated in anti-slavery activities.  Three original Road Houses (1840s-1880s) feature exhibits, and during warmer weather the Center offers a roster of performances and cultural programs.
Here's an interesting video about Weeksville:
A great online resource for learning about NYC's Black history is the MAPP website, a project by Columbia University that explores the community's rich legacy.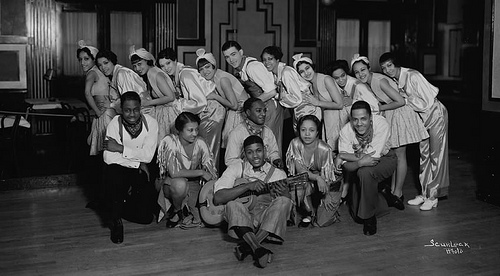 What is your favorite place to enjoy NYC's rich Black history & culture?  Tell us in the comments below.