There is something for everyone in our geeky guide to NYC
It's safe to say that there are countless NYC guides that cater for shopaholics, history buffs and foodies but it's about time the nerdier Big Apple tourists were made aware that the city also has plenty to offer them. From some of the best comic book shops in the world to video-game meccas, New York is the kind of city that your inner geek will love! We've put together this geeky guide to NYC so you can indulge your inner nerd…
Midtown Comics
With its towering skyscrapers and old-school charm, New York City has been the backdrop to many of the world's most well-known comic books and graphic novels including Spider Man, Watchmen and Daredevil. One of the very best places to get your hands on comics like these is Midtown Comics in Times Square. The store is home to over 50,000 titles, so whether you're a Marvel or DC fan, you're sure to find whatever it is you're looking for here.
Superhero Supply Co.
After exploring the shelves of Midtown Comics, the next stop for any self-respecting nerd should be the Brooklyn Superhero Supply Co. If you want to purchase a brand-new cape, a tin of immortality or a secret identity kit, then this is the place for you.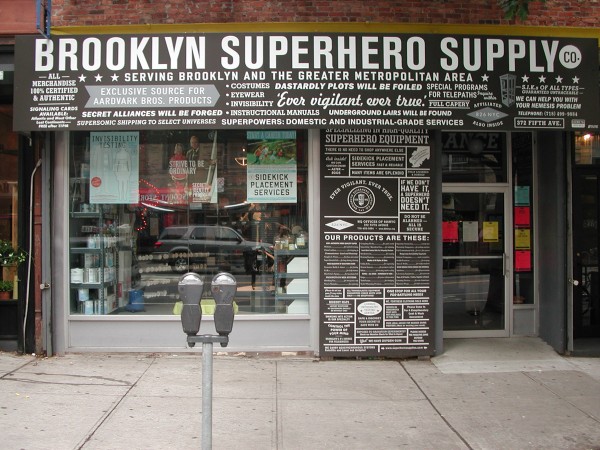 As well as stocking everything a superhero might need, the store also features a wind-tunnel where you can test out the aerodynamics of your new cape and a 'villain chamber' where you can answer a series of questions to determine your villain type. And the best thing about the Superhero Supply Co? All of the profits are used to fund the student writing center which is secretly located through a swinging bookcase.
Action Burger
Rest assured that once the sun goes down on New York City, the geeky fun doesn't end. In fact there are a number of bars and restaurants whose sole purpose is to cater to the quirky. Easily the most delicious of these locations is Action Burger in Brooklyn where you can dig into monster sized burgers and sip on a waffle sundae milkshake while playing Super Mario Bros on Nintendo.
Barcade – geeky guide to NYC
Once you've had your fill of villainous food, take a quick 10 minute walk up the street and you'll find yourself at Barcade. Just as its name suggests, Barcade is a mixture between a bar and an arcade and is one of the most fun places you can spend your evening in the Big Apple. The beer selection is absolutely huge and there are over 50 classic arcade games to choose from including Ms. Pac-Man, Asteroids and Centipede. Barcade in Williamsburg is open until 4am every day so there's no excuse to not spend at least one evening challenging your travelling partner to beat your high-score in Donkey Kong.
Have you anything to add to our geeky guide to NYC? Let us know in the comments section below!
About the author: Our Geeky Guide to NYC was written by Ruth Aravena, an Irish travel blogger and newly-initiated resident of NYC. She joined forces with Walks of New York to get to grips with the city during her first few weeks of residence. The tours are ours, but all opinions are her own.