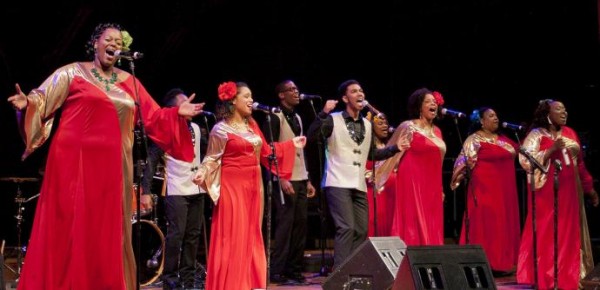 Walks of New York runs group walking tours around the most interesting and iconic sites in NYC – If you're planning a trip, come join us!
Hearing Gospel in Harlem is one of the finest musical treats New York City has to offer. But unlike with other forms of music, New York has no commercial venues devoted to regular Gospel performances. Instead, Gospel music has remained close to its roots—and the best place to hear it is still in the city's African-American churches, especially in Harlem.
Unsurprisingly, attending Harlem church services has become quite popular. So popular, in fact, that guests are sometimes turned away due to lack of space. And with hundreds of churches in Harlem, how can you know which offer excellent Gospel music as part of their service?
Well, we've got you covered. Here's what to know about experiencing Gospel music in Harlem—and beyond. (And don't miss our guide to exploring Harlem!).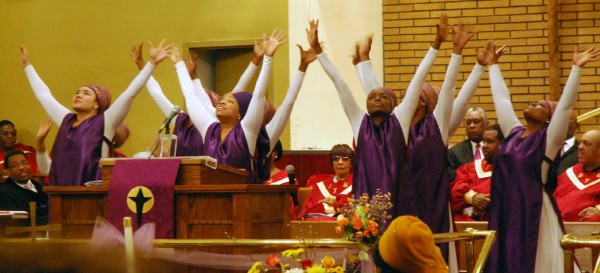 What to know about attending a Harlem Gospel church
Keep in mind that Harlem's churches are houses of worship with devout congregations. Visitors should bear in mind that Sunday services are focused on worship; they are not "a musical show."
Here are some other important guidelines for attending Harlem church services:
Arrive early for the service. Long lines often form for visitor access, and you could be turned away if seating is unavailable. Early morning services tend to be less crowded than services later in the morning.
Dress conservatively (no shorts, tank tops, or flip-flops!).
Never behave in a manner that is distracting to worshipers (i.e. talking, eating, etc.) during the service.
Use of cell phones, cameras, or video recorders is not permitted during the service.
You should stay for the entire service (generally two to three hours).
A contribution to the donation basket is appropriate.
Where to attend a Gospel service in Harlem
1st Corinthian Baptist Church: This huge church, housed in an old movie palace, is known for its welcoming congregation (nearly 7,000 members), casual ambiance, energetic services and great music, particularly its choir. Services Sunday 7:30am, 9:30am and 11:30am. 1912 Adam Clayton Powell Jr. Blvd., at 116th St. Subway: 2, 3, B, C to 116th Street.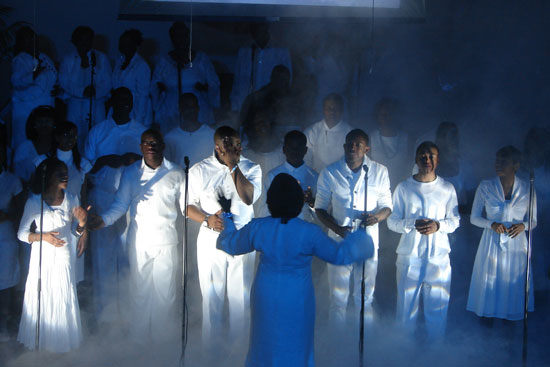 Canaan Baptist Church of Christ: Canaan Baptist describes their services as "Afro-centric," with dynamic preaching, emotional participation of the congregation, and inspirational singing. In fact, the church has several renowned choirs that perform spirituals, gospel, and praise songs as part of the services. Service Sunday 10am. 132 West 116th Street. Subway: 2, 3, B, C to 116th Street.
Bethel Gospel Assembly: Housed in an abandoned public junior high school, Bethel's services include plenty of preaching, singing and dancing, and can be a very moving experience. The church is very welcoming and encourages visitors to attend. Services Sunday 8am and 11:30am, Wednesday 6:45pm. 2 East 120th Street. Subway: 4, 5, 6 to 125th Street, 2, 3 to 125th or 116th Streets.
Greater Refuge Temple: Services at this Pentecostal church include singing, shouting, foot stomping, and a 60-member choir. Prim church ladies often produce tambourines from their handbags, and dancing spills into the aisles. The joyful exuberance is contagious. Services Sunday 11am, 4pm and 7:30pm, Wednesday 7:30pm. 2081 Adam Clayton Powell Jr. Boulevard at 124th St. Subway: 2, 3, A, B, C, D to 125th Street.
Abyssinian Baptist Church: One of America's oldest and most significant Black congregations, Abyssinian is certainly worth a visit. However, it is usually swamped with visitors and tour groups, and its services tend to be more reserved in tone. The Abyssinian is home to several choirs and a dance ministry. Service: Sunday 11am. Tourists are not admitted to the 9am service, or on certain holidays and church celebrations. See their Tourist and Visitor information for details. 132 West 138th Street (aka Odell Clark Place). Subway: 2, 3, B, C to 135th Street.
(If the soul-stirring service leaves you with an appetite, check out our recommendations for great dining in Harlem!).

Gospel churches beyond Harlem:
Times Square Church: Located in a former Broadway theater, TSC describes itself as a "Music Ministry." The church includes a large male choir, a youth choir, and their 140-member multi-cultural choir that ministers Sunday services at 10am and 6pm, Tuesday 7pm service and Thursday 7pm prayer meeting. 1657 Broadway, at West 51st Street. Subway: 1, C, E to 50th Street, or B, D, E to 7th Avenue.
Brooklyn Tabernacle: A multicultural, non-denominational mega church in downtown Brooklyn. The 280-voice Brooklyn Tabernacle Choir is renowned and has won several Grammy awards for their recordings. The church is often praised for its infectious, congenial spirit. Services: Sunday 9am, 12pm, 3pm. 17 Smith Street, Brooklyn. Subway: 2, 3, 4, 5 to Borough Hall/Court Street, or A, C, F, R to Jay Street- MetroTech / Fulton Street. Check here for map and details.
Other Gospel performances:
Sunday Gospel Brunch at B.B. King Blues Club & Grill: This weekly buffet and concert is very popular. While the all-you-can-eat soul food buffet hasn't won accolades, the performances by the Harlem Gospel Choir certainly have. The Time Square location is convenient, and it's a guaranteed opportunity to hear some great Gospel singing. Sundays 1:30pm, doors open at 12:30pm. 237 West 42nd Street, between 7th & 8th Avenues. Subway: 1, 2, 3, A, C, E, N, Q, R to 42nd Street.
Be sure to check the Harlem Gospel Choir's website for other opportunities to hear their concerts.
Gospel Brunch at Ginny's Supper Club: Part of celebrity chef Marcus Samuelsson's celebrated Red Rooster restaurant, Ginny's offers a buffet brunch, including Fried Yard Bird (fried chicken), Mac-and-Greens, and breakfast pastries. Spirited gospel tunes are performed by award-winning Vy Higgensen's Gospel for Teens Choir. Sunday 11am. Reservations are recommended: 212.421.3821. 310 Lenox Avenue, between 125th & 126th Streets. Subway: 2, 3 to 125th Street.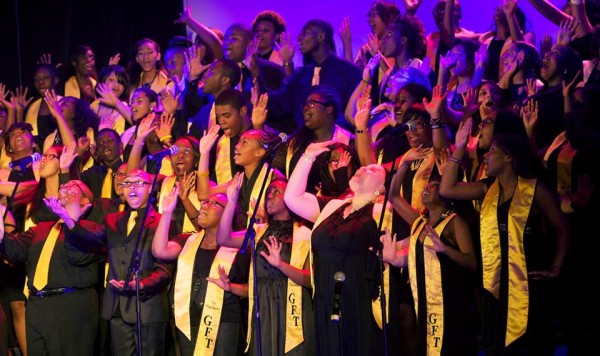 The Gospel for Teens Choir is part of the wonderful Mama Foundation for the Arts, which trains and nurtures local youth through music. See their website for other performances and gospel shows.
Gospel concerts are periodically presented at the Apollo Theater, Lincoln Center's Avery Fisher Hall, Jazz at Lincoln Center, Carnegie Hall, and Radio City Music Hall. Check the music listings in Time Out NY Magazine or the New York Times' Arts & Entertainment Guide for current performances.
Finally, see the website Gospel Events for information about NYC Gospel festivals, competitions, and concerts.
Have you experienced a powerful Gospel performance in NYC? Tell us about it in the comments below.