New York City has the most famous skyline in world, so it's easy to forget that beneath those buildings lies a city teeming with art, culture, people and yes, many hidden secrets. Through years of walking the streets of New York, we've found some of the most amazing secret places in NYC. Some are much closer than you think and others are best left to the experts to explore, but all are authentic gems of New York City. Here are our favorite secret spots in the city.
1. City Hall Station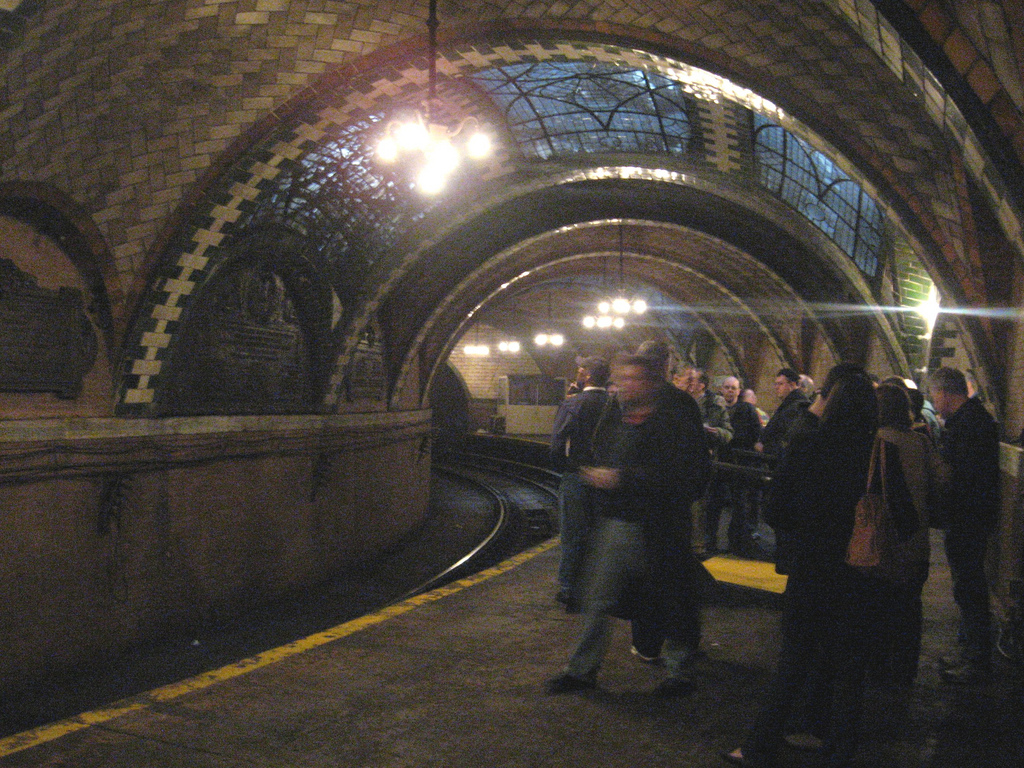 If you're riding the number 6 subway line downtown, the final stop isBrooklyn Bridge. You typically wouldn't think to stay on the train as it continues to the end of the line and turns around but if you were to, you'd be in for a real treat. Before the 6 changes direction and heads back uptown it passes through the most spellbinding and legendary secret place in NYC – City Hall Station.
Opened in 1904 as part of NYC's first subway line, the small station is one of the most beautifully-designed in the city. It features Guastavino tile vaults, skylights, and Romanesque Revival architecture. Ironically, the graceful platform curve which lends it some of its charm was also its undoing. As ridership increased on the subway during the mid 20th century, cars and platforms had to be lengthened – a job that would have been difficult to complete on on the curved platform. Plus, Brooklyn bridge was getting much more traffic anyway. Now it's a ghost station and a time capsule from a more elegant (and less crowded) era. If you want to see this secret place in NYC you either have to try the heavily frowned upon – and illegal – method of staying on the train until it turns around, or do the preferable thing and sign up for one of the infrequent but free tours led by the New York Transit Museum. Keep an eye on their events page for notices of upcoming tours.
2. The Bowling Alley Under the Henry C. Frick Collection Museum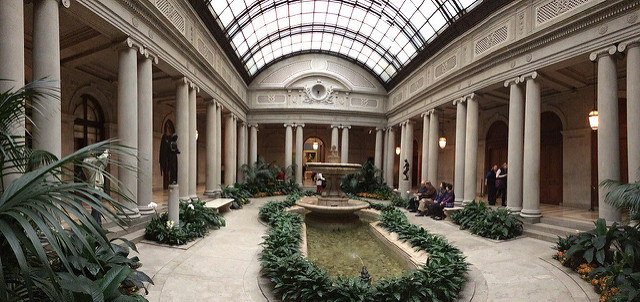 New York's Upper East Side is home to some of the best European art museums in the city, including the Frick collection. Housed inside the former home of Henry Clay Frick, it's as much an architectural experience as it is an art museum. With sixteen galleries displaying pieces by Goya, Van Dyck, Chardin, and more, you have to be sure to not miss anything. However, art isn't all this museum has to offer—the cellar of this mansion hides a private bowling alley that Frick added in 1914. While the two-lane bowling alley was lost for some time (converted into an archive, actually), today it is restored to its original design. Unfortunately, getting to see this secret place in NYC is next to impossible unless you are a member of the museum (i.e.: you have made a generous donation) and even then you have to ask nicely.
3. High Bridge in Harlem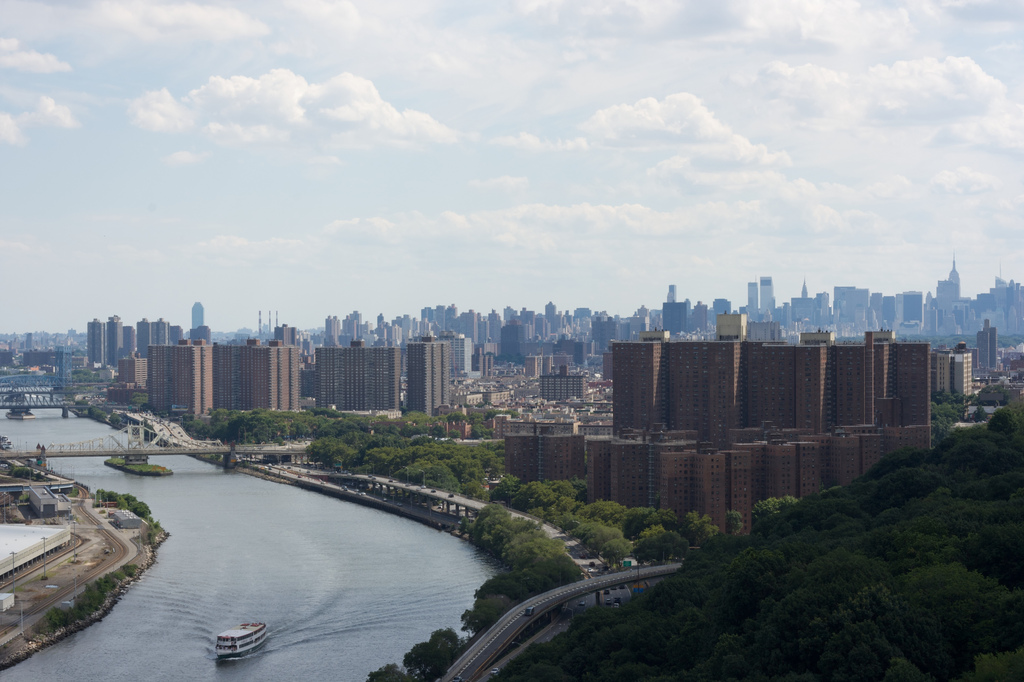 Secret places in NYC aren't always underground—in fact, this one rises above your head as soon as you enter the city. Built in the mid-19th century as part of the Croton Aqueduct, this bridge once carried water from Westchester to Manhattan. Today, it's a wonderful attraction for walkers and park-goers. Public access to the bridge that leads walkers over the original pipes closed in the 1970s, but a citizen-led campaign with help from the parks service led to its reopening in 2015. To get there, take the 1 train up to the 168-Washington Heights station and walk east to Highbridge Park. From there, you can walk across the bridge into the Bronx. The bridge affords one of the most breathtaking and unique views of NYC so be sure to take plenty of pictures.
4. The Rooftop Gardens at Rockefeller Center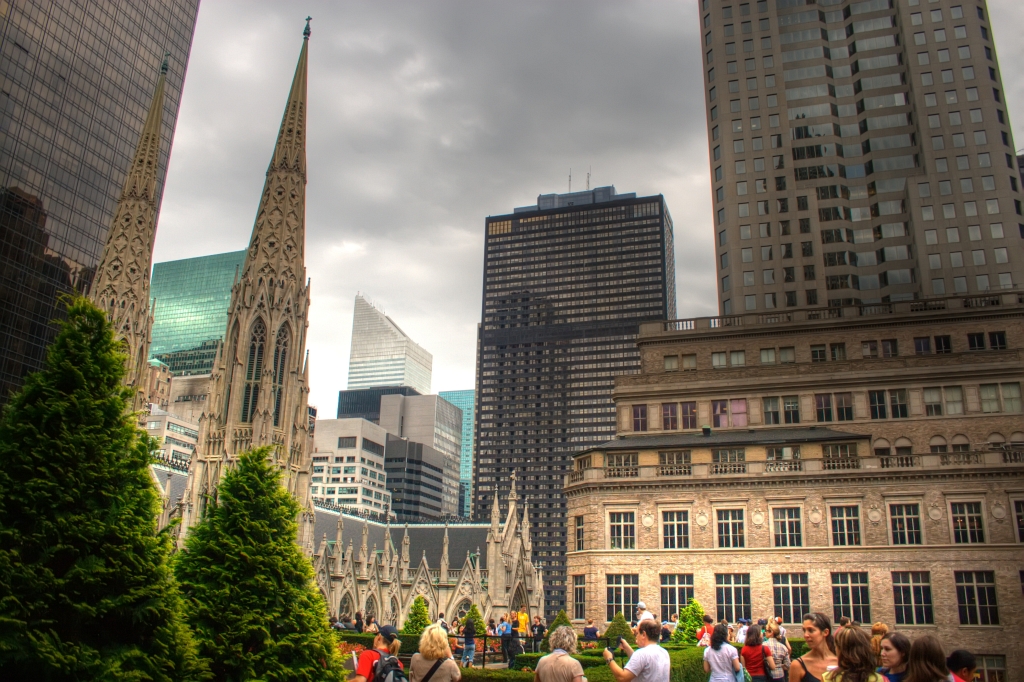 You're probably familiar with Rockefeller Center—it's one of the city's most iconic skyscrapers. But hidden at the top of this landmark is a lesser known spot—the building's rooftop garden, a beautiful oasis from the crowded city below, with well-tended flowers and a reflective pool and garden. You can actually rent the space for your own private event but if you don't have birthday or wedding coming up it's much cheaper to see the space on the official Rockefeller Center tour.
If you're interested in seeing the NBC Studios in Rockefeller Center check out our guided tour of the studios.
5. The Grand Central Terminal Whispering Spot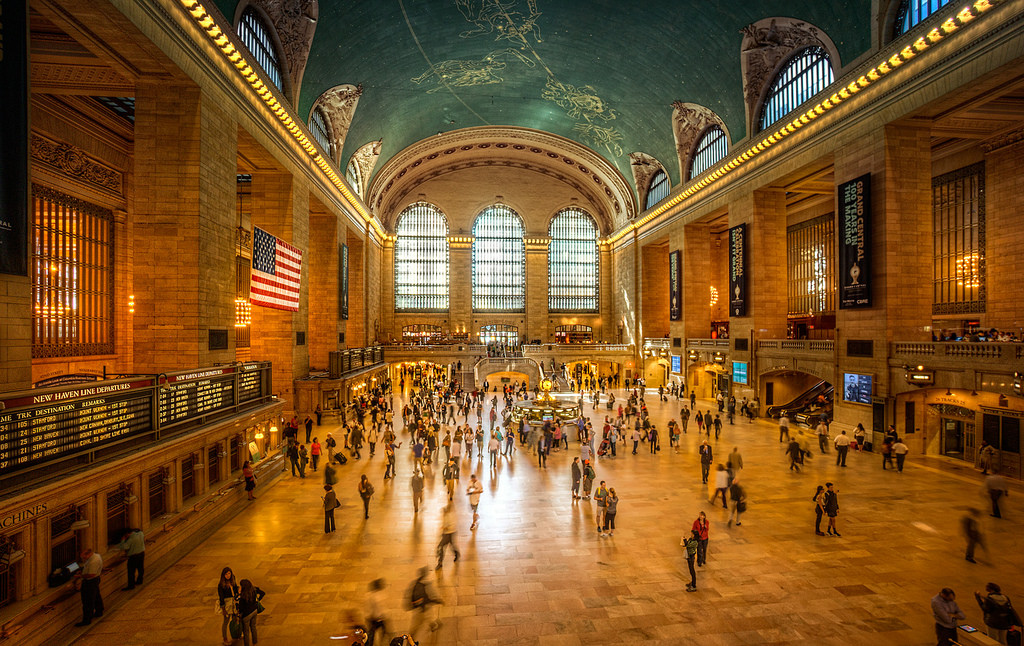 This secret place in NYC is better heard, not seen. In front of the famous Oyster Bar & Restaurant in the dining concourse of Grand Central terminal is an archway. If two people stand at opposite ends of the arch, they can talk into the wall and have their partner hear what they're saying on the other side. It's a very neat acoustic trick created by a simple, though inadvertent, bit of architecture called a "whispering gallery". Don't be surprised if you catch a marriage proposal when you visit – this is one of the spots in Manhattan where they often take place – but you're more likely to meet other curious visitors like yourself.
6. Roosevelt Island Smallpox Hospital Ruins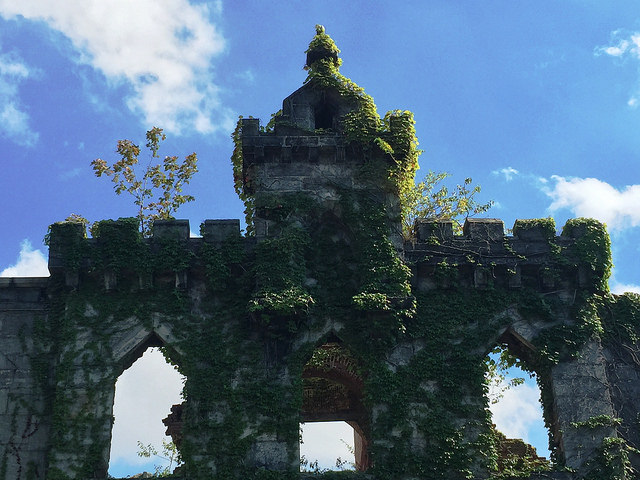 There are a lot of abandoned buildings around New York but only a few of them have been officially designated New York City Landmarks. The 19th-century Renwick Smallpox Hospital on Roosevelt Island is one of them and its one of the most atmospheric secret places in NYC. New York actually suffered more and longer from smallpox (which was vaccinated against as early as 1796) than many other places in America due to the density of its population and the fact that it received many immigrants from Europe every year. The hospital was built on Roosevelt Island because, at the time, it was only sparsely populated and could function as a de facto quarantine. The gothic revival architecture of the building is wonderfully spooky and its history makes it a must-see for any New York history buff. To get there you hop on the Roosevelt Island Tram at the intersection of East 60th Street and 2nd Ave. and soar over the East River onto Roosevelt Island. It's a short trip, but the views alone are stunning, and the ride costs the same as a normal subway fare (just swipe your MetroCard!). Once you get onto the island, head south and you can't help but run into it. At the time of publication, the ruins are still fenced off but an ongoing refurbishment project is stabilizing them and plans to have them open to the public – though no opening date has been set. Given their propensity to spontaneously crumble, this is one hidden place in NYC that you want to view from a safe distance.
7. Fragment of the Berlin Wall, 520 Madison Ave.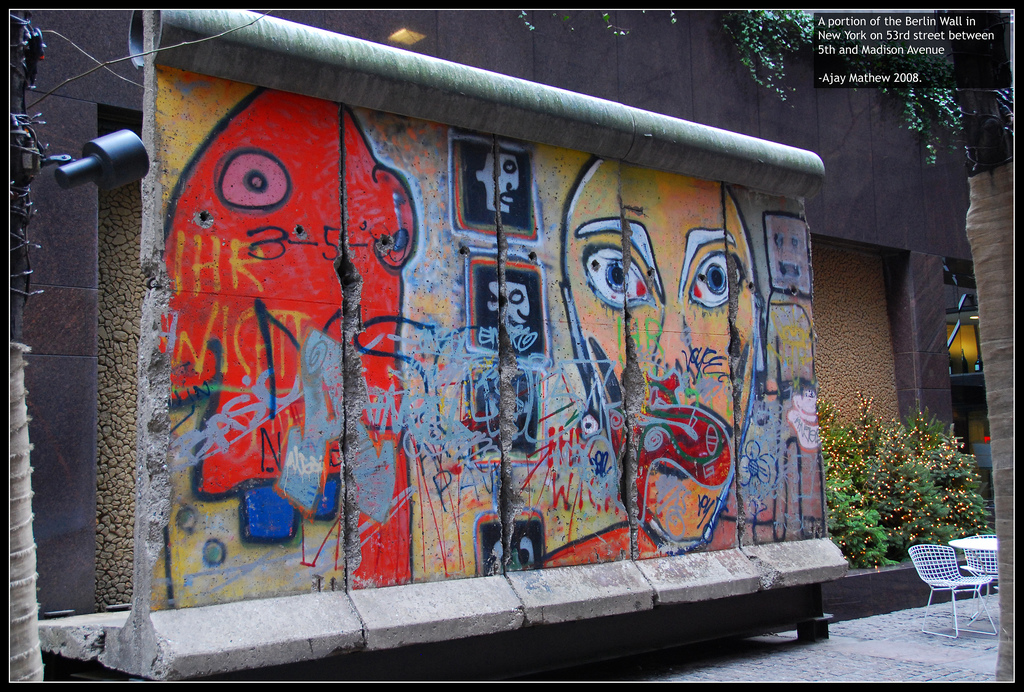 When is a secret place in NYC not from New York at all? When it's a large hunk of the wall that used to separate East and West Berlin. Around the corner from the Museum of Modern Art is a five-panel segment of the Wall located inside of the lobby of 520 Madison Avenue. While you can find fragments of the wall all over the world, this is one of the largest sections still intact. The slab of wall, which was purchased directly from the East German government by the Real Estate mogul Jerry Speyer, used to sit outside (where the above photo was taken). In order to protect it from the elements it has since been moved into the lobby, but don't worry – the lobby is open to the public 24/7, so stop by to view this piece of history whenever you want.
8. Loew's Theater
Once a thriving cinema of the 1920's, the Loew's Theater on Canal Street in Manhattan now lies vacant awaiting restoration. Designed by the great theater architect, Thomas Lamb, it was one of the biggest movie theaters in the country when it opened in 1927 but eventually fell into disuse in the 1960s. Another official New York City Landmark, the building cannot be torn down, but developers are still trying to get a plan passed to renovate it. Thus, the theater lies silent and untouched. Getting in takes a bit of creativity – and we don't recommend it as it's considered trespassing – but if you can wriggle inside you'll get a glimpse into the glory days of cinema. For a safer and legal peek into Loew's Canal Theatre, check out this picture feature in the Gothamist.
9. Speakeasies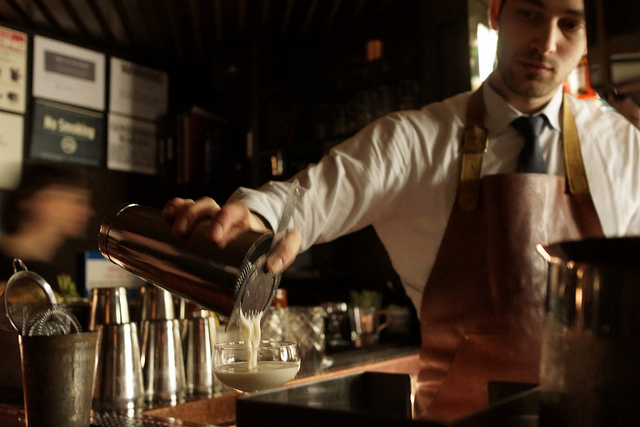 The federal prohibition of alcohol in the 1920s forced New Yorkers to take their parties underground and behind closed doors – a trend that gave birth to some of the most legendary secret places in NYC – the speakeasies. Nowadays, alcohol regulation is much more relaxed, but for the last decade the new wave of speakeasies (essentially small cocktail bars with hidden and/or unmarked doors) have literally been the toast of the town. You can find them all over the city, like the Bathtub Gin on 9th Ave. in Chelsea, or the Back Room in Lower Manhattan. A perennial favorite is PDT, which is located beyond a telephone booth in the East Village hot dog restaurant Crif Dogs (the hot dogs are pretty good too).
If you don't feel like hunting down NYC speakeasies yourself, try the rooftops and speakeasies tour from Take Me Out.
Honorable Mention: The Staten Island Boat Graveyard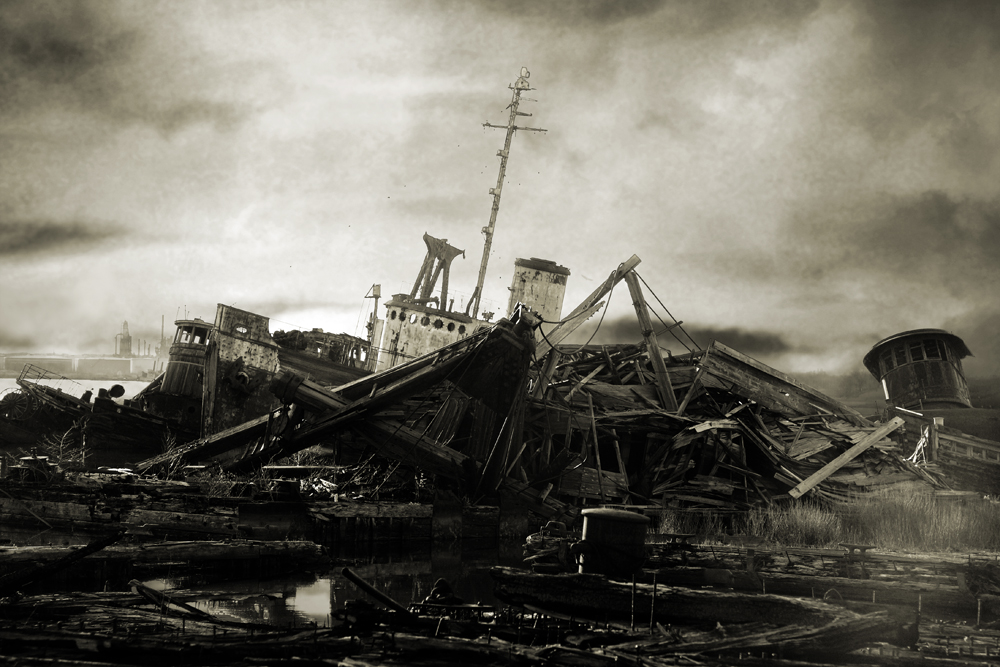 If you're feeling really adventurous, trek out to southwestern Staten Island for a sight you don't see every day—the ship graveyard in the Arthur Kill (a tidal strait) has become the final resting place of a veritable fleet of decommissioned ships. Of the 100 odd boats in this family-run salvage yard, there are plenty of historically important vessels from the early 20th century. Because of this, it has become something of a pilgrimage spot for ship enthusiasts. It's not a problem for you to show up and take a peek but be aware that the area is a bit isolated so we only recommend this trip for those who are truly interested in getting an eerie look at the past of aquatic engineering.