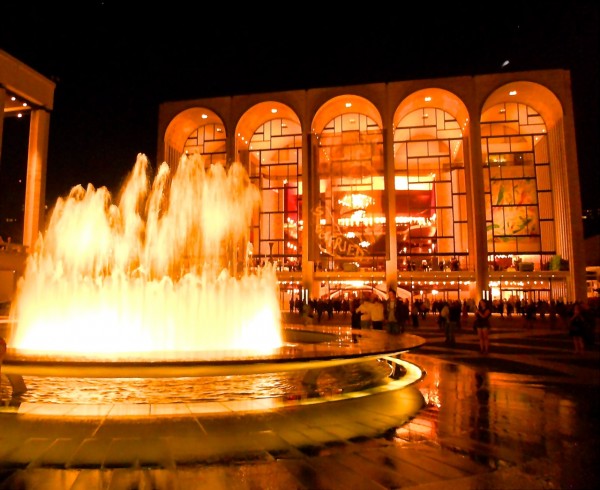 The Metropolitan Opera in New York is, without question, one of the world's preeminent opera halls. With its lavish productions and top-notch performers, this New York opera institution—dubbed "the Met" by locals—has staged legendary performances for more than a century.
Want to catch a performance at the Metropolitan Opera? Here's a quick guide!
The Metropolitan Opera presents a rotating repertory of operas during a season from late September through May.  Up to seven performances of four different works are staged each week, Monday – Saturday evenings and a matinée on Saturday.  The season is a mix of opera revivals and highly anticipated new productions (usually staged to showcase a superstar singer). During the 2013/14 season, the Met will present 26 operas, including six new productions and a Met premiere.
A quick history of the Metropolitan Opera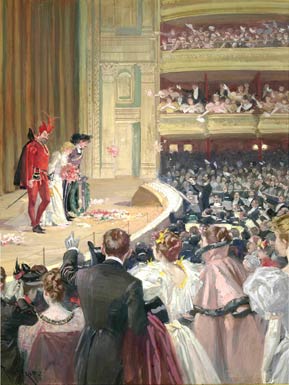 The Metropolitan Opera Company was founded in 1880 as an alternative to the old established Academy of Music (whose "old money" patrons restricted access to performances). The first Met subscribers included members of the Morgan, Roosevelt, and Vanderbilt families, and their new opera house opened on October 22, 1883.
Since then, the Met has staged the U.S. premieres of some of the most important operas in the repertory, as well as 32 world premieres. Legendary conductors who have taken the Met podium include Gustav Mahler, Arturo Toscanini, Leonard Bernstein, and James Levine.
The Met is particularly known for its stellar singers, which have included Enrico Caruso, Leontyne Price, Renata Tebaldi, Maria Callas, Joan Sutherland, Luciano Pavarotti, Placido Domingo, Beverly Sills, Renee Fleming, and Anna Netrebko. In addition to presenting the world's best singers, the Met discovers and trains artists through its National Council Auditions and Lindemann Young Artist Development Program.
Getting to the Metropolitan Opera
The Metropolitan Opera House is part of Lincoln Center for the Performing Arts, located between West 62nd and 65th Streets and Columbus and Amsterdam Avenues on Manhattan's Upper West Side.
Subway: #1 train to 66th Street (Lincoln Center) Station
Bus: M5, M7, M10, M11, M20, M66, M104 or BxM2 lines.
For detailed information about NYC public transit, see the MTA's website.
Buying tickets for the Metropolitan Opera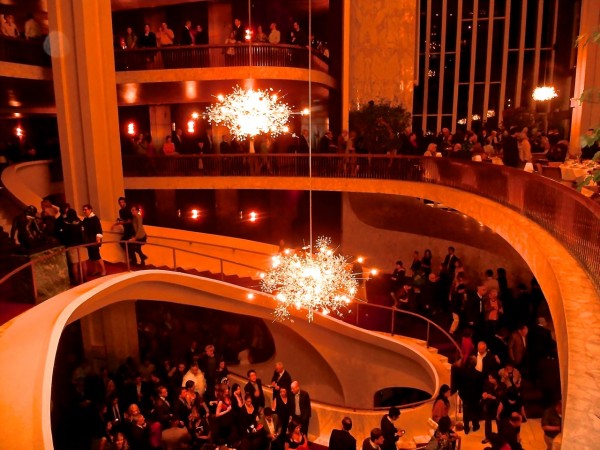 Tickets to the Met are available for subscriptions (a series of performances within a season), or for individual performances. Tickets can be purchased via the Met's website, by phone (212-362-6000, Monday to Saturday 10am to 8pm and Sunday 12pm to 6pm) or at the box office. Note: There are no refunds, exchanges or cancellations on single sale tickets.
The Met has adopted a "Dynamic Ticketing" policy, meaning that ticket prices are not only determined by seating location, but also by demand and availability and may fluctuate accordingly. Currently, tickets prices range from $27 to several hundred.
For those seeking reduced price tickets or access to sold-out performances, Standing Room Tickets go on sale at 10am on the day of the performance. Orchestra Standing Room tickets cost $25 and Family Circle Standing Room $17. They can be purchased online, at the box office, or by phone (see above).
The Met also offers discount tickets ($25 to $35) through their Met Opera Students program, which requires prior registration with proper ID.
Finally, the Met offers Rush Tickets with 200 Orchestra seats available for $20 for Monday to Thursday performances, and $25 for weekend performances. (Galas and opening nights of new productions are excluded). Rush tickets for weeknights can be purchased at the Met box office beginning two hours before curtain, subject to availability. (Depending on the popularity of the opera or its star, lines can be considerable). Weekend Rush tickets are available through an online lottery.
For more information about Rush tickets and procedures, see the Met's website.
Etiquette for attending the opera
While there is no dress code at the Met, the setting and occasion are somewhat formal.  The Met recommends comfortable clothing appropriate for a professional setting.
It's important to note that latecomers are not admitted to the auditorium until intermission, and patrons who leave the auditorium during a performance will not be readmitted until intermission or an appropriate interval.  There are areas off the North and South sides of the Orchestra level where latecomers can watch the performance on monitors until they are allowed to enter.
There is a coat check station located on the South Concourse level. They do not accept luggage or other large items. For security purposes, these items are not permitted in the theater.  Binoculars are available for rental at the coat check. The cost is $5, and a major credit card or driver's license is required as a deposit.
What to notice in the Metropolitan Opera house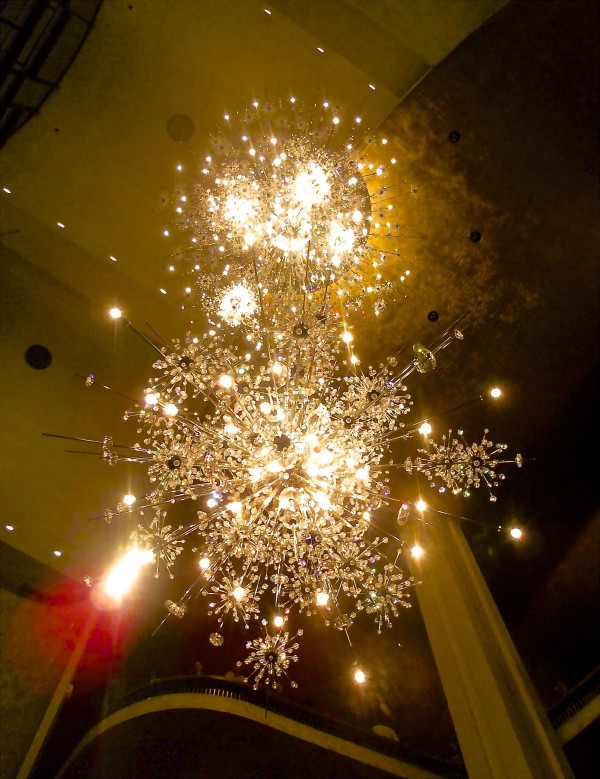 The grandiose opera house opened in 1966, replacing the original 1883 opera house that was located south of Times Square. The lobby spaces feature curvaceous lines and staircases that make the various levels appear to flow into one another.
Make sure you check out the starburst crystal chandeliers (a gift of the Austrian government) and the two immense paintings by Marc Chagall flanking the building's facade.
Costumes and memorabilia from the Met's illustrious past are displayed in locations in the lobby, and a portrait gallery of great Met artists is found on the lower level of the lobby.
The auditorium (capacity 3,975) features five seating levels above the orchestra (ground floor) that include box seats and balconies. With its outstanding acoustics, the main consideration for patrons is distance from the stage and sight lines (which can be limited on extreme sides).  The décor is primarily red velvet, lots of gold leaf, and matching starburst crystal chandeliers. Watching the chandeliers rise to the ceiling as the house lights dim is a thrilling moment of anticipation before the performance!
The auditorium also features Met Titles, which are seen on individual screens on the seat backs and at all Standing Room locations.  Met Titles provide simultaneous translations of the operas in multiple languages.
The Grand Tier Restaurant is open two hours prior to curtain to ticket-holders for pre-curtain and intermission dining.  Reservations are required.
The Revlon Bar offers light snacks and a full-service bar. It is also open two hours prior to curtain for pre-curtain and intermission dining.  There are four additional bars on various levels of the theater that offer pre-curtain and intermission beverages and snacks.
The Met Opera Shop, located beside the box office, sells CDs, DVDs, books, and special items inspired by Met productions and the company's history. Open Monday to Saturday 10am to 10pm (the end of evening performance's second intermission), and Sunday 12pm to 6pm.
The Met Opera Guild offers Backstage Tours during the Met performance season at 3pm on weekdays and at 10:30am and 1:30am on Sundays. Tours are not held on days of final dress rehearsals, or other special events in the opera house, so it's best to call 212-769-7028 or visit the Met Opera Guild calendar. Tickets are $22 for the General Public and $18 for students and groups of 10 or more.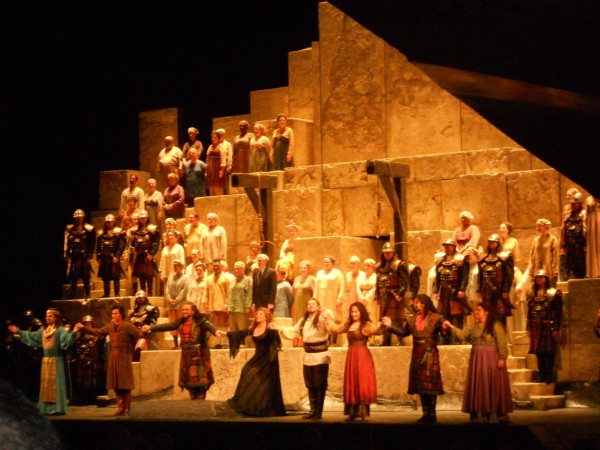 Can't make it to the Met? 
Since 1931, the Met has broadcast live Saturday matinee performances to radio listeners throughout the country (and now world) on its radio broadcasts. Twenty-three matinee performances will be broadcast between December and May. For more information, including the schedule, casts, and station guide, see the Met's website.
Metropolitan Opera Radio on SiriusXM Satellite Radio is a subscription-based audio service broadcasting live and historical performances, commercial-free and round the clock.
The Met: Live in HD is a series of performance transmissions shown live in movie theaters in 54 countries. The Live in HD performances are later also shown on U.S. public television (check local listings), and a number of them have been released on DVD.
Met Opera on Demand is an online streaming service that offers almost 400 Met performances, including Live in HD productions, classic telecasts, and archival broadcast recordings for viewing and listening on your computer or iPad.
Opera News is a magazine published by the Metropolitan Opera Guild which highlights productions and artists at the Met, as well as in-depth articles on opera and related subjects, reviews of opera performances, recordings, books, etc., and goings on in the opera scene world-wide.
Have you experienced a performance at the Met?  If so, what was your favorite operatic moment? Tell us in the comments!