Best known for being home to Wall Street, there are lots of exciting and interesting things to do in Lower Manhattan. The area offers plenty of sightseeing opportunities and is steeped in fascinating American history. Since the market crash, many office blocks have been converted into apartments, and the growing number of bars, restaurants and cafes mean Lower Manhattan has a more residential, relaxed feel than it had ten years ago. Here are our top tips for things to do in Lower Manhattan.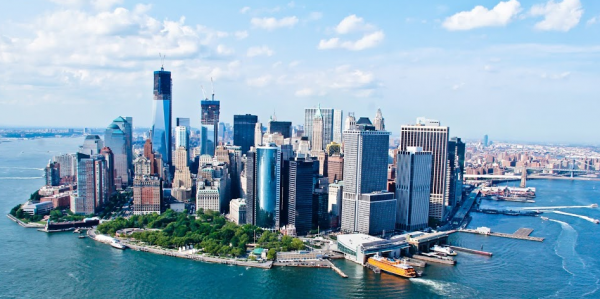 Wall Street
Instantly recognisable from dozens of movies, Wall Street is, of course, home to the New York Stock Exchange. Pre-9/11, you could take a tour of the buzzing trading floor but these days tourists aren't allowed inside. Get your photo snapped in front of the iconic façade before heading to the Museum of American Finance. Located in the old Bank of New York building, this museum tells you everything you need to know about the dollar.
Museums
That's not the only interesting museum in Lower Manhattan – this corner of New York has a whole host of niche exhibitions. If you are looking for some interesting things to do in Lower Manhattan than there is definitely a museum for you! Architecture and history buffs alike won't want to miss the Skyscraper Museum where you can learn about the forces and individuals that shaped the city's spectacular skyline. Get a real insight into New York's Jewish roots at the Museum of Jewish Heritage and a fascinating snapshot of American Indian history at the National Museum of the American Indian.
Battery Park
No matter which New York neighbourhood you find yourself in, you won't be far from an urban oasis. In Lower Manhattan, that greenery is the revamped Battery Park. A 25-acre public park, Battery Park is dotted with statues and memorials, including the American Merchant Mariners' Memorial. Overlooking New York Harbour and Lady Liberty herself, this is the perfect spot to spend a few hours.
Century 21
A Lower Manhattan retail mecca, Century 21 on Cortlandt Street is a bit of a fashion landmark. Loved by both visitors and locals, you can easily spend hours digging through the racks for a designer bargain, often with up to 70% off the retail price. Our advice is to avoid it on Saturdays unless you're willing to fight for the garment you have your eye on!
Freedom Tower
Lower Manhattan's newest and biggest sight is 1WTC, or the Freedom Tower. This glistening skyscraper is now home to companies including Condé Nast and the much-loved One World Trade Center. Head to the observation deck on the 102nd floor for what is arguably the best view of New York City.
Things to do in Lower Manhattan – Food and drinks
Said to be the city's oldest paved street, Stone Street is the place to go for bars, cafes or just a stroll along the cobblestone. For tasty margaritas try Mexican restaurant Mad Dog & Beans. Harry's Café and Steak is also a crowd pleaser, whether you fancy a steak dinner or just a glass of wine. For a quick fix of caffeine, The Financier Patisserie is a classy Financial District favourite that nabbed its name from the French financier delicacy. The fresh pastries and baked goods here are simply divine!
The Fraunces Tavern
Nestled among the whopper skyscrapers is one of Manhattan's oldest buildings. A landmark where John Adams and George Washington once frequented, the Fraunces Tavern on Pearl Street is a museum and restaurant rolled into one. A visit here is one of our favourite things to do in Lower Manhattan.
Want to discover Lower Manhattan, and New York's other amazing neighborhoods, for yourself? Why not try our lower east side walking tour or one of our 9/11 tours? There are plenty to choose from. Book your place on a special Walks of New York tour today!