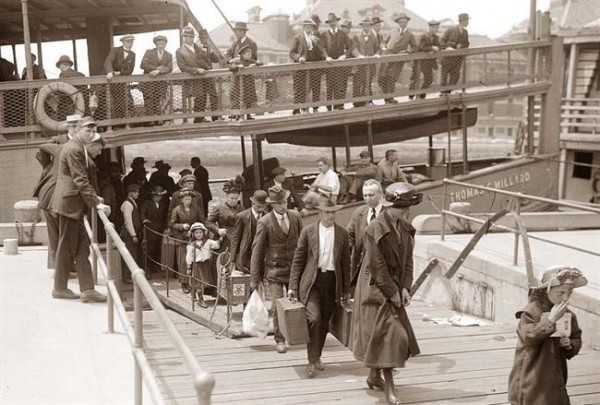 On January 1, 1892, Annie Moore stepped onto Ellis Island… and into history. She was the first of 12 million immigrants to arrive on the island, and instantly became a symbol of those coming to America in search of a better life.
Since becoming the first immigrant to Ellis Island, Annie's story has been celebrated in art, story, and song.
Annie Moore was born in County Cork, Ireland in 1877.  On December 20, 1891, Annie and her brothers Anthony (11) and Phillip (7) boarded the S.S. Nevada bound for New York.  The trio spent 12 days at sea amongst 148 passengers in steerage.  After passing through Ellis Island on January 1st (Annie's 15th birthday), Annie and her brothers were reunited with their parents, who'd arrived the year before.
Annie even showed up in a New York Times article of Ellis Island's opening. As the article wrote, "there was much anxiety among the new-comers to be the first landed at the new station. The honor was reserved for a little rosy-cheeked Irish girl. She was Annie Moore, fifteen years of age… As soon as the gangplank was run ashore, Annie tripped across it and hurried into the big building… When the little voyager had been registered Col. Weber presented her with a ten-dollar gold piece and made a short address of congratulation and welcome. It was the first United States coin she had ever seen and the largest sum of money she ever possessed. She says she will never part with it."
Annie's story then reportedly took her west, where her family pursued the American dream. She eventually reached Texas, where she married a descendant of the Irish liberator Daniel O'Connell and started her own family.
Annie died tragically under the wheels of a streetcar at the age of 46.  Proud of Annie's legacy, her descendants took part in ceremonies at Ellis Island and in Ireland. But in 2006, it was discovered to be a case of mistaken identity: The "real" Annie Moore never strayed far from Ellis Island.
Genealogist Megan Smolenyak Smolenyak (yes, that's her name) traced Annie great-nephew, and learned that Annie lived and died on the Lower East Side. Her father, a longshoreman, housed the family in a tenement on Monroe Street (close to where the Manhattan Bridge soon rose).
Annie later married a bakery clerk, and had 11 children, only five of whom survived to adulthood. She died of heart failure in 1924 at 47, and was buried with 6 of her children in an unmarked plot at Calvary Cemetery in Queens.
"She had the typical hardscrabble immigrant life," Smolenyak said. "She sacrificed herself for future generations."
Annie's descendants, some of whom remained on the Lower East Side until recently, multiplied and many prospered.
On October 11, 2008, a ceremony in honor of Annie Moore was held at her grave site, during which a gravestone was placed, finally identifying Annie and her children. President Obama (himself partially of Irish descent) sent a message of remembrance.
Statues commemorating Annie now stand in Ellis Island and County Cork, Ireland.  The Irish American Cultural Institute presents an annual Annie Moore Award "to an individual who has made significant contributions to the Irish and/or Irish American community and legacy."
The song "Isle of Hope, Isle of Tears" tells Annie's story.