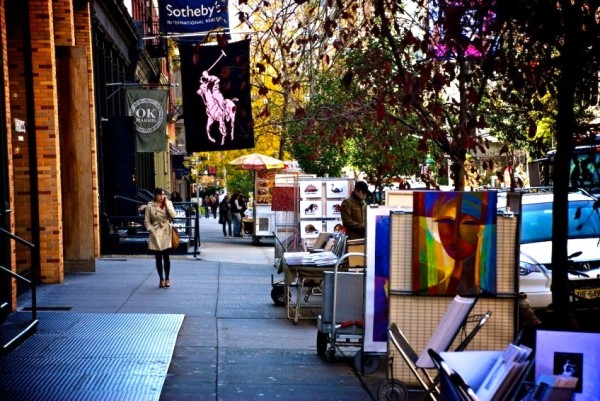 "SoHo" is one of the most famous neighborhoods in New York. It's also one that exemplifies urban renewal: SoHo (which stands for "South of Houston," pronounced HOW-stin) transformed from a past of industrial squalor… into a vibrant artistic community… into today's neighborhood, one bustling with art galleries, exclusive boutiques, chic hotels, and trendy restaurants.
As its name states, SoHo is located south of Houston Street. The historic district's other borders are Canal Street to the south, Crosby Street to the east, and West Broadway to the west.
History of SoHo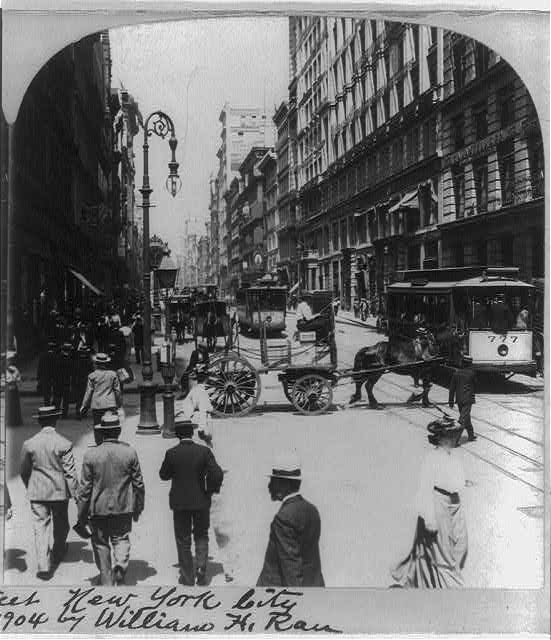 The area between Canal and Houston Streets was rural until the early 19th century, when it became a residential neighborhood. In the 1850s, the area grew into a fashionable district, and Broadway was lined with stores like Lord & Taylor, Brooks Brothers, and Tiffany & Co.—along with posh hotels, theaters, and casinos (and infamous brothels on the side streets!).
By the 1870s, residents and nightlife had moved uptown. Textile and dry-goods factories sprang up in their place.
But industry left the area throughout the early 20th century. By the 1950s, the desolate neighborhood was known as "Hell's Hundred Acres."
In the 1960s, artists, who'd been priced out of Greenwich Village, moved into SoHo's abandoned industrial lofts and converted them into art studios and homes. An avant-garde artists' community flourished, producing galleries, exhibitions, and performances of new theater, dance, music and video.
Gentrification soon followed. The (expensive!) neighborhood is now teeming with luxury condos, high-end retailers, art galleries, and stylish bars and restaurants.
Visiting SoHo
To get to SoHo, take the N or R subway to Prince or Canal St., the 6 to Spring or Canal St., the B, D, F, or M to Broadway/Lafayette, or the C or E to Spring St.
Visitors are drawn to SoHo for three primary reasons: its historic architecture (particularly the incredible cast-iron buildings), its famous art scene, and the shopping. All three can be found throughout the district. Here are some highlights.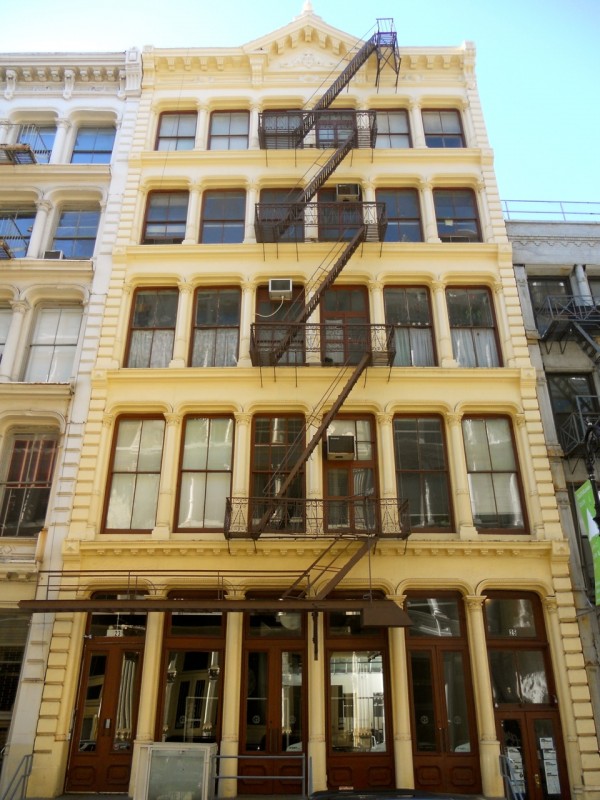 SoHo's architecture
SoHo is home to some of the world's finest cast-iron buildings. Built primarily between the 1870s and 1890s as factories and warehouses, these buildings feature impressive cast-iron decorative elements (like columns, cornices, and balustrades). The prefabricated pieces were created in molds at foundries and ordered by catalogue (sort of a 19th-century, industrial IKEA!).
The pieces were bolted onto plain masonry facades and painted to resemble stone, a far quicker and cheaper process than actual sculpture. Characteristics of the buildings include large open interiors supported by central columns and big plate glass windows (useful during the gaslight era).
Some of the finest buildings in the district include (see red numbers on map):
1. "The Queen" of Greene Street: Numbers 28-30, built in 1872, make up a six-story warehouse with a large mansard roof and ornate dormers. It is surrounded by other cast-iron treasures in varying design styles.
2. The Haughwout Building: At the northeast corner of Broadway and Broome Streets, it's the oldest complete cast-iron facade in the city (1857). Ringed with 92 sets of arched windows and Corinthian columns, this historic building held the nation's first passenger elevator. Peek into the 2nd-floor windows to see the open loft floorplan and rows of interior columns.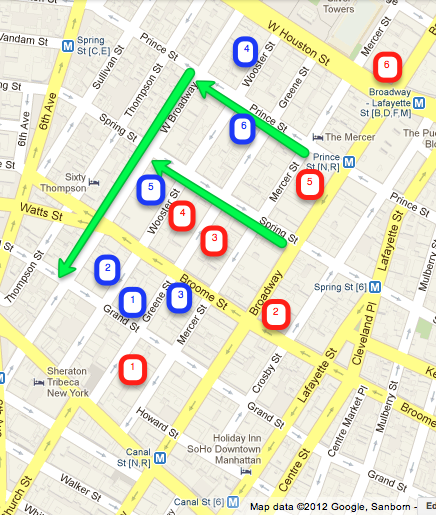 3. "The King" of Greene Street: At #72, this grandiose structure was built the same year as "The Queen," and designed by the same architect, Isaac Duckworth.

4. 80 Wooster Street: In 1967, this former warehouse became the site of the first artist co-op, leading to the transformation of the neighborhood. During its heyday, artists like Jonas Mikas, John Lennon, Philip Glass, and Andy Warhol all presented their works here.
5. The Little Singer Building: This L-shaped building, with facades on Broadway and Prince St, is an early skyscraper (1903). Its terra-cotta sculptural details and wrought-iron tracery make it a standout.
6. The Cable Building: At Broadway and Houston St. (okay, not quite in SoHo, but almost!), this ornate corner building, designed by Stanford White, was the terminus for cables that ran under Broadway, pulling the streetcars up and down the boulevard (like San Francisco's Cable Cars). The blue and white building directly across Broadway is the city's 2nd-oldest cast-iron facade (1858).
Art galleries in SoHo
While many artists and galleries have left pricey SoHo, there's still plenty of art to savor, especially along West Broadway.
OK Harris (383 West Broadway) is one of the neighborhood's most established galleries, showcasing simultaneous exhibits in a welcoming space. The venerable Franklin Bowles Galleries (431 West Broadway) displays works by a few artists who you just might have heard about—including Rembrandt, Matisse, Picasso, and Dali.
Other notable locations include (see blue numbers on map):
1. Artists Space: One of the city's oldest alternative galleries, it continues to support up-and-coming talent by including them in innovative group shows. 38 Greene St.
2. The Drawing Center: This non-profit gallery showcases drawings in multiple mediums, often by emerging artists. 35 Wooster St.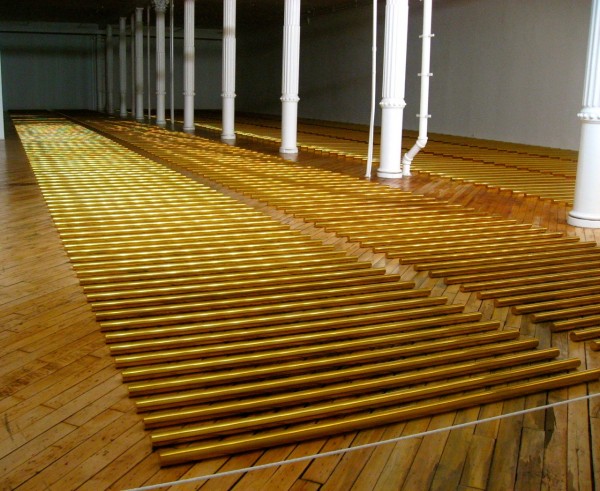 3. AFA NYC: A gallery featuring conceptual animation art, often featuring beloved animated characters like those of Dr. Seuss or Charles Schultz's Peanuts in original works. 54 Greene St.

4. NY Earth Room: This 1977 experiential art installation features 250 cubic yards (197m) of moist, fragrant soil covering an entire loft floor, 22 inches (56cm) deep. 141 Wooster St. Free admission.

5. The Broken Kilometer: Another long-term installation (1979, this one features 500 brass rods, laid in five parallel rows across a large loft floor. 393 West Broadway. Free admission.
6. Morrison Hotel Gallery: This gallery features original photo prints of rock legends like Jimi Hendricks, Bruce Springsteen, John Lennon, and the Doors by some of the industry's most acclaimed photographers. 124 Prince St.
Exclusive galleries out of your price range? You'll find many artists selling their work (some of merit, some merely kitsch) along the sidewalks of Prince and Spring Streets, and especially on West Broadway.
Shopping in SoHo
Shoppers, rejoice: Prada, Armani Exchange, Stella McCartney, Hugo Boss, Ralph Lauren, Chanel, and Bloomingdales Soho are just a few of the high-end retailers found on SoHo's streets. The area is also home to numerous designer lighting and furnishings shops.
While stores are scattered throughout the neighborhood, Broadway, Prince Street, Spring Street, and West Broadway are the primary shopping thoroughfares. Their sidewalks are also lined with street vendors selling handmade jewelry, scarves, handbags, sunglasses, caps, and even bongs.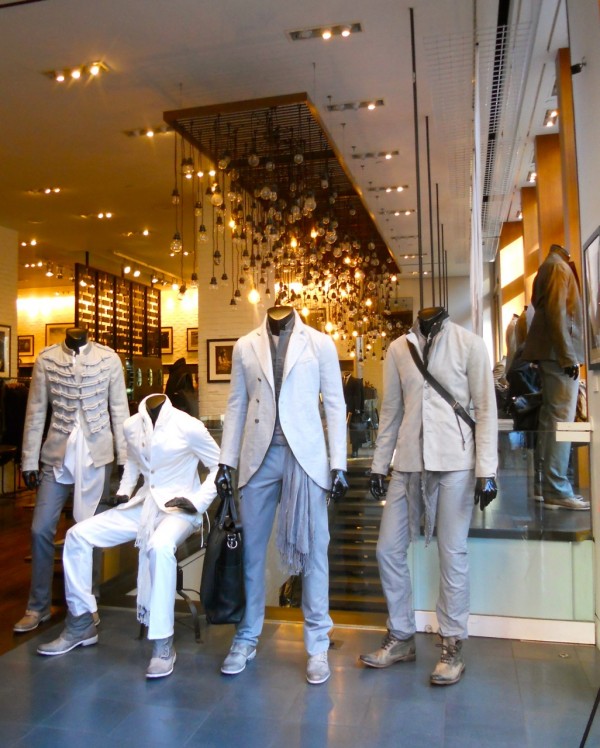 Some notable stores to look for include Prada's $40 million flagship, All Saints Co., Ltd (terrific industrial design), Adidas Originals (located in a converted parking garage), the MoMa Design Store, the Phaidon Store (with great books on visual arts), the quirky/creepy Evolution Store, and Vosges Haut Chocolat (for top-notch designer chocolates and beverages).
There also are plenty of great dining options in the neighborhood, including Balthazar, Fanelli's Cafe, Lucky Strike, the many bistros clustered on West Broadway between Spring and Grand Streets, and L'Ecole, serving gourmet meals prepared by the students of the French Culinary Institute at reasonable prices.
Fun facts about SoHo
There are 26 city blocks and approximately 500 buildings in the SoHo Cast Iron Historic District, as designated by the NYC Landmarks Preservation Commission in 1973; the area was declared a National Historic Landmark in 1978.
Crosby, Mercer, Greene, and Wooster Streets are paved with distinctive Belgian blocks. In some areas, the surface is quite uneven!
Many painted cast-iron facades look so much like stone, architecture buff sometimes carry magnets to identify which are metal or masonry.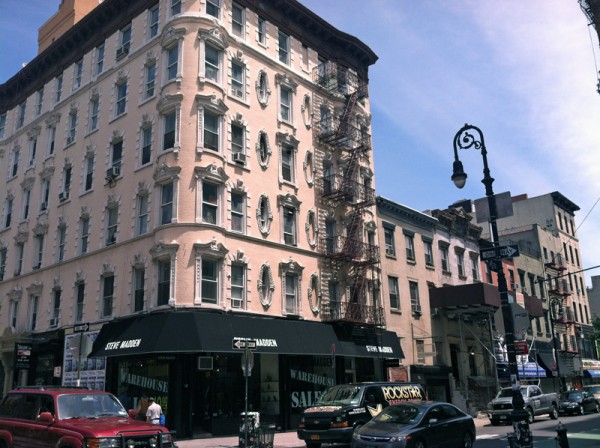 Many of the buildings bear the date of construction on their cornice (the top of the facade). Others feature plaques near the facade's base designating the iron foundry's name and date of production.
Several loading docks, steps, and pavements are embedded with small, circular glass discs to allow natural light into basement warehouses.
Broome Street is particularly wide (and full of traffic) because it is an important crosstown artery, connecting the Williamsburg Bridge and the Holland Tunnel. Robert Moses intended to build an elevated concrete expressway over the street, but his plan was thwarted by fierce public opposition.
Spring Street is named for a natural spring at the location (in fact, it still runs beneath the street). A local legend says that a well, once located at Broadway and Spring, was the grave of Juliana Elmore Sands, whose body was found floating there in 1800. Her ghost has been seen in the area, notably in 1974 when a resident reported that the apparition of a woman in mossy garments emerged… from his waterbed. That same year, the spring flooded a basement on West Broadway.
In Martin Scorsese's 1985 film "After Hours," an uptight fellow becomes stranded in SoHo overnight, where he encounters a string of outrageous SoHo characters.