It's no secret that New York City is a global mecca for shopping— as the fashion capital of the United States, it offers such a wide variety of stores you can easily spend entire days swiping your credit card. But what if you are looking for a specific kind of store? Or what if you don't want to spend thousands of dollars at one of the top retail stores in the city? What if you do? We've put together a comprehensive guide to shopping in NYC, so whether you're after touristy kitsch, the best bargains, your next pair of Louboutins, or all of these things, you'll know where to go and what you can buy there.
The Best Neighborhoods for Shopping in NYC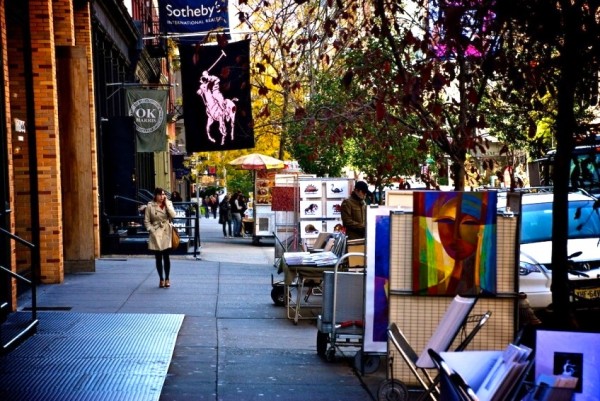 Shopping in New York can feel like exploring a giant shopping mall. Tucked inside, around, in front of, above, and below the city's greatest landmarks are stores of all varieties. In fact, stores like Macy's, Bergdorf Goodman, and Tiffany and Co. are some of the city's greatest landmarks. As you explore NYC, you will most likely hear locals refer to different neighborhoods for shopping, so it's best to know what you are looking for before head out in search of them.
SoHo
SoHo is one of New York City's directionally named neighborhoods (it's an acronym for "South of Houston" Street, and roughly occupies the southwest area of Manhattan, stretching along Broadway, Prince Street, Spring Street, and all the way down to Canal Street). For walkers like us, SoHo is the perfect NYC shopping neighborhood—it has a unique mix of high-end designer stores and mid to low-end shops that appeal to every type of shopper. The neighborhood's buildings are famous for their iron facades, which add an atmospheric appeal to the area. Here, you can find Prada, Chanel, Coach, H&M, Alex & Ani, Victoria's Secret, and more.
Insiders' Tip: If you get hungry during a long day of shopping in SoHo, we recommend stopping at the Chobani Greek Yogurt flagship store on the corner of West Broadway and Prince Street—they offer some great yogurt mixes with fresh fruit, chocolate, and granola. If you're looking for a savory snack, they also have mixes with avocado, cheeses, olive oil, hummus, and more.
Fifth Avenue
New York's Fifth Avenue is the city's most famous shopping street, and probably the most famous shopping street in the world. Here, you can find flagship stores for nearly every high-end designer—Louis Vuitton, Tiffany & Co., Gucci, Prada, Valentino, Armani, Fendi, and more. The most iconic section of Fifth Avenue starts at 42nd Street just above Bryant Park and extends to 59th Street at Central Park. It's a popular spot for celebrities and New York's elite, but it's also a great area to get that true New York window shopping experience (which, if you pay attention, is what many people on the street are doing as well). Fifth Avenue is where you'll find the lavish window displays in front of SAK's Fifth Avenue, Barney's, and Bergdorf Goodman, all of which update their windows each season and attract thousands of visitors each year during the winter holidays. Even if you don't want to break the bank, Fifth Avenue is a great spot to visit for large stores like H&M, Uniqlo, Zara, and Ann Taylor.
Insiders' Tip: the farther uptown you go, the fancier (and more expensive) the stores become.
The Flatiron District
Part restaurant row, part shopping center, part historic landmark, part park, the streets covering 23rd to 14th Streets, and Broadway west to 8th Avenue, offer some of the best shopping in the mid- to lower-end price range. Here, you can find many of the retail chains from back home mixed with some unique specialty stores. If you're looking for some quirky dishware or one-of-a-kind souvenirs, we recommend checking out Fishs Eddy. This NYC institution sells NYC-themed gifts like bowls with the New York skyline painted on them or dishes that look like the city MetroCard. Anyone fresh from seeing Hamilton on Broadway can get 'dueling' shot glasses with Alexander Hamilton and Aaron Burr's portraits.
Madison Avenue, Upper East Side
For something a little quieter, exploring the boutiques on the Upper East Side is a great way to spend your afternoon. Most of these shops are small, but the items you'll find in them are truly one of a kind. These boutiques are where the (usually well-to-do) locals go for unique evening wear, stylish jewelry, and glamorous daywear.
Insiders' Tip: You can poke around these boutiques before or after spending a morning or afternoon at the Metropolitan Museum of Art or walking around Central Park. If you're planning to split your day between shopping and a museum, be sure to wear a comfortable pair of walking shoes—you'll definitely be doing a lot of walking.
Canal Street
No shopping trip to NYC is complete without a stop at Canal Street. This is shopping in NYC at its most gritty and glorious, where you can find designer and knock-off designer bags, scarves, souvenirs of every description, and much, much more, all for always-affordable prices. This crowded neighborhood is a mecca for bargain hunters, especially those who like to haggle. But beware – the shops are full of savvy businessmen/women so try to have a specific idea of what you're looking for before you go – especially if you're after name brands. If you want a specific designer, be sure to ask—most shop owners have the brand or knock-off version on sight, but they may be keeping it in a back room. Remember that you can often get deals if you buy more than one item—why pay $30 for a purse when you could get two for $40? Everything is negotiable on Canal Street.
Insiders' Tip: Most stores are cash only, so take money out before you head down to Canal Street. This helps you barter with the store owners too—if you only have $20 in your wallet, they are usually willing to cut some sort of deal.
Rockefeller Center
A major tourist hub, Rockefeller Center is also a popular destination for shoppers of all types. This is where you'll find some of the best retail clothing stores in NYC, as well as specialty gift shops for NBC, the Metropolitan Museum of Art, and more. Most stores are on the streets surrounding 30 Rockefeller Center and within the building itself, so you won't have to go far to find what you're looking for.
For the Kids: Rockefeller Center is the perfect destination for kids. With the Lego Store and the newly-renovated Nintendo Store in the plaza, there are plenty of toys to distract the whole family. Across 5th Avenue is the American Girl Store, where kids can bring their dolls for tea, makeovers, and to try out the newest doll fashions.
Times Square
Times Square has everything—Broadway shows, comedy clubs, chain restaurants, and some of the best over-the-top theme stores in the city. It's home to the largest Toys R' Us in the country (with carnival rides in the store), plus Hershey's chocolate gift shop, the global flagship M&M's World, and enough I *Heart* NYC stores to find souvenirs for everyone on your list. It's one of the best areas to shop in NYC for/with kids.
The best types of Stores in NYC
Thrift Shops
Looking for a designer wardrobe on a budget? We suggest checking out one of the many vintage or thrift shops in Manhattan and the city's outer boroughs. Brooklyn is famous for its boutique thrift stores, so if you're passing through Williamsburg, be sure to pop into one of the stores off the Bedford Ave stop of the L Subway line. There's also a variety of thrift store chains across the city, including Buffalo Exchange and Crossroads, where you can find some of the latest fashions, pre-owned, for a lower price.
Shop for a Good Cause: One of the most popular thrift shop chains in the city is Housing Works. Its proceeds support the organization's mission to end the dual crisis of homelessness and AIDS so just by shopping there, you're helping two of NYC's biggest scourges.
Shop Local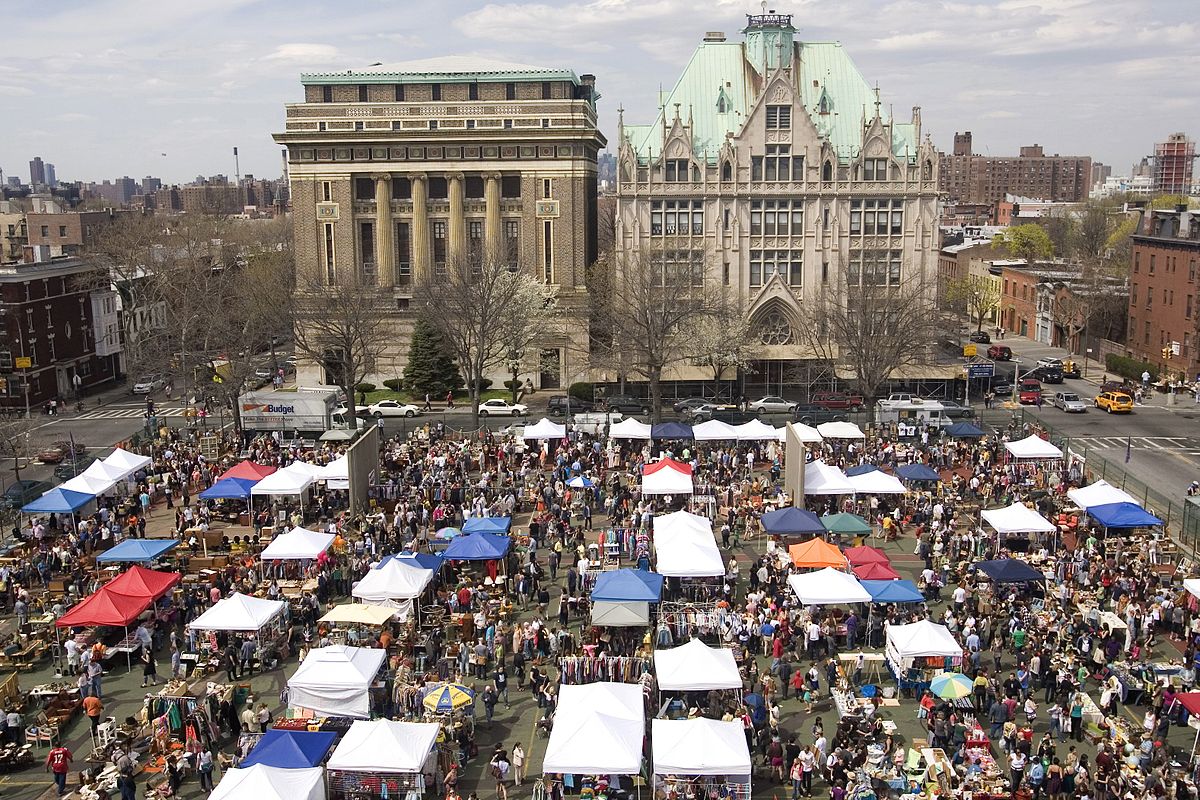 In the summer, New York City's parks host dozens of open air markets where local artisans and farmers set up shop to sell their creations. The Brooklyn Flea Market is a popular weekend spot for both locals and tourists, so be sure to add it to your weekend list.
Insiders' Tip: After a few hours of shopping at the Brooklyn Flea, pop over to Smorgasburg, where you can sample food from more than a hundred local food vendors. Rumor has it the Ramen Burger made its debut here.
Big Department Stores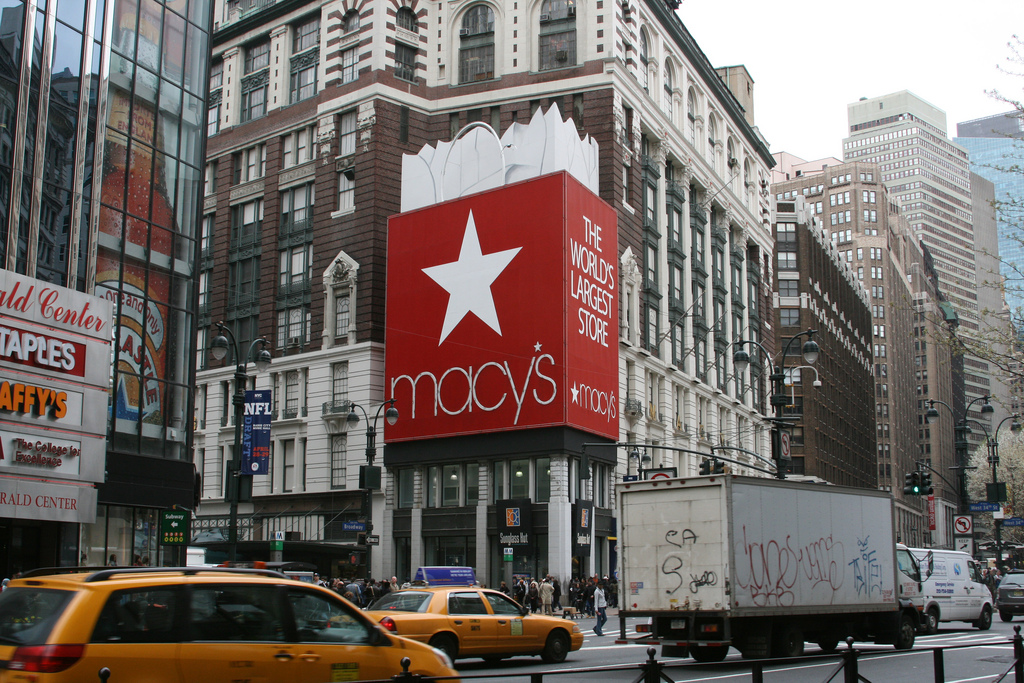 We've covered a lot of smaller shops throughout the city, but when you think of shopping in NYC, you can't leave out the big department stores. Macy's still reigns supreme at its location on 34th Street in Herald Square, and it holds daily events to make your shopping experience that much better. One of our favorite events there is the annual flower show, where each year the first two floors are transformed into an organic wonderland.
Bloomingdale's is another must-see. Located on the corner of 59th Street, Third Avenue, and Lexington Avenue, this store dominates the Midtown East neighborhood. It's also one of the prettiest department stores in NYC during the Christmas season when they line the façade with lights.
Finally, when it comes to discount department stores none can top Century 21. Here you can find designer labels for an affordable price, but prepare yourself physically and mentally; it takes a little digging.
Grab a book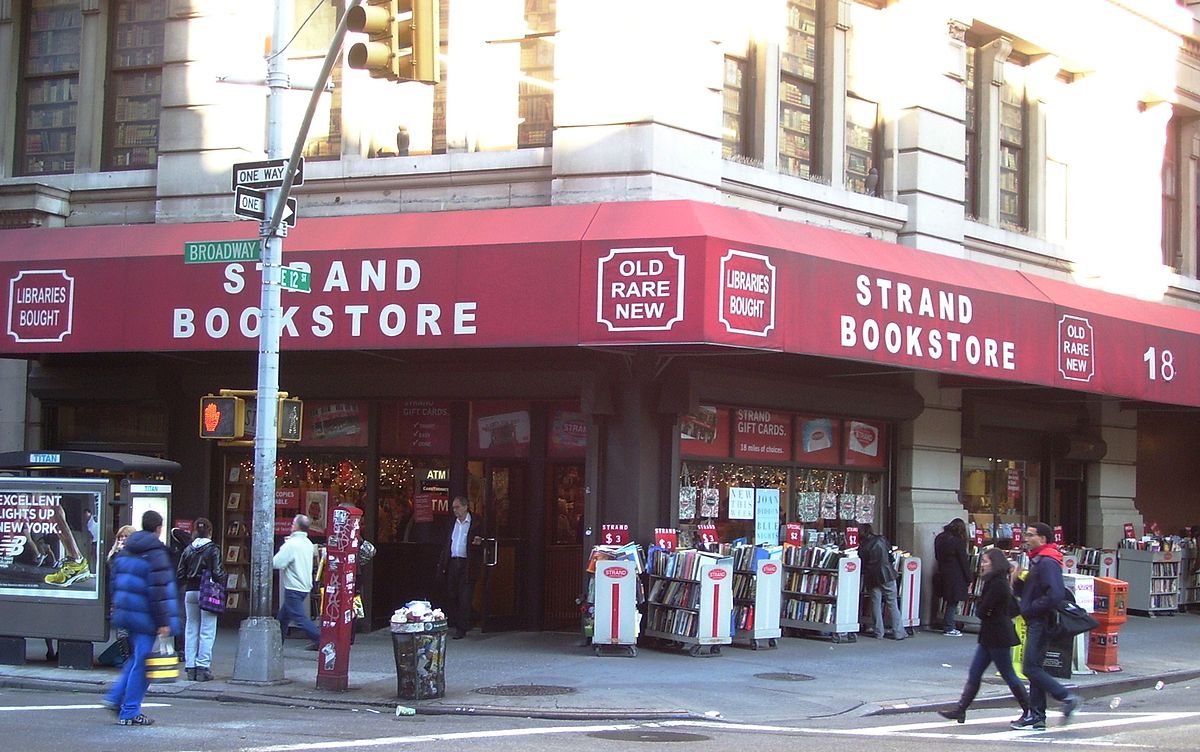 For the reader in your family, we recommend making a stop at the Strand Bookstore near Union Square. Boasting rare, used, and new books, this local shop is a great adventure for any book lover. Besides books, the store also offers literature-related gifts, such as candles, bags, bookmarks, and more.
Insider Tip: If you have the time, be sure to browse the discount books outside the store. It takes some digging, but they have great titles in there (and if you're lucky, you may find a book that was on your list for $1!).