New York has always been a city dedicated to commerce so it's no surprise that the markets in NYC are some of the best in the United states. Although some markets run year round, they really blossom during the spring, summer, and fall when they pop up like wildflowers in every borough and offer some of the best food and shopping in NYC. For most visitors, the plethora of street food that most markets in NYC offer is the main reason to seek out these meccas of culture and cuisine, but don't forget that there's much more than just food on offer—a real New York Market celebrates the artists, artisans, collectors, cultures and traditions of its home borough and it's often one of the focal points around which various communities in the city unite. If you want to check out an New York street market on your next trip, take a look at our list of the best markets in the 5 Boroughs. Oh, and bring your appetite.
1. Smorgasburg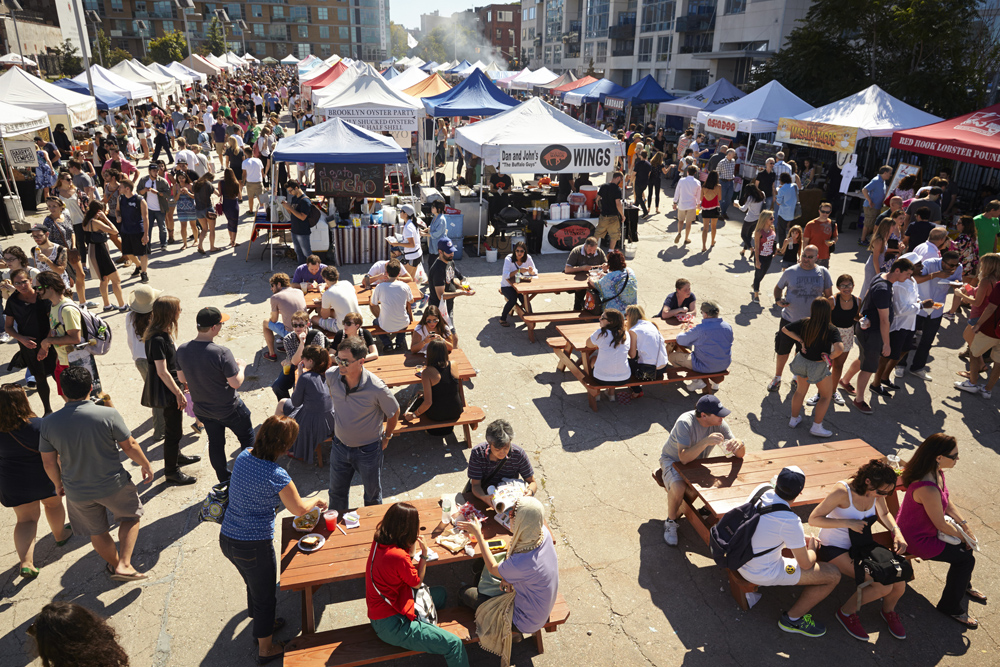 It's not just the idyllic views of Manhattan that attract thousands to this, the king of food markets in NYC in the trendy Brooklyn neighborhood of Williamsburg. Smorgasburg is located at the East River State Park at Kent Ave. and N. 7th Street on Saturdays, and at Breeze Hill in Prospect Park on Sundays. Regardless of where its held, it's ground zero for the type of fusion foods that New York has become famous for creating and/or popularizing like the (in)famous Ramen Burger. Dubbed "the Woodstock of Eating" by the New York Times, this is where you go to sample the city's trendiest foods and flavors, from bahn mi and kalby tacos, to waffle sundaes, micro-brewed beers, or just a good old fashioned hot dog – topped with kimchee and seaweed.
2. Brooklyn Flea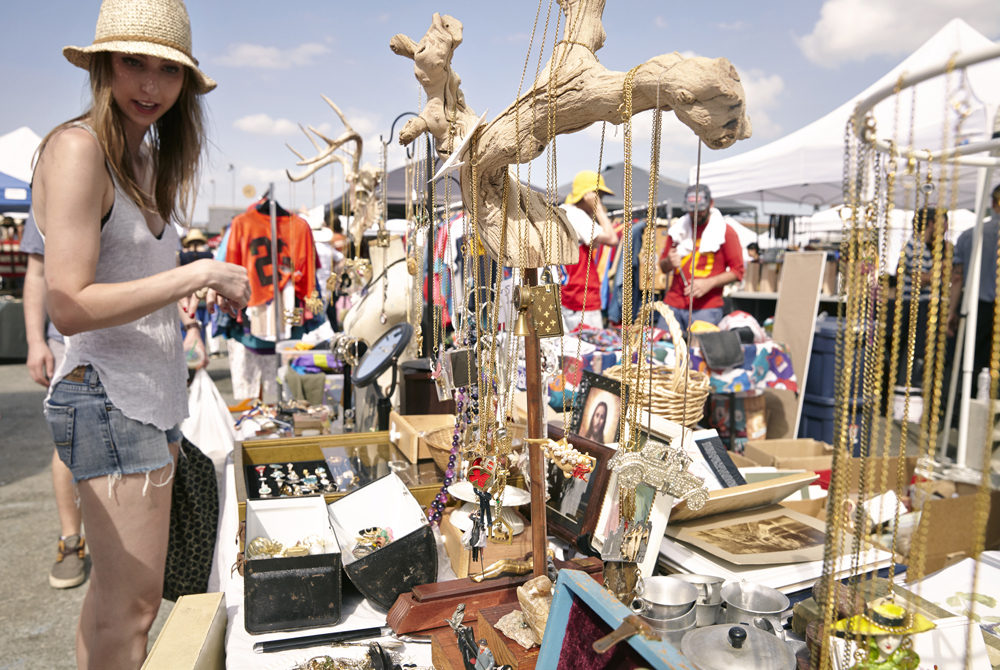 When you're full from sampling all the food at Smorgasburg, we recommend doing some shopping over at the Brooklyn Flea, held Saturdays in Fort Greene and on Sundays in DUMBO. This NYC market, which sells crafts, vintage furniture, clothing, collectibles and more, is a haven for quirky finds. Show up early and dedicate at least a couple of hours to simply getting lost among tables representing over 100 local vendors. There isn't much that isn't on sale at here but we especially enjoy looking for vintage jewelry and antiques along with items made by local artisans, like handbags. Music heads can also geek out at the various stands bursting with old vinyl.
3. LIC Flea Market
Many visitors to New York never leave Manhattan and if they do it's to go to Brooklyn. In doing so they miss what might just be the most interesting borough of them all – Queens. Don't make their mistake. Just minutes from Manhattan on a plethora subway lines (the 7, N, Q, R, E, F, G, and M trains all pass through there) Long Island City is a spicy stew of Latin, Caribbean, and Asian cultures with incredible views of midtown to boot. All of these different cultures vying for space in the neighborhood mean that the LIC Flea Market is one of the most exciting and vibrant of the markets in NYC. It has some of the same crafty, collectible vibe as Brooklyn Flea, plus it offers a variety of food vendors and a special music series in August. It's not quite as trendy as its Brooklyn counterpart, but it's where all the Smorgasburg vendors go to get the inspiration for their next creations – one of the best markets in NYC for ethnic foods of nearly any persuasion. You can find the market at the corner of 46th Ave. and 5th Street in Queens.
4. Queens Night Market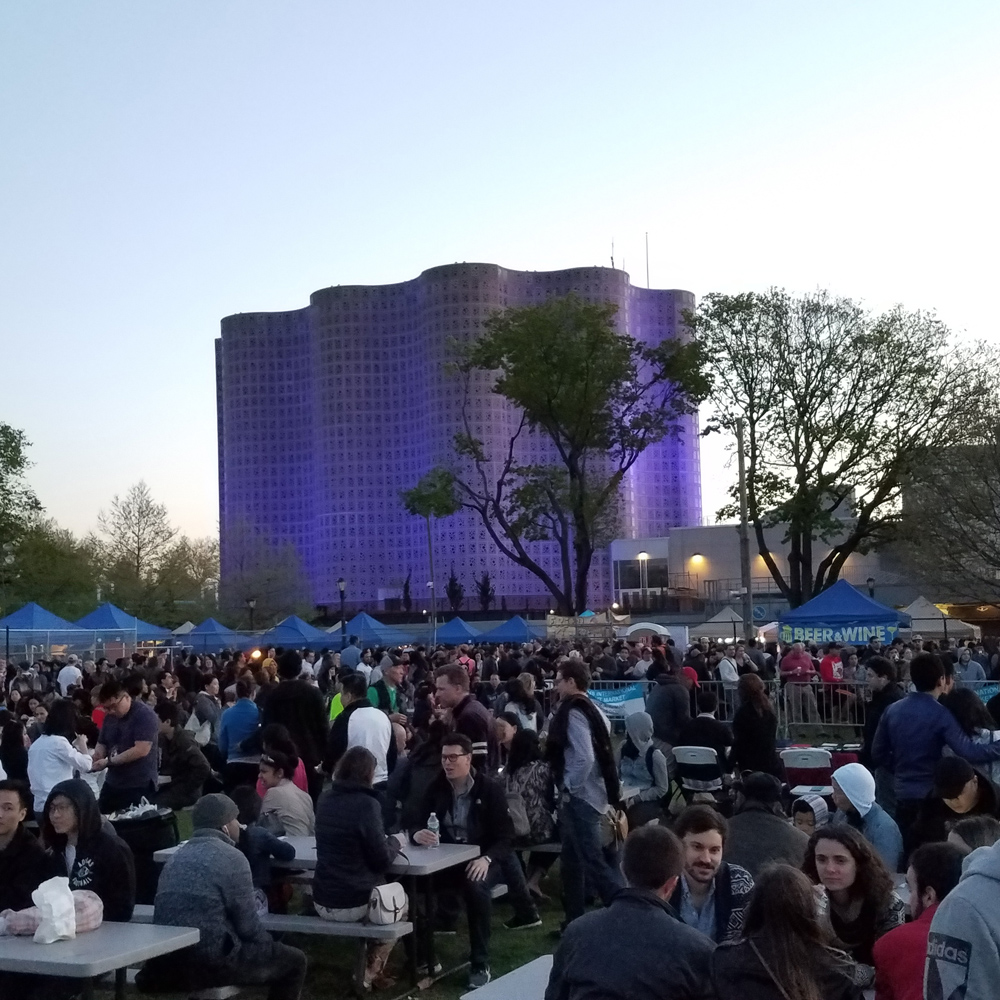 The vast and eclectic mix of cultures thriving in Queens (home to America's most diverse neighborhood) make for more than just great flea markets; the borough also has some of the best restaurants in NYC. With this in mind, the city decided to create a food market that captured the astounding culinary diversity of Queens one food stall at a time. Thus was born the Queen's Night Market. At this NYC market you can find 100+ vendors selling crafts, food, and art, along with cultural performances and entertainment all under the stars. The list of vendors reads like something out of the United Nations: Romanian chimney cakes, fried ice cream, Korean Pancakes, Chilean street food, Sri Lankan snacks, Trinidadian shark sandwiches…the list goes on and on. Unlike the other markets in New York on this list, this open-air extravaganza is held at night, from 6 p.m. to midnight every Saturday through August 20th at the New York Hall of Science in Flushing Meadows Corona Park, Queens.
5. Union Square Greenmarket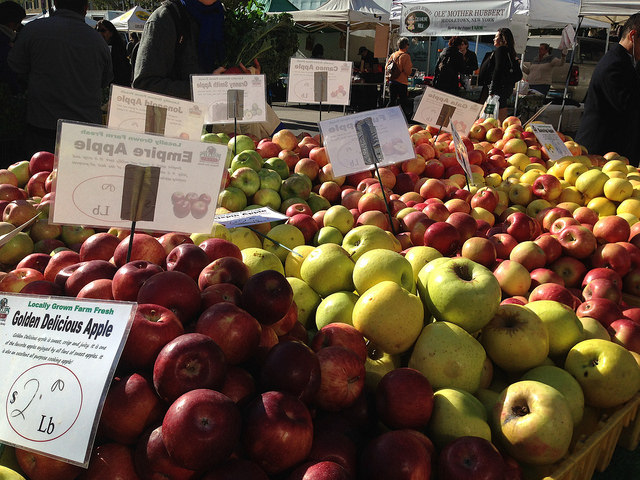 Are you half-way through your holiday in New York City and getting tired of rich restaurant food? the Union Square Greenmarket (open Mondays, Wednesdays, Fridays, and Saturdays from 8 a.m. to 6 p.m. on the west side of Union Square) is the perfect remedy for that. This market is a favorite among locals for its wide variety of local produce, wines, cheeses and other foodie staples that make a perfect picnic lunch for anyone visiting the city. In the autumn it is the perfect place to get delicious, fresh apples that flood in from up-state. We recommend grabbing some fruit and bread from the bakery and finding a good spot near the dog park to watch New York at its most active and vibrant.
6. Chelsea Market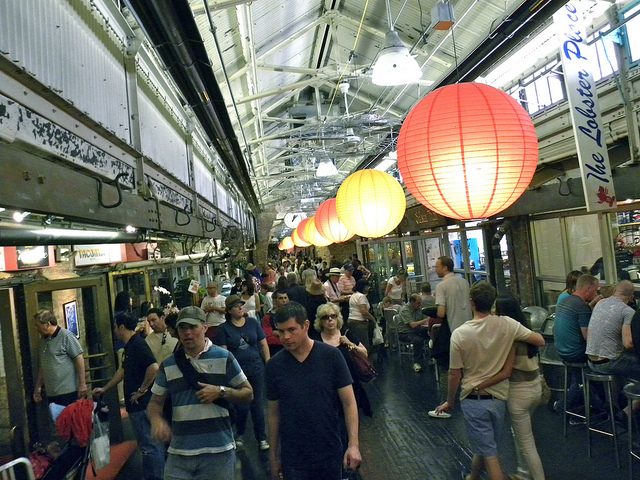 Chelsea Market is often labeled "touristy" in the guidebooks. It's true that there are a lot of tourists here; but there are also plenty of locals. In fact, there is a lot of everyone because the market is simply jaw-dropping. Open year-round and indoors, Chelsea Market is still the number one must-see market in NYC. This site, along the High Line in Manhattan's Meatpacking District, offers over 35 vendors selling food, cooking supplies, and collectibles in all varieties. You can eat sushi, pick up some baked goods, have lunch (or multiple lunches!) or just get a glimpse of some the most interesting foods available in New York. It's a must-see for first-time visitors in New York, so be sure to put it on your list and plan to eat at least one meal there.
7. Red Hook Food Vendors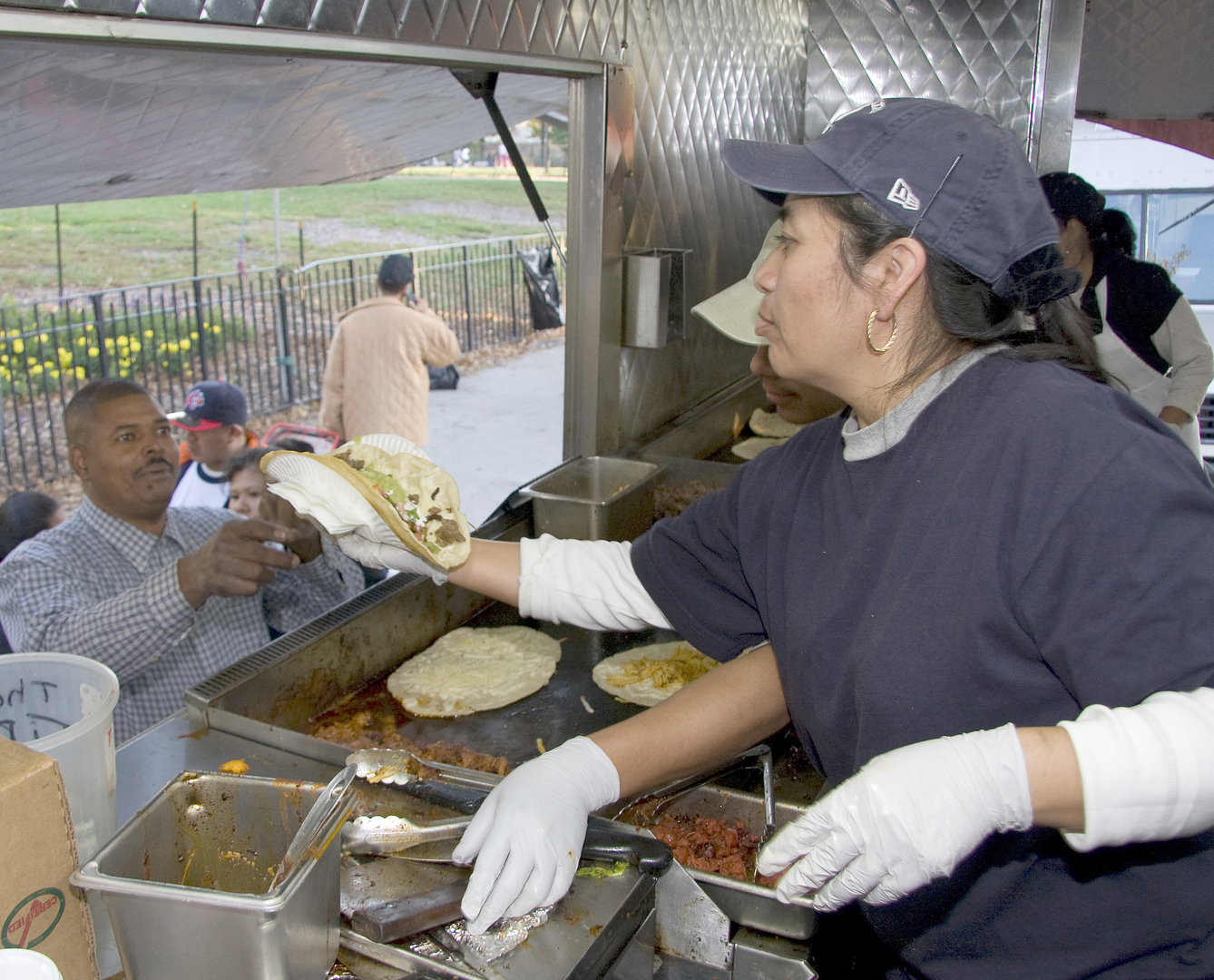 Red Hook Food Vendors is the best market in NYC for Latin American food. Although New York City is awash with latin foods, this is the market for those who want food cooked by Latins for Latins—from Mexican tacos to Peruvian ceviche to Salvadoran pupusas to good ol' Costa Rican gallo pinto with friend plantains. Don't expect trendy fusion treats, or korean barbecue in your tacos though – these food stalls tend to take a purist approach to whatever cuisine they specialize in. It can be a bit of a trek from Manhattan but the food and culture on display is a real treat – a fact attested to by it being a multi-time winner of NYC's Vendy Award.
8. Mad Sq. Eats & Eataly
Right in front of the famous Flatiron Building, the seasonal event Mad Sq. Eats brings some of New York's most innovative cuisine to the street. This food market is a great spot to grab lunch, and is part of the UrbanSpace group that hosts a number of these open air food vendor events across the city. You can try Korean BBQ here, or maybe try the latest taco innovation (New York always has some sort of "new" taco making the rouns). Because Mad Sq. Eats is seasonal (it is open in the Spring and Fall only), there's another option in the area when it comes to food—Eataly. Right across from Madison Square Park, Eataly emulates the food markets of Italy, complete with freshly-made pasta, wine and cheese bars, and a beer garden on the roof. Stop in for a full meal, or just grab a few ingredients for dinner.
9. Kalustyan's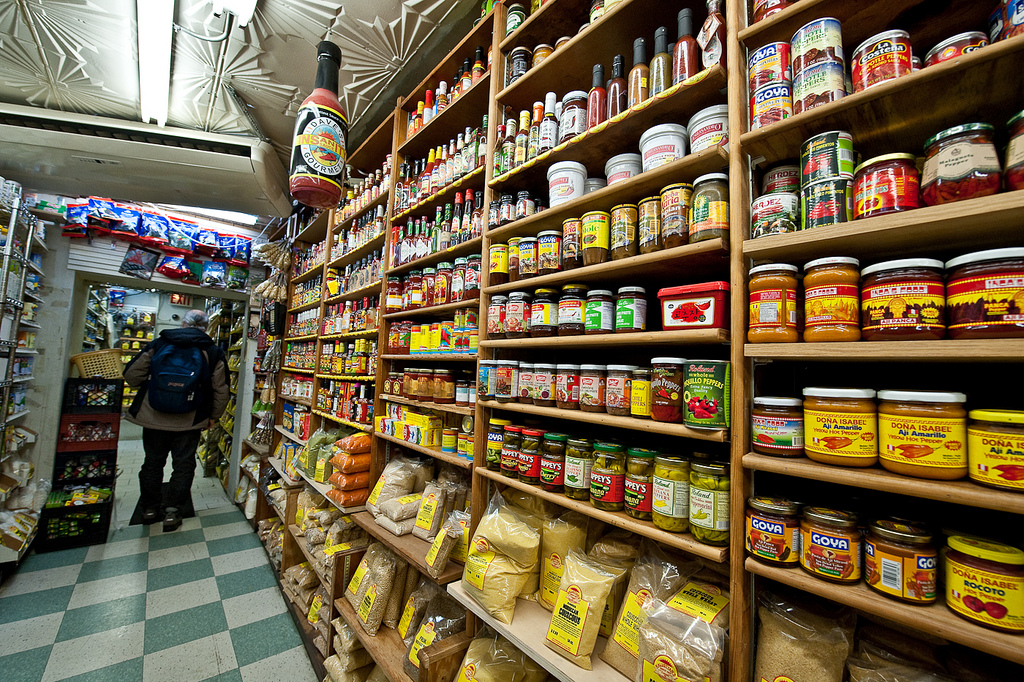 This market is not like the others on the list, but it's too good not mention it. Kalusytan's is a two-floor Indian and Middle Eastern specialty spice and food store at 123 Lexington Ave. in Manhattan. One of the best-kept secrets in NYC, it's the place to go for hard to find hot sauces, spices, and all manner of specialty foods. The tea and spice selection alone is worth a stop for locals and visitors alike. This family run operation has been in business since 1944 and It's one of our favorite markets in the city just to go and browse. It's open year-round And even if you don't buy anything, it's a great place to browse for ideas.